Posted By Norman Gasbarro on September 13, 2011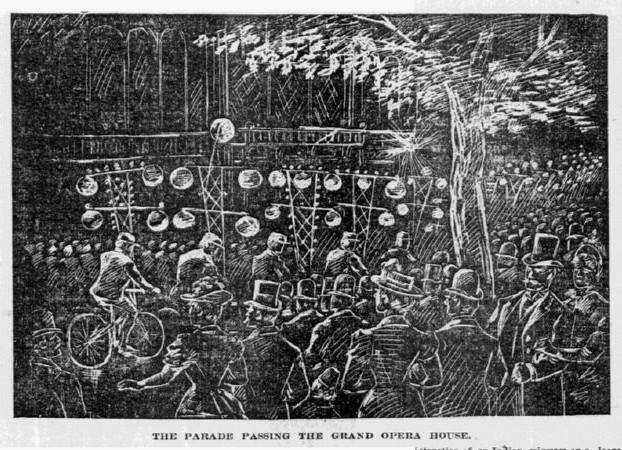 This is a continuation of the history of the Soldiers' Monument of Schuylkill County as given by Joseph H. Zerbey in his History of Pottsville and Schuylkill County Pennsylvania.
Parade of Nine Divisions

Associated with the dedicatory ceremonies was a parade which moved, promptly, at noon, over the following route. Up Centre Street to Minersville Street, to Second, to Market, to 14th, to Mahantongo, to Centre, passing the reviewing stand, at Norwegian Street, where the Chief Marshal and distinguished visitors were stationed.

Gen. J. K. Sigfried was chief marshal, and Capt. D. C. Henning, chief-of-staff-with aides:  Maj. S. A. Losch, Capt. Frank Barnhart, Capt. W. Harry Boyd, Capt. Clay W. Evans, Capt. Richard Budd, Capt. P. D. Helms, Maj. James May, Hanson Atkins, Harry Halberstadt, William Madison, Marmaduke P. Fowler, William Buechley, Capt. William E. Jones, William Yeungling, George C. Clausen, Maj. Frank Day, George W. Kennedy, Richard E. Bergeman, Col. Thomas H. Rickert and Bugler Morgey.

First Division – Gen. J. P. S. Gobin, head of the Third Brigade of the National Guard of Pennsylvania, marshal, with aides, Maj. William H. Egle, brigade surgeon; Maj. H. P. Moyer, quartermaster; Maj. W. A. Coolbaugh, commissary; Capt. Seidel, commissary sergeant; Myer Strouse.  The Eighth Infantry was represented by ten companies, the Schuylkill County commands beind B, of Tamaqua, Capt. G. Warrington; E, of Mahanoy City, Capt. Andrew Comrey; F, of Girardville, Capt. E. C. Wagner; H, of Pottsville, Capt. George A. Harris; K, of St. Clair, Capt. W. H. Holmes; Third Brigade Band.

Among the regimental staff officers were:  Lt. Col. T. F. Hoffman, of Shamokin, father of H. C. Hofman of the "republican"; Maj. Wallace Guss, of Tamaqua; Surgeon Dr. James S. Carpenter, of Pottsville; Quartermaster, W. T. Richardson, of Mahanoy City; Commissary Sergeant L. V. RAusch of Mahanoy City; Hospital Steward, F. R. Pershing, of Schuylkill Haven.

In the Fourth Infantry were eight companies, among whom were:  E, of Hamburg, Capt. Charles F. Seaman; F, of Pottsville, Capt. E. D. Smith; G, of Pine Grove, Capt. J. W. Umbenhauer.  The Pottsville Cadets, Capt. James S. Carpenter, 3rd, also marched with this regiment.  Among the Fourth Infantry staff officers represented were:  Maj. John P. Earnest, of Pine Grove; Surgeon, Maj. J. H. Potteiger, of Hamburg; Asst. Surgeon, Lt. G. H. Halberstadt, of Pottsville.

Col. O. C. Bosbyshell, a First Defender, was marshal of the second division which comprised all of the First Defender Commands, including Pottsville's National Light Infantry and the Washington Artilleriss.

John W. Conrad was marshal of the Third Division heading the Tremont and Pottsville Commanderies of the Knights of the Golden Eagle.

The Sixth Division, comprising Schuylkill County Tribes of Red Men, was marshalled by John R. Saylor.

H. H. Seltzer was marshal of the Seventy Division, in which were the P.O.S.A. camps of the county, S. H. Zimmerman and G. H. Eckenrode rode officiating as aides. The county Sons of Veterans and members of the Bovine Association brought up the rear of the patriotic contingent.

John F. Bushar was marshal of the Eighth Division.  His aides were:  Walter Reinhart, Joseph Davis, John Alles, William Pyle, Larry Rosenberger, Joseph Hartzell, and Matthew Fox.  The fire companies, of Pottsville and the county, were assigned to this division.

The Ninth Division, the last of the big parade, comprised G.A.R. Posts.  It was marshalled by George L. Brown.

Some of the guests, in carriages in the parade, were:  Gov. Robert E. Pattison and staff;  Gen. M. McGregg, of Reading; Col. Benson, of Philadelphia; Gen. Rusling, of New Jersey; Maj. James Ellis, of the 48th Pennsylvania Infantry; Maj. Grant Weidman, of the 173rd [173rd Pennsylvania Infantry]; Gen. Horace Porter, Col. Henry Royer, Capt. John A. SChweers, Hon. Levi Maisch, Hon. C. L. Pershing, Hon. O. P. Bechtel, George G. Boyer, G.A.R. Department Commander; Thomas J. Stewart, Adjutant; Gen. Cowan, Capt. Caldwell, Hon. J. H. McClintock, Mifflin County; Capt. J. M. Cooper, Michael Fritz, 95 years old, of Friedensburg, veteran of the War of 1812; James C. Niece; 16 First Defenders in carriages; Judge D. B. Green, Col. Jacob G. Frick, A. W. Schalck, Dr. D. W. Bland, Hon. J. B. Reilly and S. B. Briscoe.
From the Harrisburg Patriot, 2 October 1891: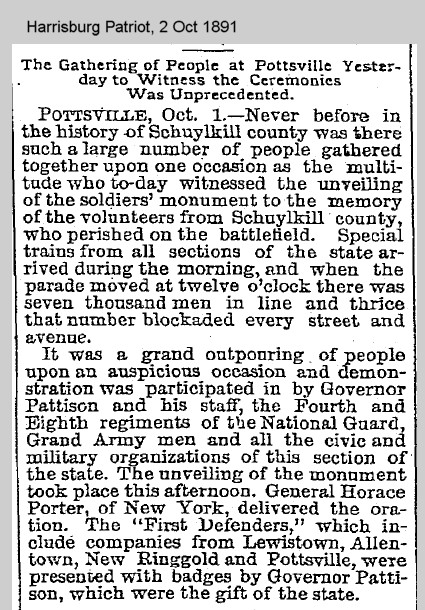 The Gathering of People at Pottsville Yesterday to Witness the Ceremonies was Unprecedented

POTTSVILLE, Oct. 1 – Never before in the history of Schuylkill county was there such a large number of people gathered together upon one occasion as the multitude who to-day witnessed the unveiling of the soldiers' monument to the memory of the volunteers from Schuylkill county, who perished on the battlefield.  Special trains from all sections of the state arrived during the morning, and when the parade moved at twelve o'clock there was seven thousand men in line and thrice that number blockaded every street and avenue.

It was a grand outpouring of people upon an auspicious occasion and demonstration was participated in by Governor Pattison and his staff, the Fourth and Eighth regiments of the National Guard, Grand Army men and all the civic and military organizations of this section of the state. The unveiling of the monument took place in the afternoon.  General Horace Porter, of New York, delivered the oration.  The "First Defenders," which include companies from Lewistown, Allentown, New Ringgold and Pottsville, were presented with badges by Governor Pattison, which were the gift of the state.
Parade cut from Philadelphia Inquirer, 2 October 1891 and on-line resources of the Free Library of Philadelphia.  Article from Harrisburg Patriot, 2 October 1891 also from the on-line resource of the  Free Library of Philadelphia.