Posted By Norman Gasbarro on September 11, 2011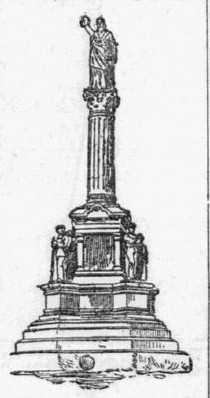 The story of the Soldiers' Monument of Schuylkill County continues today.  From Joseph H. Zerber's History of Pottsville and Schuylkill County:
The monumental pile begins about eight feet beneath the surface.  The foundation is of heavy mountain stone laid in cement.  Underneath is left an aqueduct which will admit of sewer or water pipes that may be required at any time, so that its broad and deep foundation may not be disturbed on that account.

The monument, as the base, is 18 feet square of Quincy granite. It is finished, rock-faced, with margin drafts.  All above is of Barre, Vermont, granite.

There are 33 pieces in the massive structure weighing over 100 tons.  The different parts are known as first, second and third bases, plinth for the first die, plinth for the second die, and polished columns to rest on.

The cap on the second die base receives the fluted column which is surmounted by a Corinthian cap elaborately carved.  This piece, alone, required six months to finish and the whole is surmounted by a size-an-a-half bronze statue of the Goddess of Liberty, with extended right hand bearing the votive laurel wreath of fame, facing the east.
The drawing of the monument is from the Philadelphia Inquirer, 2 October 1891 and can be found in the on-line resources of the Free Library of Philadelphia.