Posted By Norman Gasbarro on September 16, 2011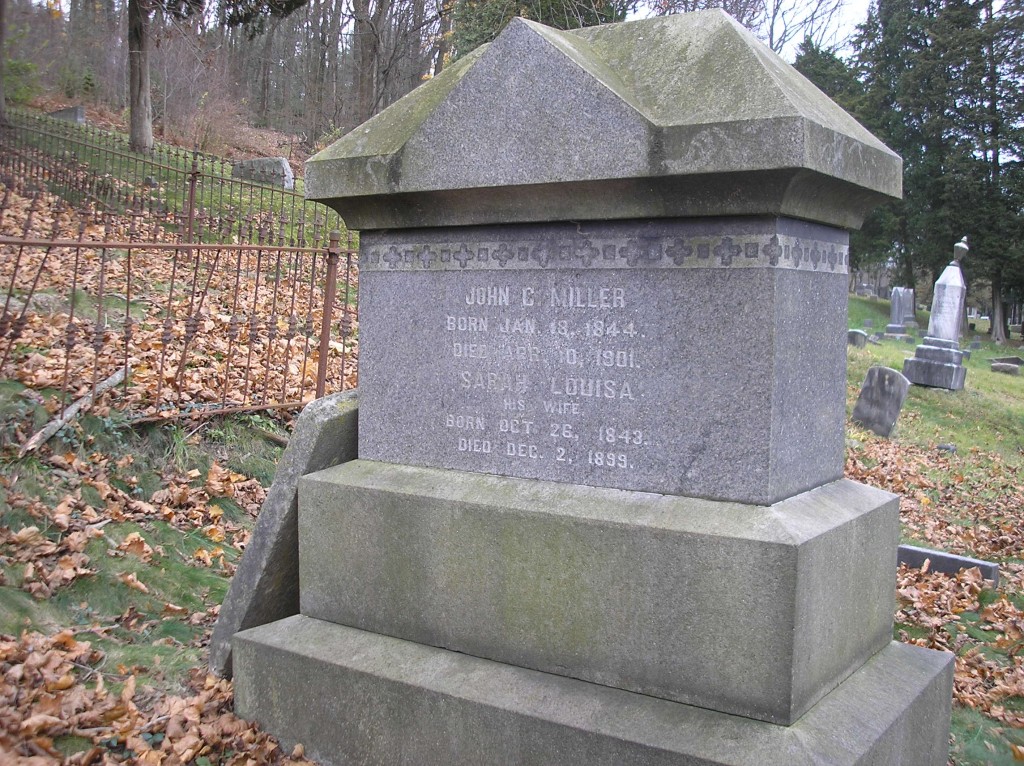 DEATH OF JOHN C. MILLER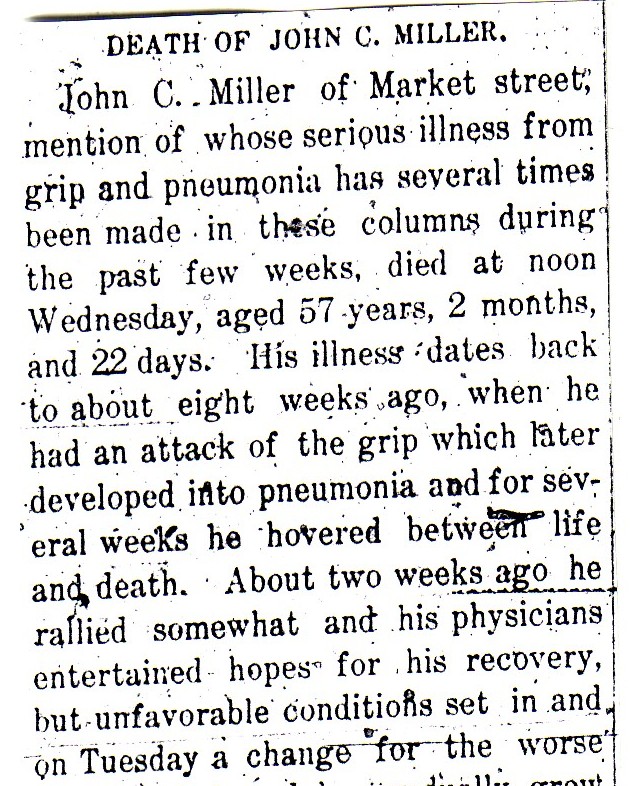 LYKENS —  John C. Miller of Market street, mention of whose serious illness from grip and pneumonia has several times been made in these columns during the past few weeks, died at noon Wednesday, aged 57 years, 2 months, and 22 days. His illness dates back to about eight weeks ago, when he had an attack of the grip which after developed into pneumonia and for several weeks he hovered between life and death.  About two weeks ago he rallied somewhat and his physicians entertained hopes for his recovery, but unfavorable conditions set in and on Tuesday a change for the worse was noticed and he gradually grew weaker until Wednesday, when he passed away.  The news of his death was a shock to the entire community, as it was generally believed he was convalescing.

John C. Miller was a son of Daniel and Louisa Miller, and was born at Annville, Lebanon County, on the 18th day of January of 1844.  At the age of 15 years he learned shoemaking with Peter Graybill of Annville.  His parents moved to Lykens about 48 years ago, his father being appointed conductor on the old Lykens Valley railroad, when a small "monkeybox" with a bench running lengthwise on either side of the car served as a passenger coach.  The car was attached to the rear end of a coal train and made one trip a day to Millersburg and return.  Mr. Miller Sr., held this position many years, when on the account of the information of old age he was compelled to resign.

John C. Miller worked at the colliery in his boyhood days, and in 1867 engaged in the mercantile business at the stand now owned by him which he conducted in connection with the book and newspaper agency up to the time of his death.

In 1861 he enlisted in Co. K, 93rd Reg. Penn'a Vol. [93rd Pennsylvania Infantry], and re-enlisted in 1864, serving to the close of the war, when he was honorably discharged at Harrisburg.  He received wounds during his enlistment, one at Coal Harbor [Cold Harbor] and the other at Fair Oaks.

On the 17th of February, 1869, he married Miss Louisa Reyman of Lewisburg.  This union was blessed with twin children, Gertie Miller and Warren Miller.  Warren met his death in a railway accident on the Northern Central road near Millersburg on the 20th of Oct. 1886.  Mrs. Miller died on the 2nd of Dec. 1889.  He is survived by his daughter, Gertie, living at home, beside one brother, Daniel A. Miller, and one sister.  Mrs. Francis Feindt, both of this place.

Mr. Miller was one of our most respected citizens and was several times elected to positions of honor and trust by our people.  He was assessor of the East ward for a number of years, and also borough treasurer, and was president of the Lykens Savings Fund and Loan Corporation for a number of years.  This association's headquarters were in his building, and he was a sort of bureau of general information in regard to its affairs.  His advice was also often sought in other matters, and freely given, and his judgment was invariably found to be correct.  Of a quiet, unobtrusive disposition, he was not forward in the affairs of any association he was connected with, but when assistance was needed or he was assigned to any duty in Wiconisco Lodge of Odd fellows or the Grand Army of the Republic [G.A.R.] of this place, to both of which he belonged. none performed his duty more cheerfully or more satisfactorily than he.  He became a member of Heilner Post, No. 232, G.A.R. of this place on the 25th of Nov. 1885, and was quartermaster and one of the trustees at the time of his death; he was also ex-post commander.

In religious affairs, he adhered to the Lutheran faith, and for many years he was a consistent member of Zion Lutheran church, and at the time of his death treasurer of its Sunday school.

The funeral will be held on Monday afternoon at 2 o'clock, Rev. D. L. Mackenzie, pastor of Zion Lutheran church, conducting services at his late residence.  Interment will take place on the family plot at Odd Fellows' cemetery [Lykens]by the side of his wife and son.  The funeral will be in charge of the Grand Army [G.A.R.] and Wiconisco lodge of Odd Fellows.
FUNERAL OF JOHN C. MILLER

LYKENS –The funeral of John C. Miller occurred from his late residence on market street Monday afternoon at two o'clock, Rev. D. L. Mackenzie, pastor of Zion Lutheran church and Rev. P. S. Hooper of Bay Shore, N. N., a former pastor, officiating.  Heilner Post, No. 232, G.A.R.,and Wiconisco lodge, No. 533. I.O.O.F., of which he was a member, attending in a body, and also Heilner Relief Corps.

The floral offerings were beautiful and consisted of cut roses and "Gates Ajar" [a floral arrangement in the shape of an arch, representative of the entrance to Heaven] by Zion Lutheran Sunday school, of which he was treasurer for many years and of which he was a former superintendent; a sheaf of wheat by Heilner Relief Corps, lillies by Mrs. Josiah Minnich, and cut roses by the family.  The pallbearers were selected from the Odd Fellows and the G.A.R.  Among those present from out of town were Mrs. William Thompson of Steelton; Ana Carmany, C. W. Rolinson and family, Harrisburg; H. I. Lark, Esq., and wife, Mrs. Jerry Kahler, Millersburg; Maj. J. Frank Miller of Berrysburg; Rev. P. S. Hooper, Irvin J. Long and wife, Bay Shore, N.Y.

The family desires to thank the neighbors and friends for their assistance and expressions of sympathy during their sad bereavement.
Articles from Lykens Standard, 12 April 1901 and 19 April 1901.  Copies of the the complete articles are available from the Civil War Research Project.