Posted By Norman Gasbarro on August 7, 2011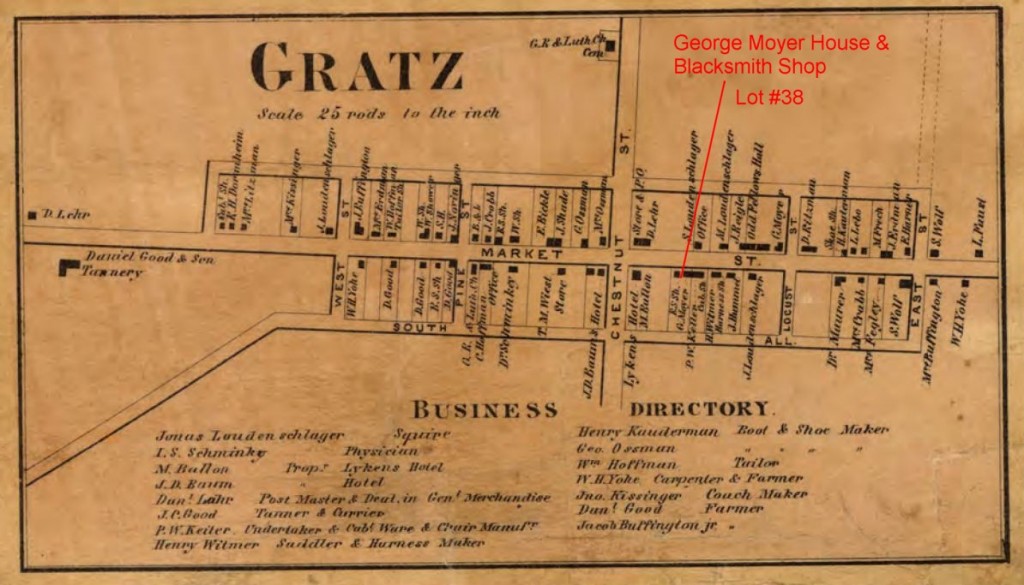 This is the seventh in a series of posts on Gratz during the Civil War. The original house on Lot #38 on the south side of Market Street was built about 1822,  probably by Barbara Wiest, the widow of Jacob Wiest who died in 1811; she had re-married to Michael Salada.
In 1830, John DeWalt, a hatter, lived here.  This could be the same John DeWalt who later joined the 191st Pennsylvania Infantry, Company F, but more information is needed to determine this.  In 1833, DeWalt sold the property to a merchant Samuel Schwartz, who operated a store here.  In 1838, Samuel Schwartz sold the property to George Moyer (1801-1875), a blacksmith.  The property then remained in the Moyer family throughout the Civil War and years beyond.  George Moyer died in 1875 but had transferred the property to his daughter Charlotte some time before his death – but failed to record a new deed.  It is not known at this time whether either of Charlotte's brothers, George D. Moyer (1836-?) or John Moyer (1840-1913) had Civil War service or whether any of her sisters married Civil War veterans.
Charlotte married George Washington Seebold (1836-1903) and lived in this house until her death in 1898.  During the Civil War, two children were born to Charlotte and George Sebold at this house, Lillian Sebold (1861-1865), and Mary Sebold (1863-1932).  After Charlotte's death, her husband remarried Emma Hess, the widow of Jeremiah Buffington (1836-1891).  No Civil War service had been located for George Seebold or Jeremiah Buffington, but at Jeremiah's grave in Gratz Union Cemetery, a G.A.R. marker has been placed, perhaps in error.
After George Seebold died in 1903, the property was sold to  Isaac Kratzler Hepler (1838-1918) and Amanda [Harper] Hepler. Isaac was a Civil War veteran having served in the 172nd Pennsylvania Infantry, Company K, as a Private.  In 1904, the Hepler's made extensive renovations and additions to the house, adding a wrap-around porch and a large addition in the rear.  In 1907, they conveyed the property to their son George Hepler (1877-1932).
George Hepler was a produce farmer, primarily a peach grower, and conducted some of his business from this property.
In 1968, the property passed by sale to members of the Schoffstall family who owned a grocery store next door (on Lot #36).   Later the house was divided into two rental units which have since been dismantled in an attempt to return the house to a single-family residence.  A few years ago, one of the outbuildings was demolished; it was believed to have once been the blacksmith shop that was in operation here during the Civil War.
Today the property is unoccupied, bank-owned and for sale.  Inquiries can be made by clicking here.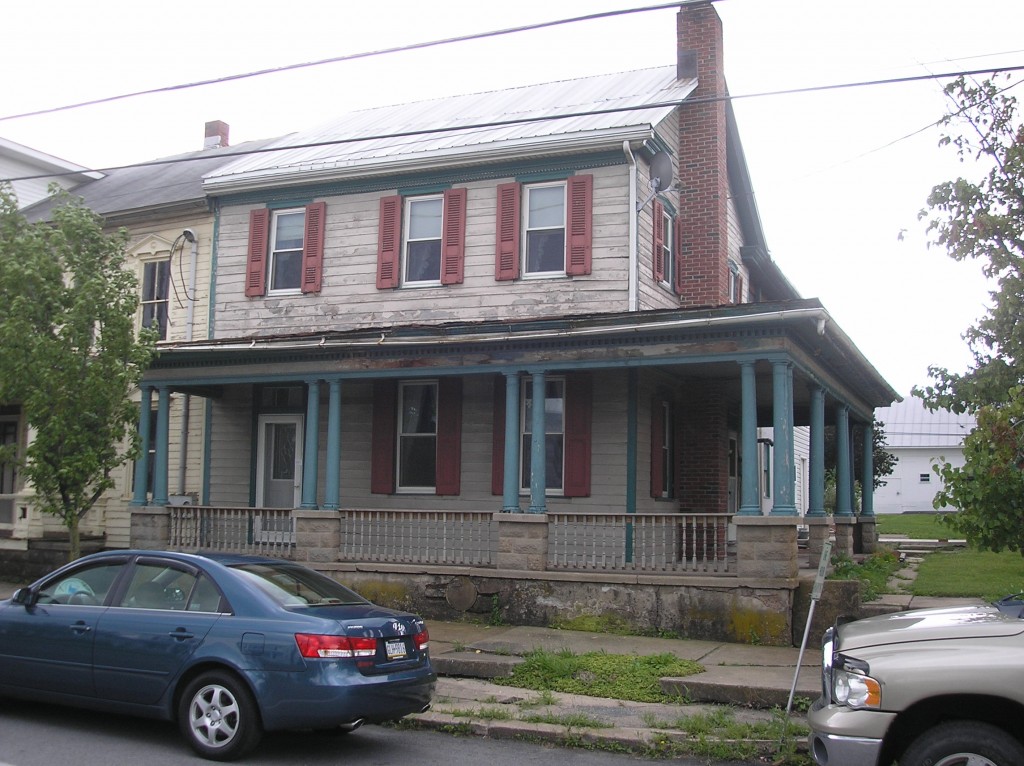 Some of the information for this post was taken from the book A Comprehensive History of Gratz Pennsylvania.