Posted By Norman Gasbarro on August 21, 2011
These two articles were found in the Lykens Standard of 24 May, 1901, describing activities of the Lykens-Wiconisco G.A.R. Heilner Post, No. 232, and benefits available to Civil War veterans in the Lykens, Dauphin County, Pennsylvania area:

Memorial Day

As customary, Heilner Post, No. 232, G.A.R. and Woman's relief Corps, No. 101, will attend divine services Sunday morning.  These services, as well as those of Memorial day, are held alternately at this place and Wiconisco, and as they were held at Lykens last year, this year they will be held in our neighboring town.  Rev. S. H. Chubb, pastor of the Evangelical church, will deliver the annual sermon Sunday morning.

On Memorial day, a committee from Heilner Post will decorate the graves of comrades in the German Catholic, Citizens', Odd Fellows' and Irish cemeteries, this place, after which the Post and Relief Corps will proceed to Union cemetery, Wiconisco, where the memorial services proper will be held.  Rev. Frederick Getty of the Wiconisco M. E. church will deliver the memorial address, and there will be singing by a choir of trained voices, as well as music by the band.  A committee from the Post will also decorate the graves of comrades in this cemetery.

In the afternoon, a delegation from the post will decorate the graves at Elizabethville, Berrysburg, and other cemeteries in ghe valley under the jurisdiction of Heilner Post.  At Elizabethville, where the Post has eight members, a large demonstration is expected.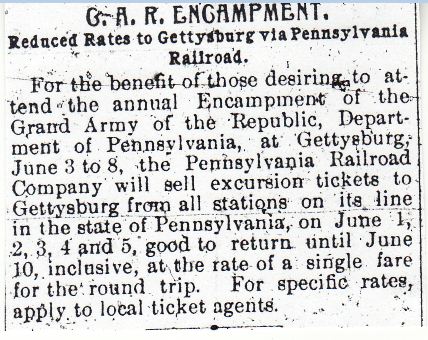 G.A.R. Encampment

Reduced rates to Gettysburg via Pennsylvania Railroad

For the benefit of those desiring to attend the annual Encampment of the Grand Army of the republic, department of Pennsylvania, at Gettysburg, June 3 to 8, the Pennsylvania Railroad Company will sell excursion tickets to Gettysburg from all stations on its line in the state of Pennsylvania, on June 1, 2, 3, 4, and 5, good to return until June 10, inclusive, at the rate of a single fare for the round trip.  For specific rates, apply to local ticket agents.