Posted By Norman Gasbarro on August 18, 2011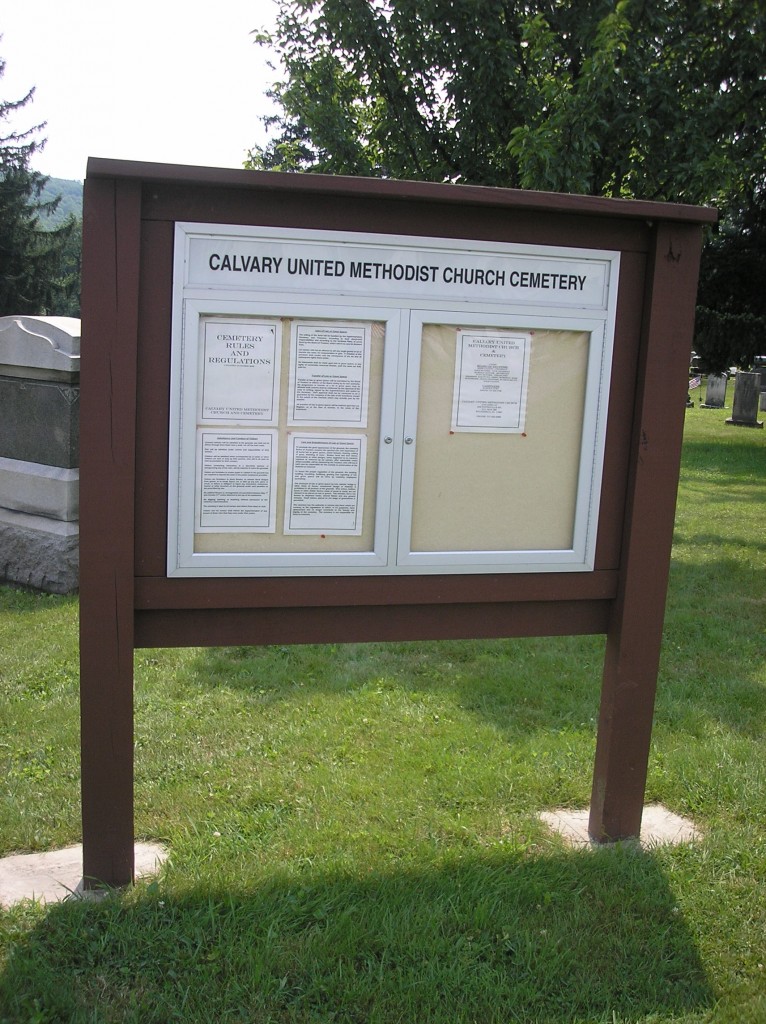 Civil War veteran burials in the Calvary United Methodist Church Cemetery, Wiconisco, Dauphin County, Pennsylvania, are continued today.
—————————–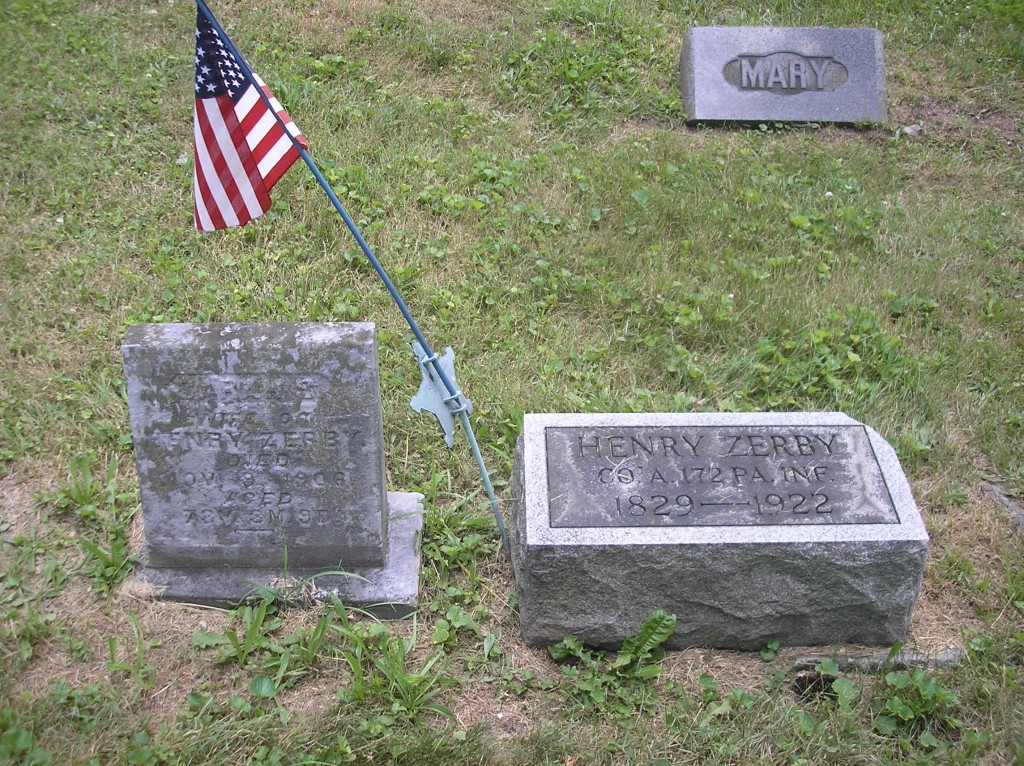 Henry Zerby (1829-1922).  Also spelled Zerbe in the records.  There are two persons with the same name who served, so some of the records may be co-mingled.  It is believed that this Henry Zerby served in the 172nd Pennsylvania Infantry (as noted on his grave marker), Company A, as a Private, from 2 November 1862.  The records of this regiment indicate he was "not accounted for."  Henry married Sarah S. Wolf (some records refer to her as Sarah A. Wolf) before the war.  They lived in Williams Township and Wiconisco where Henry worked as a laborer in the mines.
——————————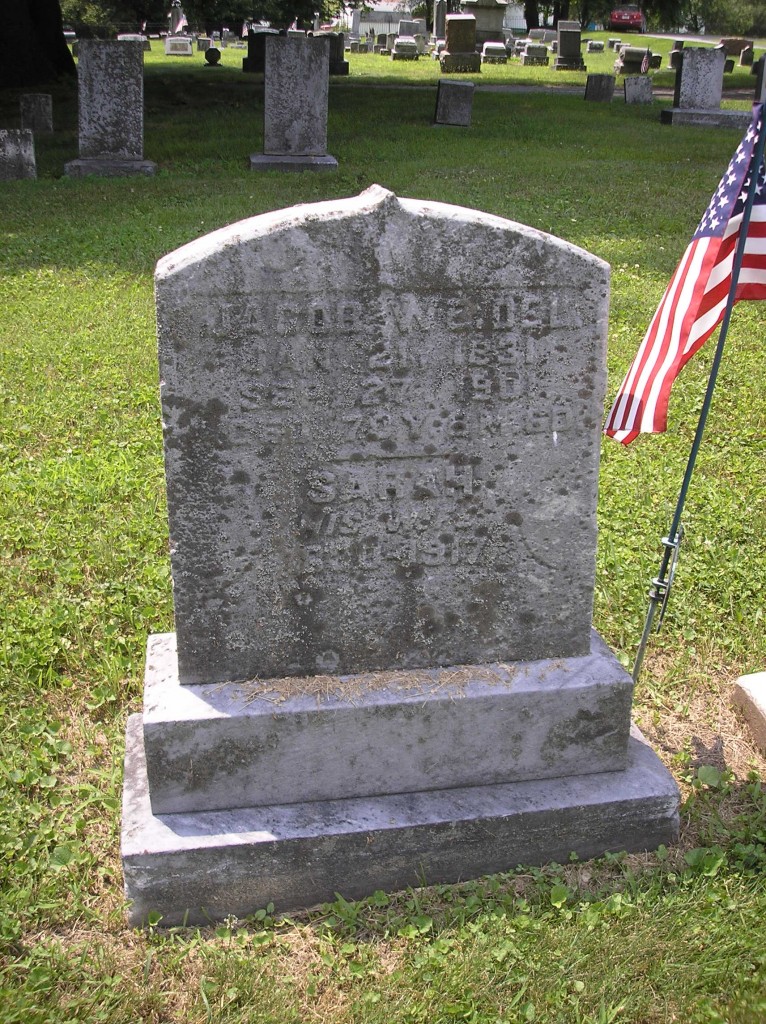 Jacob Weidel (1831-1901).  Also in the records as Werdle.  Served in the 151st Pennsylvania Infantry, Company D, as a Private, from 24 October 1862 through 27 July 1863 when he was mustered out with his company.  Jacob and his wife Sarah lived in Williams Township where he was a farmer and coal miner.
——————————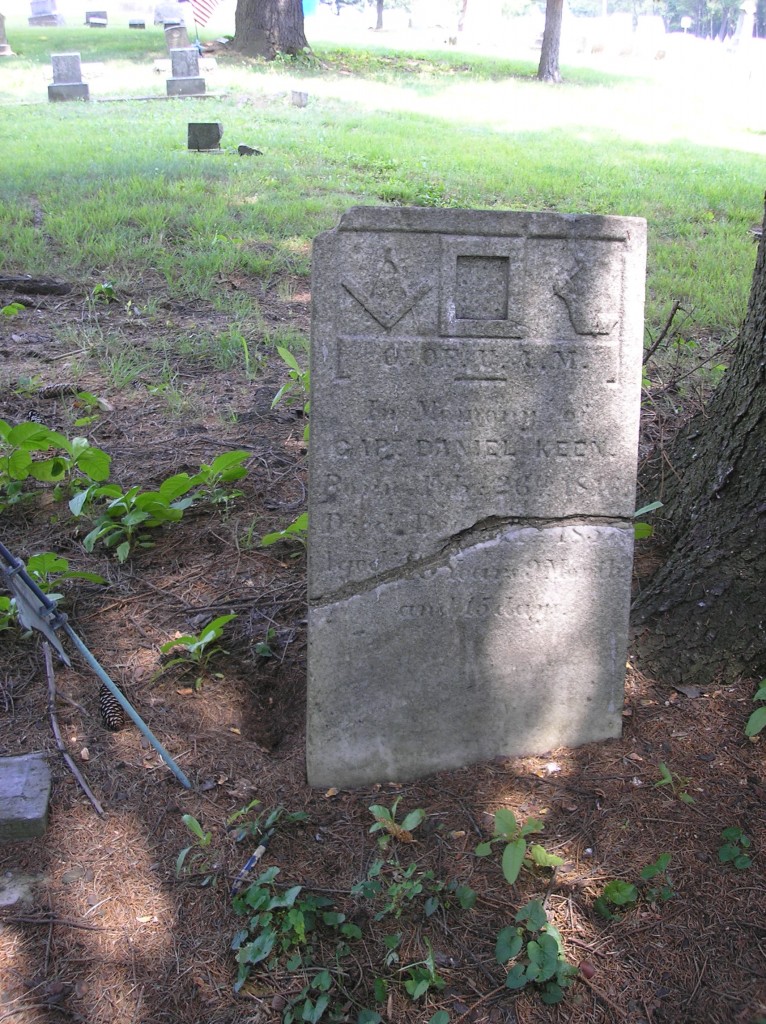 Daniel Keen (1816-1892).  Daniel was Captain of Company I of the 50th Pennsylvania Infantry serving from 30 April 1862 through 19 April 1865.  There is a possible confusion of two persons with the same name (another Daniel Keen was born in 1842 and also served, but not as a Captain).  More clarification is needed here.  If anyone has any further information on the Daniel Keen who is buried in this cemetery, please submit it.
——————————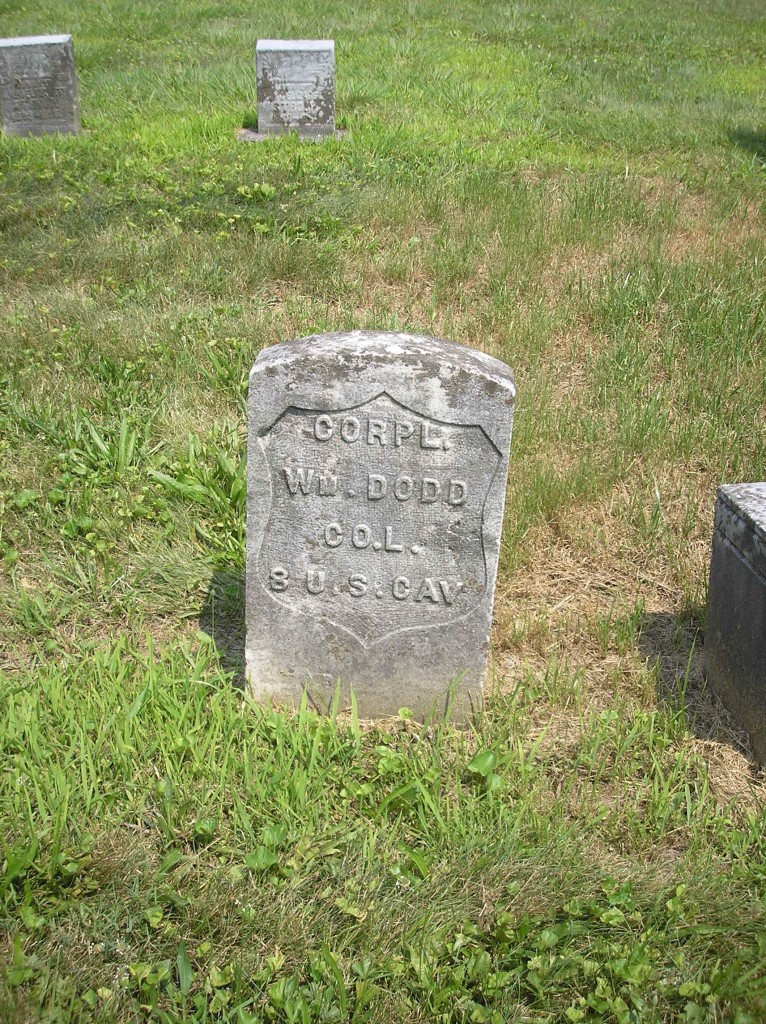 William Dodd (no dates).  Served in the 8th U.S. Cavalry, Company L, as a Corporal.  This is a military-style grave marker and there are no dates on it.  There is a possibility that this is representative of service in a later war.  More information is needed to determine if this is a veteran of the Civil War.
——————————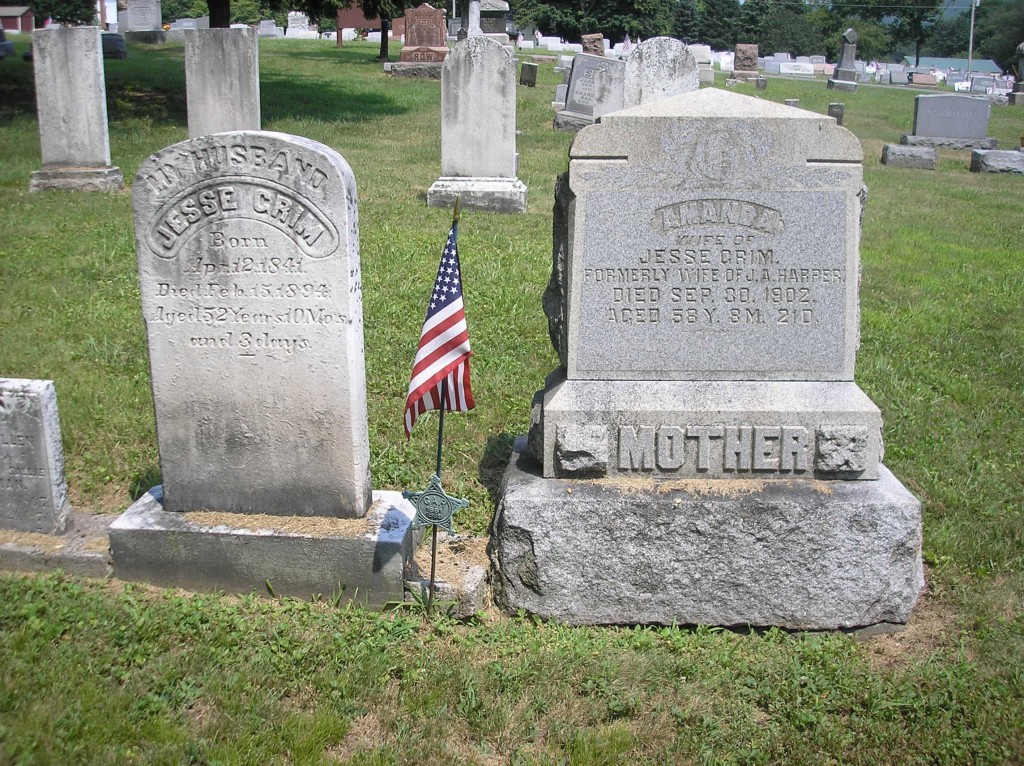 Jessie Grim (1841-1894).  Also found as Crim, Grin, and Grimm.  Served in the 173rd Pennsylvania Infantry, Company D, as a Private, mustered in 17 October 1862 and mustered out 18 August 1863.  Some of the records indicate he also served as a Musician.  Jesse and his wife Amanda lived in Porter Township, Tower City, and Wiconisco.  He was a grocer.
——————————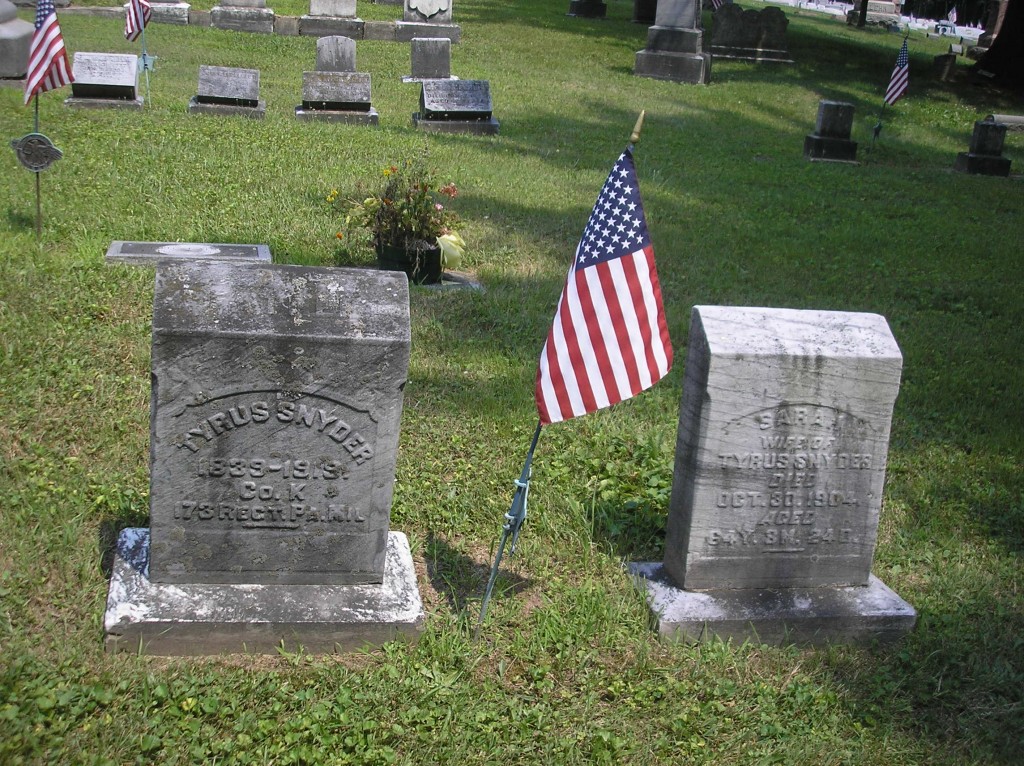 Tyrus Snyder (1839-1919).  He sometimes referred to himself as Cyrus Synder.  Served in the 173rd Pennsylvania Infantry, Company K, as a Private from 2 November 1862 through 18 August 1863.  He married Sarah Specht and had a number of occupations including tanner, general laborer and railroad laborer.  Later in life he lived off his pension and savings.  Census records indicate he lived in many different Lykens Valley area communities including Jackson Township, Washington Township, Elizabethville, Lykens Borough and Wiconisco Township.
——————————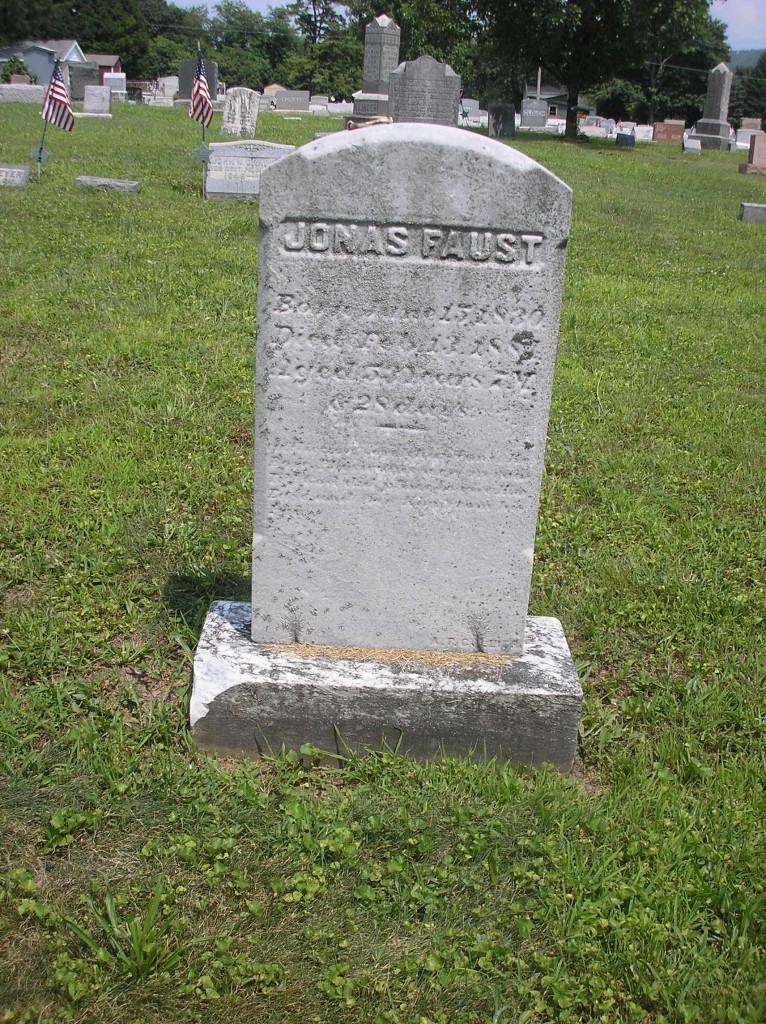 Jonas Faust (1830-1884).  Served in the 50th Pennsylvania Infantry, Company A, as a Private, joining on 9 September 1861, re-enlisting on 1 January 1864 at Blaine's Crossroads, Tennessee, promoted to Sergeant on 4 December 1864, and discharged in May 1865.  He lived in Gratz, Williamstown and Wiconisco where he worked as a carpenter.  Jonas was married twice, first to Catherine S. Hoffman and second to Sarah DelCamp.
——————————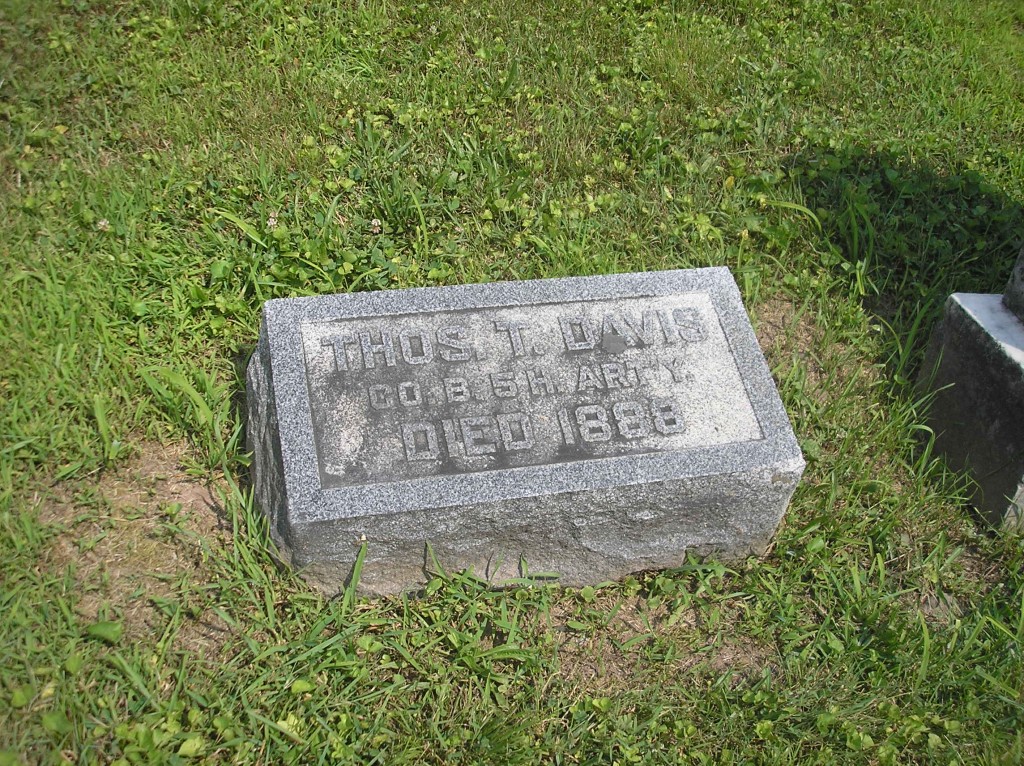 Thomas T. Davis (1844-1888).  Thomas served in the 204th Pennsylvania Infantry which was also known as the 5th Pennsylvania Heavy Artillery, Company B, as a Private.  He had transferred into this regiment from the Independent Battery H of the Pennsylvania Light Artillery (also known as J. Nevins Battery) on 5 January 1865.  There is some speculation that he was born in Wales.  Not much is known of his life after the Civil War except that his widow Mary applied for a widow's pension and a guardian, Daniel Bowman, applied for a minor's pension, indicating that the was survived by children younger than 16.  Anyone who knowns anything about this veteran is urged to contribute it.
—————————–
Continued next Monday.
Information for this post was taken from the files of the Civil War Research Project.  The Civil War Research Project is seeking additional information on any Civil War veterans who are currently included in this study or veterans who should be included.  Readers are invited to contribute by commenting on this post or by by contacting the Civil War Research Project.