Posted By Norman Gasbarro on June 9, 2011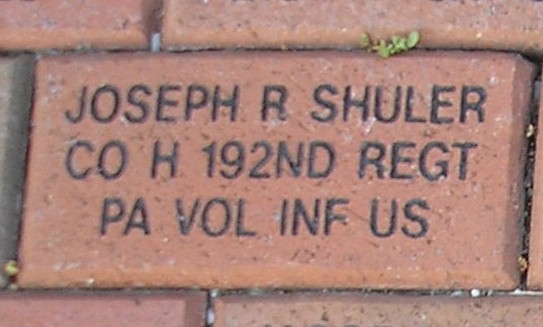 Joseph Ritner Shuler (1837-1910) was born in Liverpool, Perry County, Pennsylvania, the son of well-known gunsmith Joseph Shuler (1810-1879) and Elizabeth Yocum (1808-1867) and the grandson and great-grandson of even better-known gunsmiths John Shuler Jr. and John Shuler Sr. of Bucks County and later Perry County, Pennsylvania.  The father, Joseph Shuler (1810-1879) for a time gave up being a gunsmith in favor of political career – elected as Sheriff of Perry County in 1838 and as a representative in the Pennsylvania Legislature from 1872-1873.
The young Joseph spent his early year in Liverpool which is located just across the Susquehanna River from Millersburg, Dauphin County.  See post on Millersburg Ferry.  When the Civil War began, Joseph R. Shuler was already an accomplished gunsmith, no doubt having learned the trade from his father.  The 1860 Census notes his craft as well as his young family – wife Susannah and two young children.  The 1863 Draft Registration of Liverpool Township names him as married and as a 25-year old gunsmith.  No record has been found that he was drafted.
On 24 February 1865, Joseph was mustered into the 192nd Pennsylvania Infantry, Company H, as a Private.  This was his military service for the Civil War.  When Joseph enlisted in the 192nd Pennsylvania, his younger brother Zachary T. Shuler (1848-1934) also enlised.  However, Zachary (or Zacharias), had previous service in the 194th Pennsylvania Infantry, Company G, as a Private from 20 August 1864 to 6 November 1864- an enlistment that was made at the time he was only about 16 years old.
After the Civil War, Joseph R. Shuler returned to Liverpool and continued working as a gunsmith.  From the census records, it appears that Joseph's wife Susanna died and he re-married some time between 1870 and 1880.  His second wife, Catherine A. Quiggle (1844-1906) was from Dauphin County. Her mother, Delilah [Matter] Quiggle (1825-1898) was the daughter of a Matter and a Riegle – two pioneer families of the Lykens Valley. Perhaps because of his second wife's roots, sometime before the 1880 Census, Joseph R. Shuler re-located his gunsmith business to Lykens Borough, Dauphin County.   Joseph is found in the 1880 through 1900 censuses in Lykens Borough.  The 1910 Census has Joseph living in Perry County as a widower.  Second wife Catherine had died in 1906.
Joseph R. Shuler died on 2 September 1910.  He is buried with Catherine in the Liverpool Union Cemetery, Liverpool.
In addition to the brick in the "Walk of Valor" at the National Civil War Museum (see top of post), Joseph R. Shuler is also named on the Lykens G.A.R. Monument.

It is noted on the Lykens G.A.R. Monument that Joseph R. Shuler joined the Heilner G.A.R. Post after it was organized, 27 October 1881.
In addition to all the Lykens Valley cousins of Catherine [Quiggle] Ritner who served in the Civil War and Joseph's brother Zachary T. Shuler (1848-1934), one other cousin of Joseph has been found who was a veteran – Samuel Morris Shuler (1840-1915). Samuel served in the 77th Pennsylvania Infantry in Company C as a Private from 29 October 1861 through January 1862 and also in the regimental band.  He later served in the 188th Pennsylvania Infantry and rose in the ranks of Company B from Private to Captain, 20 February 1864 to 14 December 1865.  Zachary later had a career as a merchant in Liverpool.  Samuel also was a merchant in Liverpool.  No evidence has been found that either Samuel or Zachary lived anywhere but in Liverpool or they took up the craft of gunsmith.  They are both buried in Liverpool Cemetery along with their wives and some of their children.
More information is sought on Joseph R. Shuler and his gunsmith business in Lykens Borough.  Readers are invited to contribute to to his post with any information they might have to enhance our knowledge of this member of the Shuler gunsmith family, especially during his time in Lykens Borough.
The Pennsylvania Veterans' File Card is from the Pennsylvania Archives.  Some of the census information is from Ancestry.com.  Some of the information for this post was found in the files of the Civil War Research Project – including genealogical information on the families of Joseph R. Shuler, Zachary T. Shuler, Samuel M. Shuler and Catherine [Quiggle] Shuler.