Posted By Norman Gasbarro on May 15, 2011
Hugh Judson Kilpatrick (1836-1881) was best known as a Union cavalry officer during the American Civil War eventually achieving the rank of Brevet Major General.  In later life he served as the United States Minister to Chile and he was a failed candidate for both governor of New Jersey and the U.S. House of Representatives.  His name was chosen for the G.A.R. post in Millersburg, Dauphin County, Pennsylvania, which was known as the Kilpatrick Post, No. 212, G.A.R.
Kilpatrick's military career was not without controversy.  Many considered his tactics as reckless and showing little regard for the welfare of the men under his command while some considered him brilliant for the victories he achieved.  To the southerners whose homes he burned and whose towns he devastated, he was widely despised.
In an article in Wikipedia, these contrasts are stated:
Kilpatrick was aggressive, fearless, ambitious, and blustery.  He was a master, in his mid-twenties, of using political influence to get ahead,  His men had little love for his manner and his willingness to exhaust men and horses and to order suicidal mounted cavalry charges…. The widespread name they used for Kilpatrick was "Kill Cavalry".  He also had a bad reputation with others in the Army.  His camps were poorly maintained and frequented by prostitutes, often visiting Kilpatrick himself. He was jailed in 1862 on charges of corruption, accused of selling captured Confederate goods for personal gain.  He was jailed again for a drunken spree in Washington, D.C., and for alegedly accepting bribes in the procurement of horses for his command.
In February 1863, when Union Gen. Joseph Hooker created a cavalry corps in the Union Army, Kilpatrick was chosen to lead one of the brigades.  At Chancellorsville, Kilpatrick was ordered to get behind Gen. Robert E. Lee's army and destroy bridges and railroads and capture supplies, something he was very successful in doing.  However, Lee was not deterred by Kilpatrick's actions although Kilpatrick pursued him almost to the outskirts of Richmond.  In June 1863, prior to the Battle of Gettysburg, Kilpatrick took part in the largest cavalry battle of the war for which he received a brigadier general's star.  In late June, after clashing with J.E.B. Stuart's cavalry at Hanover, Pennsylvania, he pursued Stuart instead of fulfillling his mission of being the "eyes and ears" of the Union Army.  In a controversial decision on the second day of the Battle of Gettysburg, a cavalry charge was ordered by Gen. George G. Meade against the Confederate positions west of Little Round Top.  When one of the brigadier generals, Elon Farnsworth, protested that the charge would be futile, Kilpatrick questioned his bravery and declared he would make the charge himself.  Farnsworth complied reluctantly and was killed in the charge and significant losses resulted to his brigade.  Kilpatrick then harassed and pursued Lee in his retreat from Gettysburg.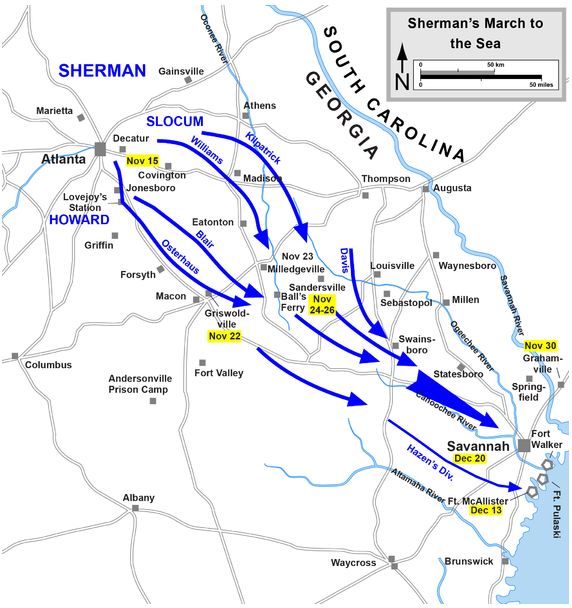 In 1864, Gen. William Tecumseh Sherman sought the services of Kilpatrick in the Atlanta Campaign.  Sherman reportedly said that he knew Kilpatrick was a fool, "but I want just that sort of man to command my cavalry on this expedition."
Starting in May 1864, Kilpatrick rode in the Atlanta campaign. On 13 May he was severely wounded in the thigh at the Battle of Resaca and his injuries kept him out of the field until late July.  He had considerable success raiding behind Confederate lines, tearing up railroads, and at one point rode his division completely around the enemy positions in Atlanta.

Kilpatrick continued with Sherman through his "March to the Sea to Savannah" and north in the Carolinas campaign.  He delighted in destroying southern property.  On two occasions his coarse personal instincts betrayed him:  Confederate cavalry under the command of Maj. Gen. Wade Hampton raided his camp while he was in bed with a young southern woman he had met while going through Columbia, and, at the Battle of Monroe's Crossroads, he was forced to flee for his life in his underclothes until his troops could reform.  Kilpatrick accompanied Maj. General William T. Sherman to the surrender negotiations held at Bennett Place near Durham, North Carolina, on 17 April 1865.

Kilpatrick later commanded a division of the Cavalry Corps in the Military Division of Mississippi form April to June 1865, and was promoted to major general of volunteers on 18 June 1865.
In 1865, a very complimentary biography of Gen. Kilpatrick's Civil War exploits was published entitled Kilpatrick and Our Cavalry, Comprising a Sketch of the Life of General Kilpatrick.  The book was by James Moore, M.D., and is available as a free download from Google Books.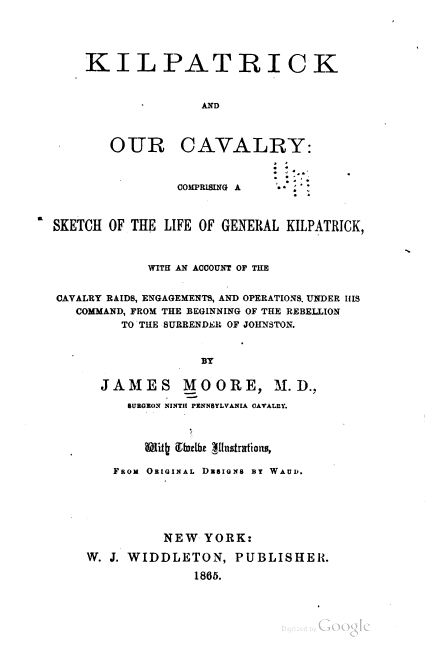 It is not known why Kilpatrick's name was chosen for the Millersburg G.A.R. Post or if any of the men named on the plaque served under Gen. Kilpatrick.  At Gettysburg, the Third Division of the Cavalry Corps was commanded by Brig. Gen. Judson Kilpatrick. In the First Brigade of that Division, commanded by Brig. Gen. Elon Farnsworth, was the 18th Pennsylvania Cavalry, the only Pennsylvania cavalry unit serving in Kilpatrick's Division.  The 18th Pennsylvania Cavalry suffered heavy losses the failed charge mentioned earlier in this post – including the death of Farnsworth.  See: 18th Pennsylvania Cavalry – Pennsylvania Memorial at Gettysburg and Pennsylvania Regiments at Gettysburg – Corps and Generals.
Gen. Kilpatrick died in Valparaiso, Chile on 4 December 1881.  Two obituaries from Pennsylvania newspapers tell of his life and achievements:
A gallant soldier and true patriot was General Judson Kilpatrick, our late minister of Chili, who death at his post of duty is announced to-day.  As a cavalry leader he was matchless for intrepidity and efficiency, and he was one of the few commanders of mounted troops who could successfully fight large bodies of horsemen.  His career in the field was scarcely more brilliant than his character as a politician, diplomat and public speaker.  His magnetism on the stump was marvelous, and he led the masses to victory in peace as irresistibly as he directed his soldiers to triumph during the rebellion.  He was erratic and chivalric, but honest and true and trusty; if he heated heartily, he also loved deeply, and he never nursed petty revenges.  He despised concealment, and was careless of the world's criticism; so when he made a mistake it was seen by all, and he accepted the verdict and the sentence of his superiors with manly resignation.  It has been asserted that General Kilpatrick was headstrong in his conduct of affairs in Chili, bus as there has been no investigation of the matter made yet, and, as he is now silent forever, the veil of charity must be drawn over him, whether he was right or wrong.
As announced by telegraph in yesterday's PATRIOT General Kilpatrick, United States minister to Chili, died in Valparaiso, Chili, on Sunday last.  Judson Kilpatrick was born in Sussex County, N.J., on 14 January 1836.  His father was a militia colonel, and from him the son early got a love for military affairs.  He received a good preparatory education, and then secured an appointment to West Point, whence he was graduated in 1861.  The civil war at once gave him an opportunity for active service, which he gladly embraced, and in his first battle at Big Bethel he was wounded.  He was promoted to the lieutenant colonelcy and afterward to the colonelcy of the second New York cavalry volunteers.  He took part in the fights in the Rappahannock, at Bull Run (in the second battle there) and in Maryland, and was then promoted to be a brigadier general.  He did valuable service at Gettysburg, and commanded the cavalry in Sherman's "march to the sea."  In 1865 he was commissioned a major general of volunteers.  in November, 1865, he was appointed United States minister to Chili, holding the position for three years.  His first wife died during the war, and while in Chili, he married a lady of that country, who accompanied him home.  He was an active republican politician, and being a fluent speaker was in much demand in every active campaign.  He twice aspired to the nomination for governor of his state but did not receive it.  Last year he ran for congress in the Fourth New Jersey district but was defeated.  He was appointed to the Chilian mission by President Garfield, and his course there in regard to the Chili-Peru complication is well known.  The cause of his death is understood to have been Bright's disease.
The portrait of Hugh Judson Kilpatrick and the map of Sherman's March to the Sea are from Wikipedia and are in the public domain because their copyright has expired or because they have been released to the public domain by the author, Hal Jesperson.  Some of the information for the post was taken from Wikipedia and from the files of the Civil War Research Project.  The obituaries of Gen. Kilpatrick were obtained through the on-line resources of the Free Library of Philadelphia.