Posted By Norman Gasbarro on January 30, 2011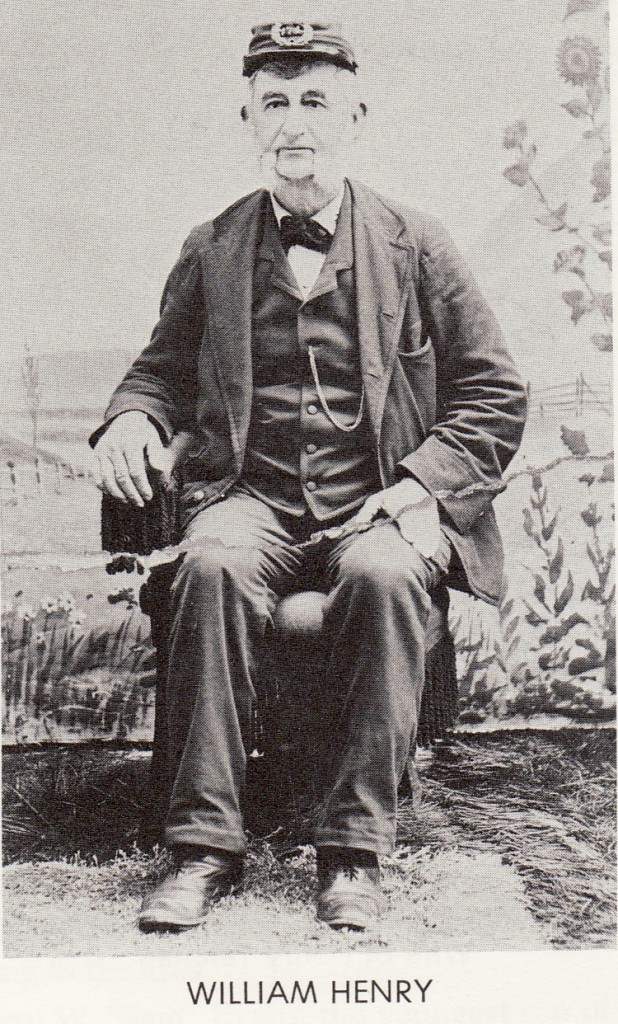 Daniel Henry, whose father and uncles took part in the war for independence, was born in Reading in the last quarter of the18th century.  When Pottsville was laid out, he as a carpenter, moved there, and on 9 January 1825, his son, William Henry was born.
William Henry's mother died when he was eleven years old.  He then made his home with John Jennings.  Af fifteen, he was apprenticed to learn the carpenter trade, and after serving three years, worked in Pottsville until he was seized with a desire to better his condition and left to make his home in New Orleans.  He also worked some time in Cinciannati.  When he was twenty-two he married Elizabeth Thompson, daughter of George Thompson, one of the pioneer coal operators of the county.
When the rebellion broke out in 1861 he enlisted in the 96th Regiment, Pennsylvania Volunteers for three years.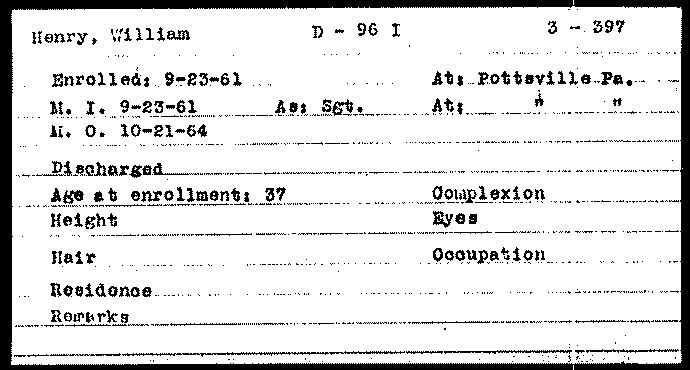 He was honorably discharged and again returned to the peaceful pursuit of carpenter.  In the spring of 1865 he went to work for his old commander, Colonel Henry L. Cake at Lost Creek, a mining village near Shenandoah.  In the summer of 1869 he came to Porter Township which was then little more than a wilderness.  At the spring election lf 1860 he was elected a school director in which capacity he served for nine years.  At the time of his election there were only three old log schoolhouses in Porter Township but after his election he persuaded the directors to borrow money to build new schoolhouses and the result was that in a few years Porter Township had two new brick and one new frame school buildings.  Mr. Henry was elected Justice of the Peace and served for twenty years and it is said that during his continuance in office he did not return one petty case to court, always succeeding in having the parties settle their difficulties at his office.
As a carpenter he built the First Methodist Church at Sheridan razed about 1885.  Mr. Henry was given the contract to carry the mails between Tower City post office and the W.V.R.R. Station at East Brookside.  His duties commenced at 5:30 a.m. and ended at 7:15 p.m.  Rain or shine he was always on duty and in all that time, excepting a few days of illness, he never missed a mail.  During his time as mail carrier he walked well over 13,000 miles.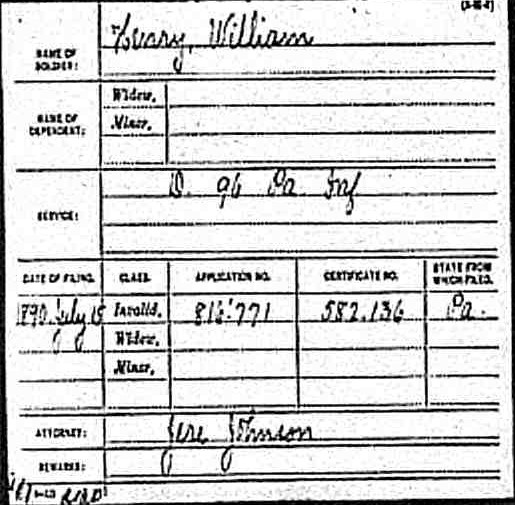 William Henry applied for and received a pension for the disability he claimed he incurred during the Civil War.  The pension application was made in 1890, as indicated on the Pension Index Card, the index reference to the pension files at the National Archives.  The fact there is a Certificate Number on the card is an indication that he received a pension, although no date of receipt is given.
William Henry died 2 December 1908 at the age of 84 years.  He is buried in the Greenwood Cemetery in Tower City.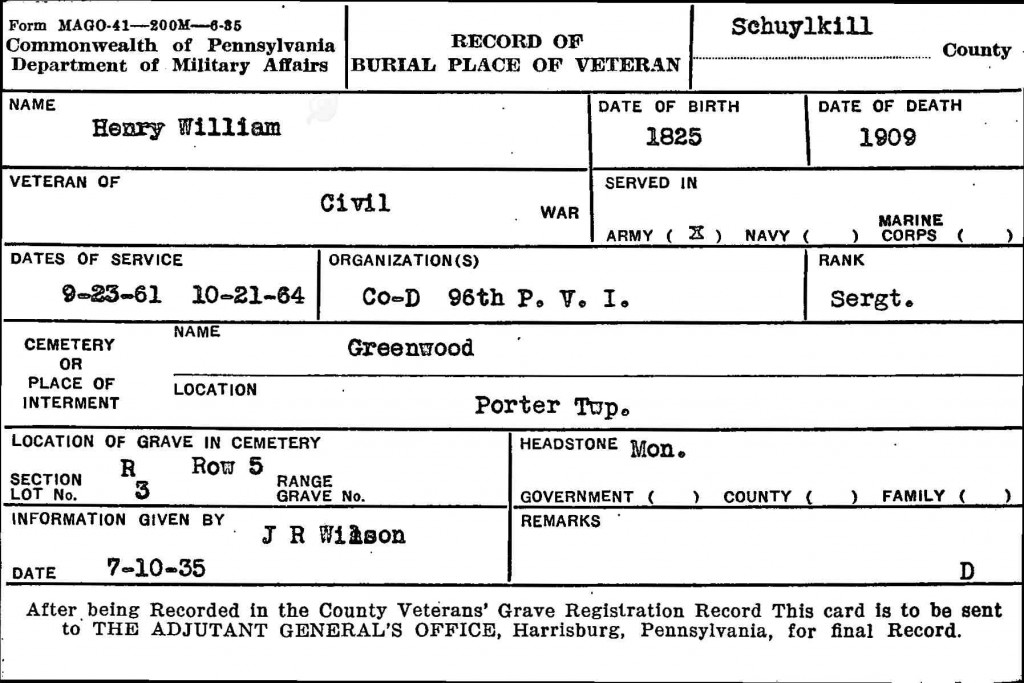 More information is sought on William Henry.  Information about his descendants from Centennial History is confusing because of punctuation errors.  One of his children may have followed his trade of carpenter.  Another may have taught school.  One of his grandchildren may have been a dentist in the Tower City area.  A child or grandchild served as Justice of the Peace in Tower City from the organization of the Borough in 1893 to his death in June 1934.
Also, more information is needed on William Henry's Civil War service.  The Civil War Research Project has a copy of the Diary of Henry Keiser which will be discussed in a future post.  It is the only known diary of a member of the 96th Pennsyvlania Infantry and it is possible that there are references to William Henry in that diary.  Surprisingly, references were found in the diary to John C. Gratz and were reported in an earlier post.  Plans are to compile a name index for the diary and provide the name index on this blog.
Information for this post was taken from A Centennial History of Tower City and Porter Township, Schuylkill County, Pennsylvania, pages 202 and 203.  The picture of William Henry in his G.A.R. uniform is from the same source. The Civil War Veteran's File Card is from the Pennsylvania Archives.  The Pennsylvania Veteran's Burial Card is from the Pennsylvania Archives, but was found on Ancestry.com.  The 1890 Veterans Census page from Porter Township is from Ancestry.com.  Pension Index Cards are from Ancestry.com and the card references files in the National Archives.