Posted By Norman Gasbarro on January 5, 2011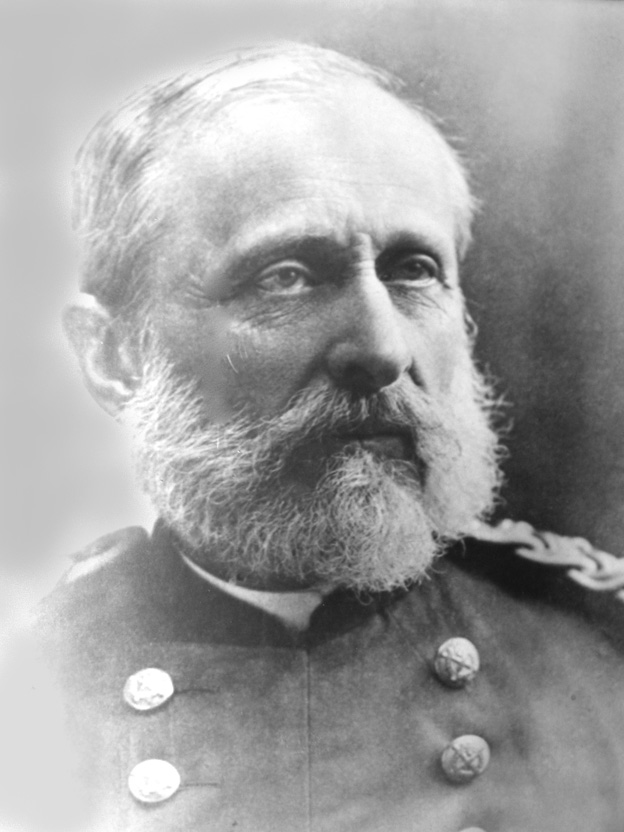 Alfred Mordecai (1804-1887)
Alfred Mordecai (1804-1887) was born into a Jewish family in North Carolina.  His father Jacob was a pioneer educator.  Because Alfred was a good student, he was admitted to West Point in 1819 and four years later graduated at the top of his class.  After a stint as a teacher at West Point, he was appointed as commander of the Frankfort Arsenal in Philadelphia.  His training as an ordinance engineer led him to posts in Washington, D.C. and later as an observer during the Crimean War, which he wrote about upon his return.  With experience during the Mexican War and in government as the Assistant Secretary of War, he was one of the prime candidates in 1861 for army leadership and was actively sought after by Confederate sympathizers who wanted him to fight for the southern cause.  His decision involved abandoning the family he had been raised in for the family he was now part of in the north.  The complexities and effects of the decision would remain with him for the remainder of his life.  Alfred Mordecai resigned his commission in the army and tried to remain out of the politics of the war rather than take up arms against his West Point son, who supported the north, and his family and friends in the south.  Without any steady income, he took positions wherever he could, working as a teacher for a good part of the period after the war, and relying on the support of his daughters who operated a school in Philadelphia.  It is believed that he never fully reconciled his differences with most of the southern members of his family.  He died in 1887 at the age of 85.
Simon Gratz (1773-1839), in addition to a much younger sister Rebecca Gratz (1781-1869), had a closer sister, Richea Gratz (1774-1858).  Richea Gratz married Samuel Hays, and their child, Sarah Hays was a first cousin to the children of Simon Gratz.  Theodore Gratz, the first mayor of Gratz, Pennsylvania, and who lived in the "Gratz House" on Market Street was a child of Simon Gratz, and therefore a first cousin to Sarah Hays.  Sarah Hays married Alfred Mordecai.
As already mentioned in a prior post, Theodore's son John C. Gratz, died of disease during the Civil War.  Children of first cousins are second cousins to each other.  Therefore, John C. Gratz, was a second cousin to the children of Sarah Hays and Alfred Mordecai – the most prominent of which was Alfred Mordecai Jr. who was a student at West Point at the beginning of the Civil War and later a well-known U.S. general.
In a recent posting on her blog "Rebecca Gratz and 19th-Century America", Susan Sklaroff discusses the aspects of the decision that Alfred Mordecai, a North Carolinian, had to make at the beginning of the Civil War.  It is one of many stories where members of families had to make choices whether to bear arms for the North or the South – and what went into the making of the decisions.
Rather than repeat or summarize what is posted on that blog, I've provided a link to it.  Suffice it to say, that the decision made by Mordecai alienated him from his southern family – an alienation that lasted well beyond the war.  Mordecai was probably aware of the reasons for the separation between his wife's aunt, Rebecca Gratz, and her brother Simon Gratz and his offspring – most likely caused by religious differences.  Although Alfred Mordecai, who became an agnostic, never returned to Judiasm, while his wife Sarah remained a practicing Jew, he was held in high esteem by the Gratz family because of his successful career in the military – and because his children were raised in the Jewish faith of their mother.  Theodore's children, also raised in the faith of the mother, were raised as Christians.  See:  Alfred Mordecai's Civil Wars.
There is also a good article on Alfred Mordecai by Dr. Yitzak Levine in The Jewish Press.  See:  Alfred Mordecai's Agonizing Decision.
The picture of Alfred Mordecai is from the National Park Service.