Posted By Norman Gasbarro on December 4, 2010
Across from the Civil War Soldier Monument in West Park, Market Square, Millersburg, Dauphin Co., Pennsylvania, is the All Wars Veterans Monument.  A bronze plaque rests on a polished stone base.  Chiseled in stone are the words:  Duty, Honor, Country.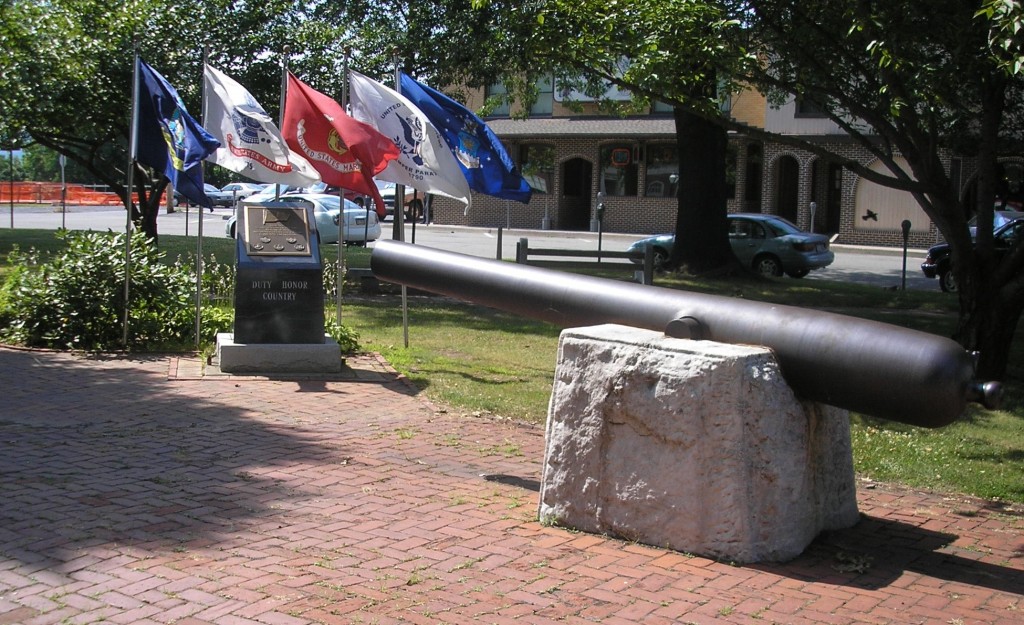 The plaque reads:
Dedicated to all veterans of all wars,  Men and women who bravely served our country to preserve our freedom.
On the plaque are the emblems of each of the branches of the armed services.  Flanking the memorial are the official flags of each the five branches of the armed services.
At the base of the monument are commemorative bricks that were purchased by family and friends to honor individual veterans.
Since the memorial recognizes veterans of all wars, those who fought in the Civil War would also be included, even though the Civil War monument is just across the walk from the All Wars Veterans Monument.
Adjacent to the All Wars Veterans Monument is the Governors Island Cannon.  The tablet across from the cannon shows a picture of the square circa 1900 just after the cannon was installed.
In October 1897 a cannon, obtained by W. B. Meetch through his friend Congressman Olmstead, arrived at the railroad depot.   W. B. Meetch was a local businessman and Dauphin County Prison Warden.  The cannon, a condemned government relic, came from Governors Island, N. Y.  It weighs 3500 pounds, is ten and a half feet long with a four and a half inch bore.  After a suitable base was fashioned by local men and with the consent of borough council, it was placed in West Park in Market Square.
William Buchanan Meetch (1845-1919) was born in Halifax, Dauphin County, Pennsylvania.  At age 18 he enlisted in the 1862 Emergency Militia, Company E of the 6th Pennsylvania Infantry.  Later he served in the 192nd Pennsylvania Infantry, Company H.  His name appears in the list of veterans of the Civil War on the Millersburg Civil War Soldier Monument opposite the walk from the cannon. He was a member of the Kilpatrick Post 212 of the G.A.R.   During his lifetime he worked as a farm hand, a general laborer, a school teacher, a prison warden and a lumberman.  He is buried in the East Harrisburg Cemetery, East Harrisburg, Dauphin Co., Pennsylvania.