Posted By Norman Gasbarro on December 14, 2010
(Part 1 of 4). Corp. John C. Gratz died on 26 (or 25) January 1862 at Camp Northumberland, Virginia, while serving as a member of Company G of the 96th Pennsylvania Infantry.   The official cause of death was an "inflammation of the brain."  Three documents in the collection of the Gratz Historical Society record his death.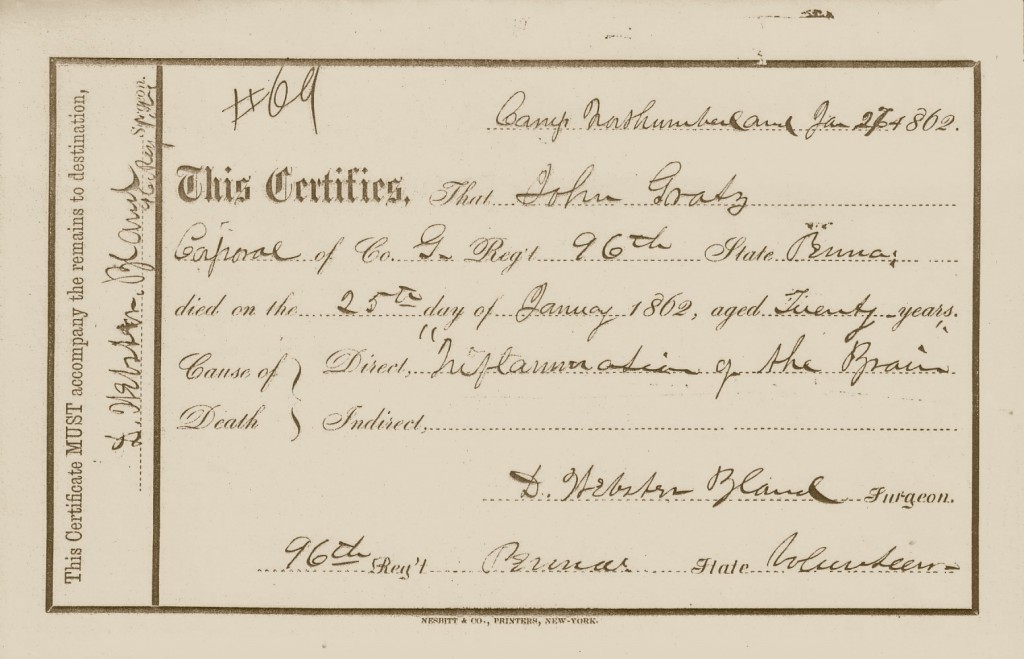 Dr. Daniel Webster Bland (1837-1899) was commissioned Surgeon of the 96th Pennsylvania Infantry on 12 October 1861.  During the winter of 1861 to 1862, he was assigned to Camp Northumberland to tend to the needs of the soldiers and examine new recruits.  He was the duty surgeon during the illness of John Gratz and he completed the death certificate, which the form indicates that it was to accompany the body on the trip to its "destination."  While the date of death on the death certificate is 25 January 1862, the date of death accepted by the family is 26 January 1862, the date on the letter of notification sent to John's mother Ann by 1st Lt. Jacob W. Haas.  Dr. Bland remained with the 96th Pennsylvania Infantry throughout his three years of service. and was mustered out on 21 October 1864 at West Philadelphia, Pennsylvania.  He died in 1899 and is buried in Charles Baber Cemtery, Pottsville, Schuylkill Co., Pennsylvania.
The letter that was sent to Ann Ellen [Carson] Gratz concerning the death of her son follows: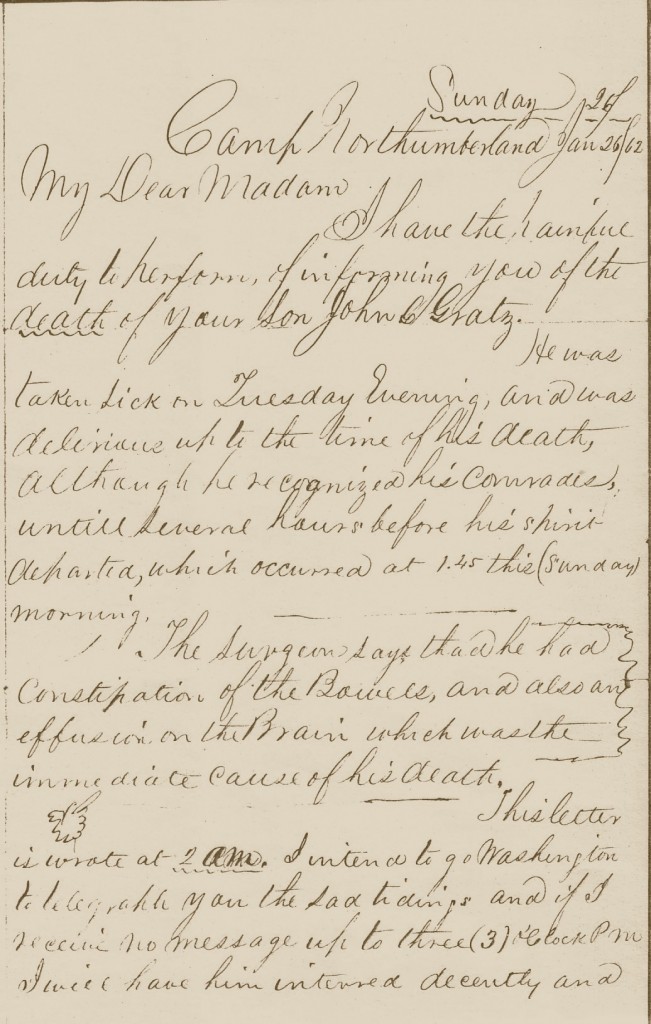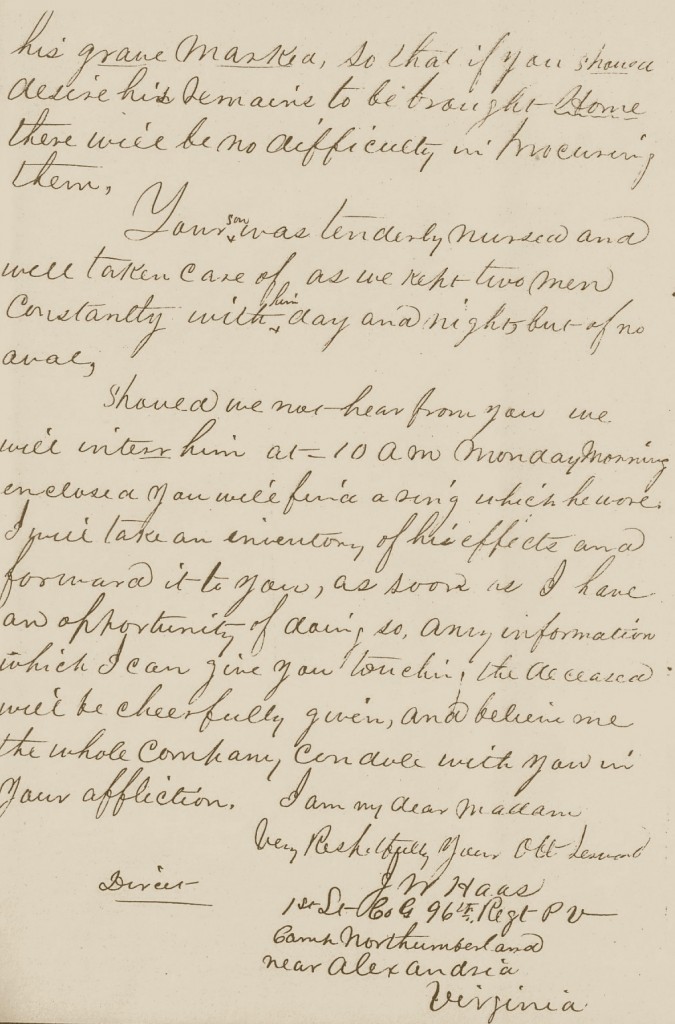 The text of the letter sent by 1st Lt. Jacob W. Haas:
Sunday 26th January '62

Camp Northumberland

My Dear Madam,

I have the painful duty to perform of informing you of the death of your son John C. Gratz.

He was taken sick on Tuesday evening, and was delirious up to the time of his death, although he recognized his comrades, until several hours before his spirit departed, which occurred at 1:45 this (Sunday) morning.

The surgeon says that he had Constipation of the Bowels, and also an effusion on the Brain which was the immediate cause of his death.

This letter is wrote at 2 A.M.  I intend to go to Washington to telegraph you the sad tidings, and if I receive no message up three (3) o'clock P.M. I will have him interred decently and his grave marker, so that if you should desire his remains to be brought Home there will be no difficulty in processing them.

Your son was tenderly nursed and well taken care of as we kept two men constantly with him day and night but of no avail.

Should we not hear from you we will interr [sic] him at 10 a.m. Monday morning.  Enclosed you will find a ring which he wore.  I will take an inventory of his effects and forward it to you, as soon as I have an opportunity of doing so.  Any information which I can give you touching the deceased will be cheerfully given, and believe me the whole Company condole with you in your affliction.

I am my dear Madam,

Very Respectfully Your Servant

J.W. Haas

1st Lt Co G 96th Regt P V

Camp Northumberland

Near Alexandria, Virginia
Jacob W. Haas (1833-1914) served with the 96 Pennsylvania throughout its term of service, eventually rising to the rank of Captain.  Haas was from Pottsville, Schuylkill County, Pennsylvania, and after his war service ended in 1864, he returned there for a short while before going to western Pennsylvania with his friend Col. William Lessig with whom he had served in the 96th Pennsylvania.  They were lured there by the prospect of getting rich in the oil fields.  At the time following the assassination of Abraham Lincoln, Haas was confronted by a mob which mistook him for John Wilkes Booth and after a few tense hours, someone from Sunbury identified Haas and he was able to go on his way.  After he was let go, he and Lessig continued westward but again he was stopped – this time by the 16th Pennsylvania Cavalry.  Again, he was let go because  was able to convince the cavalry that he was not Booth.  It happened again for a third time near Clarion, Pennsylvania, when an angry mob appeared, convinced that he was Booth, and it was not until word spread that Booth had been located and killed that Haas felt safe.  Jacob Haas died in 1914 in Shamokin, Northumberland County, Pennsylvania.
The final document recording the death of Corp. John C. Gratz is The Diary of Henry Keiser.  Throughout the war, Sgt. Henry Keiser kept a diary.  Like Gratz, he also served in the 10th Pennsylvania Infantry and  in Company G of the 96th Pennsylvania Infantry.  Both were from Lykens Borough.  Some years ago, the Gratz Historical Society acquired a photocopy of a handwritten copy of Keiser's diary.   The original acquisition record has been lost and the diary has not been authenticated.  The photocopy is of a ledger book with pages with printed numbers and of a size that would have been too large for Keiser to have carried throughout the war.  There is no reason to believe that the words are anything but authentic – but whatever form the original entries were in (scraps of paper, a small journal, etc.), whoever transcribed them into a larger  journal book did not tell.  The transcription also appears to be in two different styles of handwriting.  This diary will be discussed in greater detail in a future post.
Important to the death of John C. Gratz is Keiser's entry for 26 January 1862.

The only difference between the account of Henry Keiser and Jacob Haas is five minutes.  Keiser reports the time of death at "twenty minutes of two" while Haas reports that death occurred at 1:45 in the morning.
Many other members of the 96th Pennsylvania Infantry were from the Lykens Valley area and some knew John C. Gratz personally.  The fact that he died so early in his service in this regiment and not from a battle wound but from disease must have been a memorable shock to those who knew him.
The burial place of John C. Gratz has not yet been identified.  Whether the family chose the option of having his body shipped to Harrisburg is not known.  Perhaps a reader of this blog will know the answer and enlighten us.
Part 2 of the John C. Gratz story will follow tomorrow in another post.  In it, the first military service of John C. Gratz will be discussed – the 10th Pennsylvania Infantry and the actions around Harper's Ferry in 1861 – including some words about Gen. Robert Patterson of Philadelphia.  Part 3 will appear on Thursday and follow John C. Gratz through his enlistment in the 96th Pennsylvania Infantry, his arrival and stay at Camp Northumberland, to his illness and death.  Part 4 will appear on Friday and tell of the efforts of John's mother, Anne [Carson] Gratz, to get a pension based on his military service.
Much of the above information, including pictures, was taken from documents in the files of the Civil War Research Project.  The text of the letter from 1st Lt. Haas previously appeared inA Comprehensive History of the Town of Gratz Pennsylvania.  The story about Jacob W. Haas being mistaken for John Wilkes Booth was found on the 48th Pennsylvania Blogspot by John David Hoptak, Gettysburg, Pennsylvania, a Civil War Historian, Writer, and Park Ranger at the Antietam National Battlefield.