Posted By Norman Gasbarro on December 25, 2010
With the secession crisis undoubtedly on the minds of most people, the Philadelphia Inquirer chose to publish news of a more social nature in its Christmas day edition, 25 December 1860.  The following selections are nearly all from page one: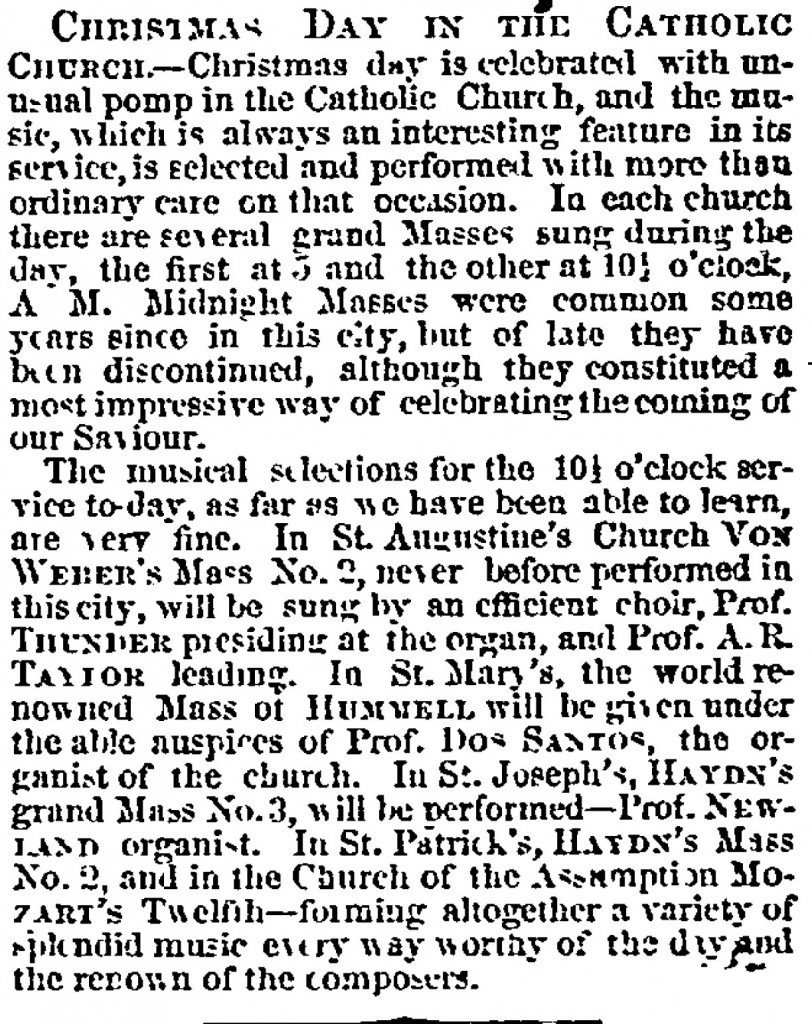 CHRISTMAS DAY IN THE CATHOLIC CHURCH – Christmas day is celebrated with unusual pomp in the Catholic Church, and the music, which is always an interesting feature in its service is selected and performed with more than ordinary care on that occasion.  In each church there are several grand Masses sung during the day, the first at 5 and the other at 10 1/2 o'clock, A.M.  Midnight Masses were common some years since in this city, but of late they have been discontinued, although they constituted a most impressive way of celebrating the coming of our Saviour.

The musical selections for the 10 1/2 o'clock service to-day, as far as we have been able to learn, are very fine.  In St. Augustine's Church Von Weber's Mass No. 2, never before performed in this city, will be sung by an efficient choir, Prof. THUNDER presiding at the organ, and Prof. A. R. TAYLOR leaning.  In St. Mary's, the world renowned Mass of HUMMELL will be given under the able auspices of Prof. DOS SANTOS, the organist of the church.  In St. Joseph's, HAYDN's grand Mass No. 3, will be performed – Prof. NEWLAND organist.  In St. Patrick's, HAYDN's Mass No. 2, and in the Church of the Assumption MOZART's Twelfth – forming altogether a variety of splendid music every way worthy of the day and the renown of the composers.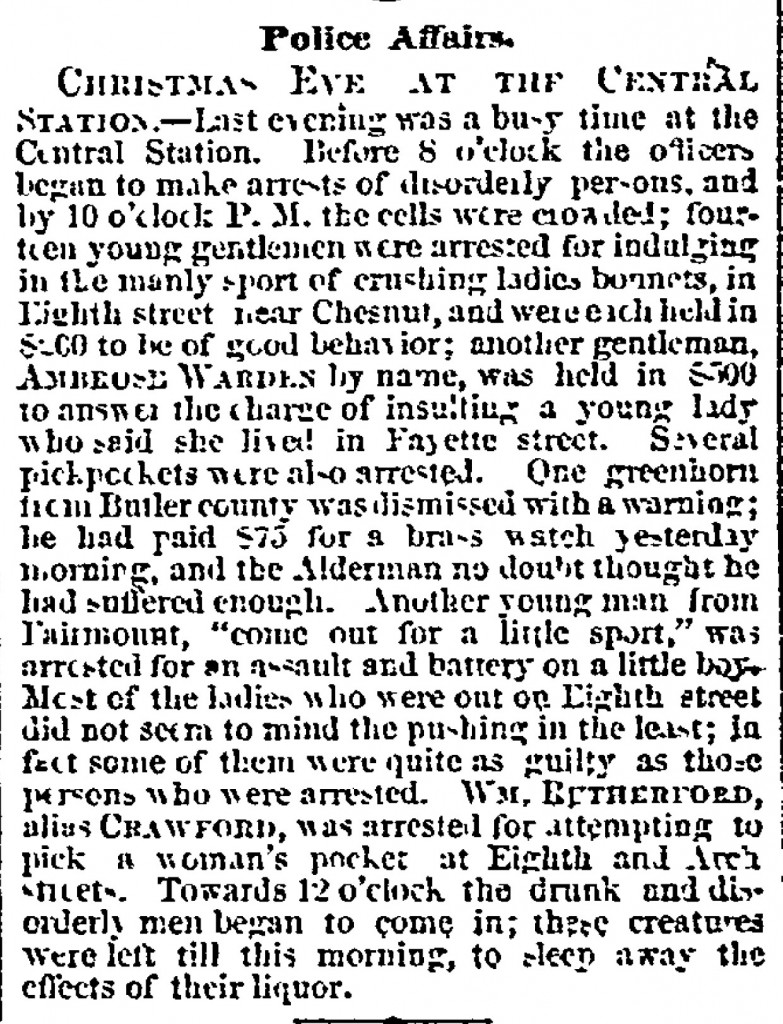 Police Affairs.  CHRISTMAS EVE AT THE CENTRAL STATION – Last evening was a busy time at the Central Station.  Before 8 o'clock the officers began to make arrests of disorderly persons, and by 10 o'clock P>M> the cells were crowded; fourteen young gentlemen were arrested for indulging in the manly sport of crushing ladies bonnets, in Eighth street near Chesnut [sic], and were each held in $500 to be of good behavior; another gentleman, AMBROSE WARDEN by name, was held in $500 to answer the charge of insulting a young lady who said she lived in Fayette street.  Several pickpockets were also arrested.  One greenhorn from Butler county was dismissed with a warning; he had paid $75 for a brass watch yesterday morning, and the Alderman no doubt thought he had suffered enough.  Another young man from Fairmount, "come out for a little sport," was arrested for an assault and battery on a little boy.  Most of the ladies who were out on Eighth street did not seem to mind the pushing in the least; in fact some of them were quite as guilty as those persons who were arrested.  WM BETHERFORD, alias CRAWFORD, was arrested for attempting to pick a woman's pocket at Eighth and Arch streets.  Towards 12 o'clock the drunk and disorderly men began to come in; these creatures were left till this morning, to sleep away the effects of their liquor.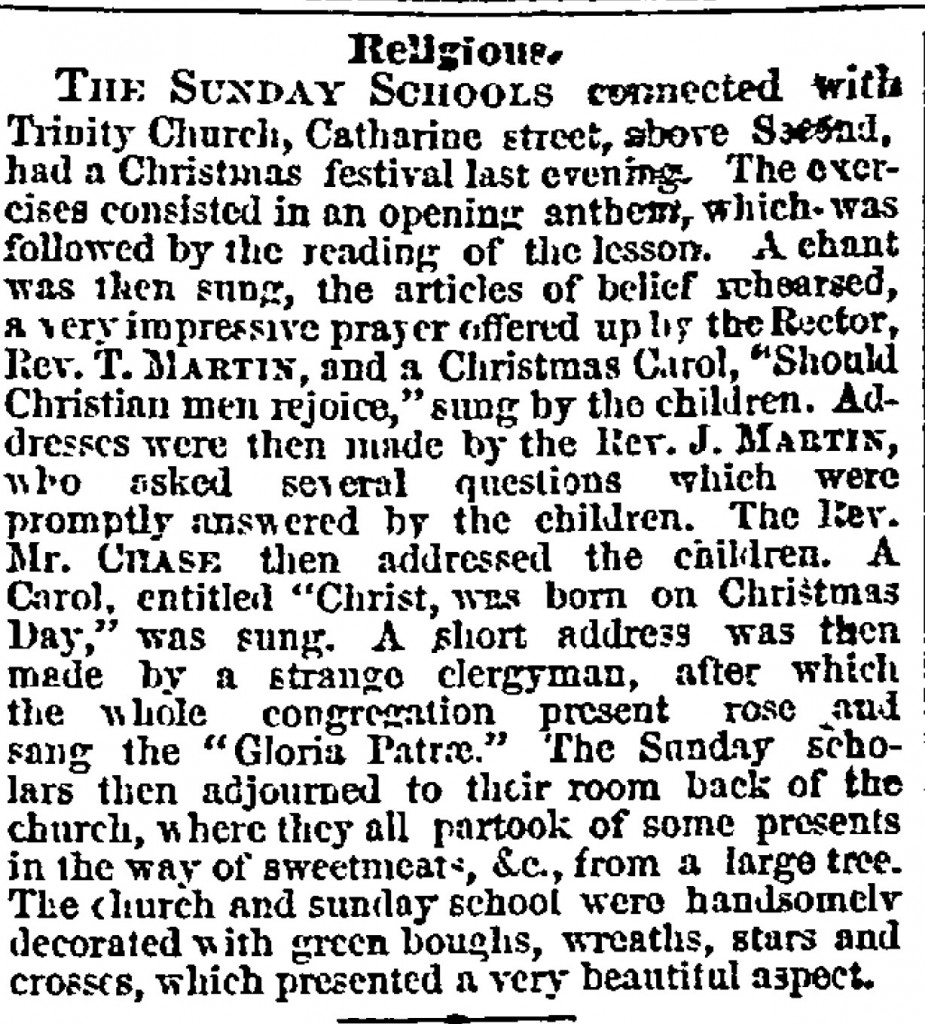 Religious.  THE SUNDAY SCHOOLS connected with Trinity Church, Catharine street , above Second, had a Christmas festival last evening.  The exercises consisted in an opening anthem, which was followed by the reading of the lesson.  A chant was then cung, the articles of belief rehearsed, a very impressive prayer offered up by the Rector, REV. T. MARTIN, and a Christmas Carol, "Should Christian men rejoice," sung by the children.  Addresses were then made by the Rev. J. MARTIN, who asked several questions which were promptly answered by the children.  The Rev. Mr. CHASE then addressed the children.  A Carol, entitled "Christ was born on Christmas Day," was sung.  A short address was then made by a strange clergyman, after which the whole congregation present rose and sang the "Gloria Patrae."  The Sunday scholars then adjourned to their room back of the church, where they all partook of some presents in the way of sweetmeats, &c., from a large tree.  The church and sunday school were handsomely decorated with green boughs, wreaths, stars and crosses, which presented a very beautiful aspect.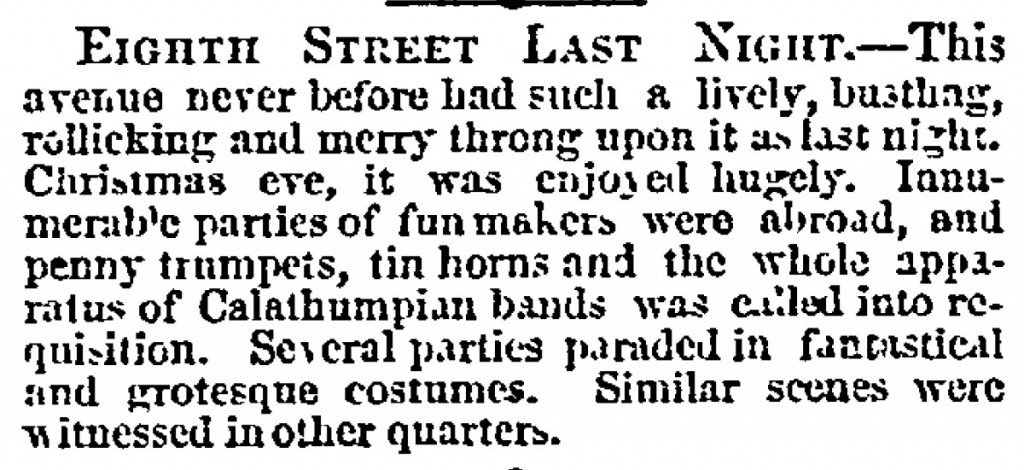 EIGHTH STREET LAST NIGHT – This avenue never before had such a lively, bustling, rollicking and merry throng upon it as last night.  Christmas eve, it was enjoyed hugely.  Innumerable parties of funmakers were abroad, and penny trumpets, tin horns and the whole apparatus of Calathumpian bands was called into requisition.  Several parties paraded in fantastical and grotesque costumes.  Similar scenes were witnessed in other quarters.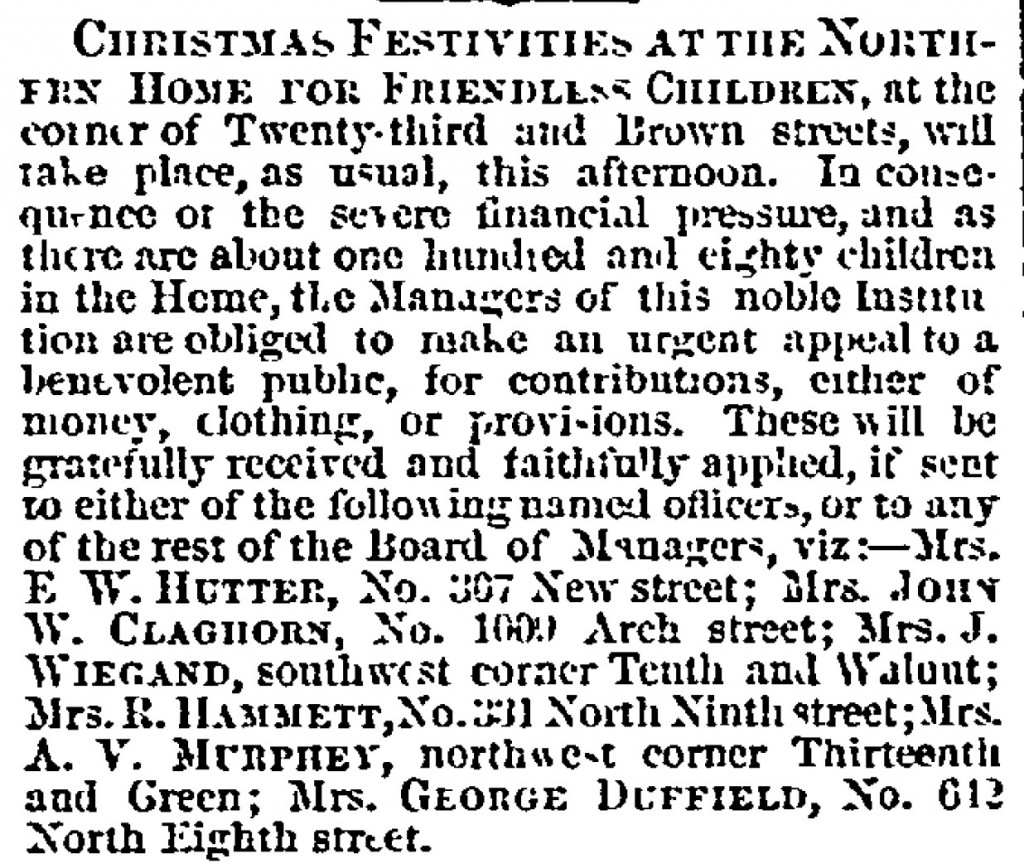 CHRISTMAS FESTIVITIES AT THE NORTHERN HOME FOR FRIENDLESS CHILDREN, at the corner of Twenty-third and Brown streets, will take place, as usual, this afternoon.  In consequence of the severe financial pressure, and as there are about one hundred and eighty children in the Home, the Managers of this noble Institution are obliged to make an urgent appeal to a benevolent public, for contributions, either of money, clothing, or provisions.  These wll be gratefully received and faithfully applied, if sent to either of the following named officers….

A CHRISTMAS MUSIC FESTIVAL will be given on Thursday evening next for the benefit of the poor, at St. Paul's Church, Christian below Tenth street.  Many professional gentlemen have volunteered for the occasion.  The vocal and instrumental music will be under the direction of Prof. DOS SANTOS.

ACADEMY OF MUSIC – The Oratorio of the Messiah, on Thursday evening next, promises to be an affair of more than ordinary eclat.  Our own favorite basso, MR. TAYLOR, and also MR. MICHAEL A. CROSS, will assist in solo parts.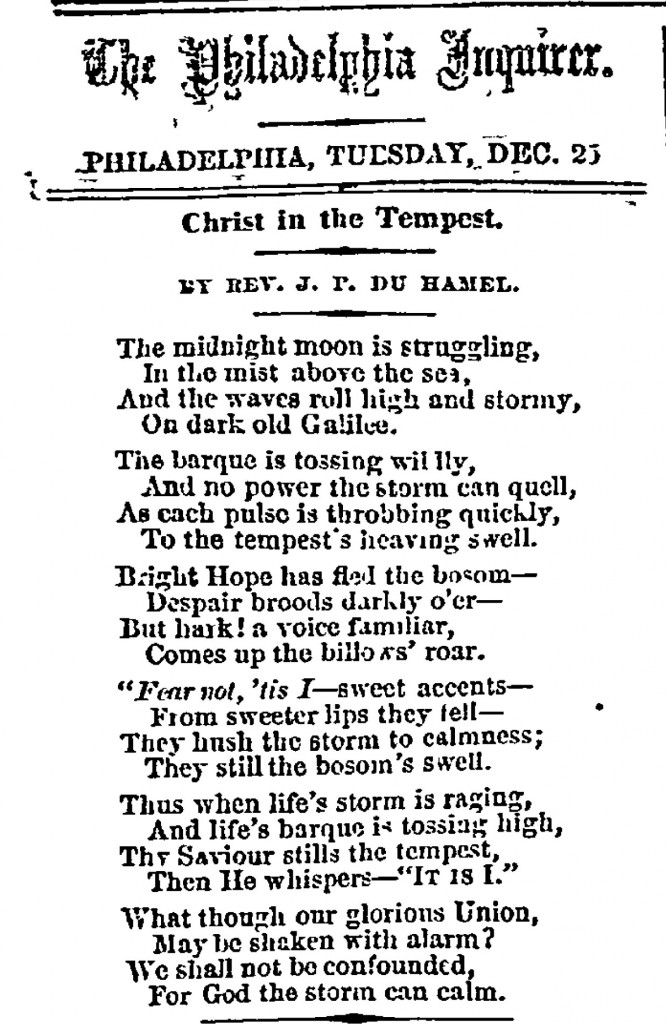 Finally, on an inside page, a poem by Rev. J. P. Du Hamel,  "What though our glorious Union, may be shaken with alarm?  We shall not be confounded, for God the storm can calm."
CHRIST IN THE TEMPEST

by Rev. J. P. Du Hamel

The midnight moon is struggling, in the midst above the sea, and the waves roll high and stormy, on dark old Galilee.

The barque is tossing wildly, and no power the storm can quell, as each pulse is throbbing quickly, to the tempest's heaving swell.

Bright Hope has fled the bosom – despair broods darkly o'er – but hark a voice familiar, comes up the billows roar.

"Fear not, 'tis I – sweet accents – from sweeter lips they tell – they hush the storm to calmness; they still the bosom's swell.

Thus when life's storm is raging, and life's barque is tossing high, thy Saviour stills the tempest, then He whispers – "It is I."

What though our glorious Union, may be shaken with alarm?  We shall not be confounded, for God the storm can calm."
Articles from Philadelphia Inquirer found in Free Library of Philadelphia on-line resources.