Posted By Norman Gasbarro on February 19, 2018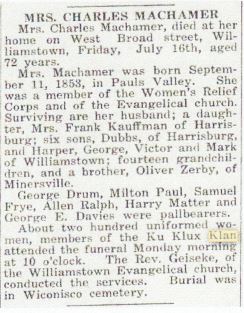 Sarah Jane [Zerby] Machamer died on 16 Jul 1926 in Williamstown, Dauphin County.  Her parents were Henry Zerby (1829-1922) and Sarah S. [Wolf] Zerby (1833-1906).  Her husband was Charles Machamer.  Her funeral was largely attended by members of Ku Klux Klan of Williamstown, of which she and her husband were leaders.
This post is a continuation of the reporting on hate groups that were active in the Lykens Valley area in the years following the Civil War.  It was a widely known fact that the third iteration of the Ku Klux Klan had a significant presence in the Lykens Valley and adjacent valleys during the early years of the 20th Century.  This third iteration of the Klan was strongly white supremacist and was opposed to equal rights for African Americans, Catholics, Jews, and immigrants.
From the Lykens Standard, 23 July 1926:
MRS. CHARLES MACHAMER

Mrs. Charles Machamer, died at her home on West Broad Street, Williamstown, Friday, 16 July 1926, aged 72 years.

Mrs. Machamer was born 11 September 1853, in Pauls Valley.  She was a member of the Women's Relief Corps and of the Women's Relief Corps and of the Evangelical Church.  Surviving are her husband; a daughter, Mrs. Frank Kauffman, of Harrisburg; six sons, Dubbs Machamer of Harrisburg, and Harper Machamer, George Machamer, Victor Machamer, and Mark Machamer of Williamstown; fourteen grandchildren, and a brother, Oliver Zerby, of Minersville.

George Drum, Milton Paul, Samuel Frye, Allen Ralph, Harry Matter, and George E. Davies were pallbearers.

About two hundred uniformed women, members of the Ku Klux Klan attended the funeral Monday morning at 10 o'clock.  The Rev. Geiseke, of the Williamstown Evangelical Church, conducted the services.  Burial was in Wiconisco Cemetery.
_______________________________________________
News clipping from Newspapers.com.