Posted By Norman Gasbarro on February 2, 2018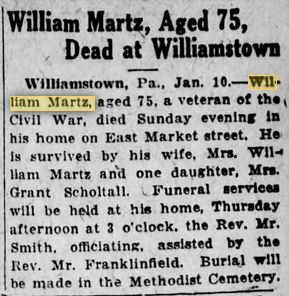 The obituary of William Marsh appeared in the Harrisburg Telegraph, 10 January 1922:
William Martz, Aged 75, Dead at Williamstown

Williamstown, Pennsylvania, 10 January 1922 — William Martz, aged 75, a veteran of the Civil War, died Sunday evening in his home on East Market Street.  he is survived by his wife, Mrs. William Martz and one daughter, Mrs. Grant Scholfall [sic].  Funeral services will be held at his home, Thursday afternoon at 3 o'clock, the Rev. Mr. Smith, officiating, assisted by the Rev. Mr. Frankinfield.  Burial will be made in the Methodist Cemetery.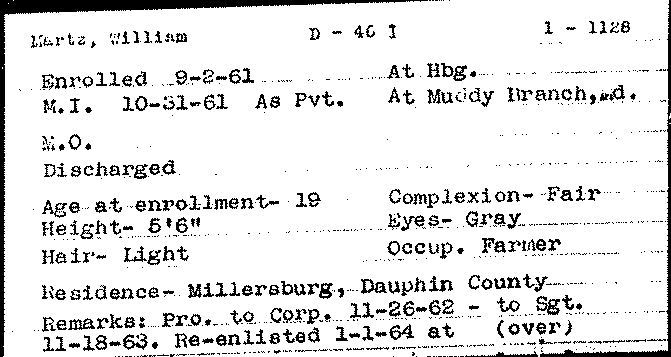 According to the Pennsylvania Veterans' File Card (from Pennsylvania Archives), William Marsh enrolled in the 46th Pennsylvania Infantry, Company D, on 2 September 1861, at Harrisburg.  He was mustered into service as a Private on the 31 October 1861 at Muddy Branch, Maryland.  At the time, he claimed to be 19 years old, was working as a farmer, and was a resident of Millersburg.  He was 5 foot 6 inches tall, had light hair, a fair complexion, and grey eyes.  On 26 November 1862 he was promoted to Corporal and on 18 November 1863, he was promoted to Sergeant.  On 1 January 1864 he re-enlisted at Dechart, Tennessee.  The reverse of the card also states that he was wounded on 25 May 1864 and was absent, in the hospital, at the time of Muster Out, which occurred for others in the company on 26 May 1865.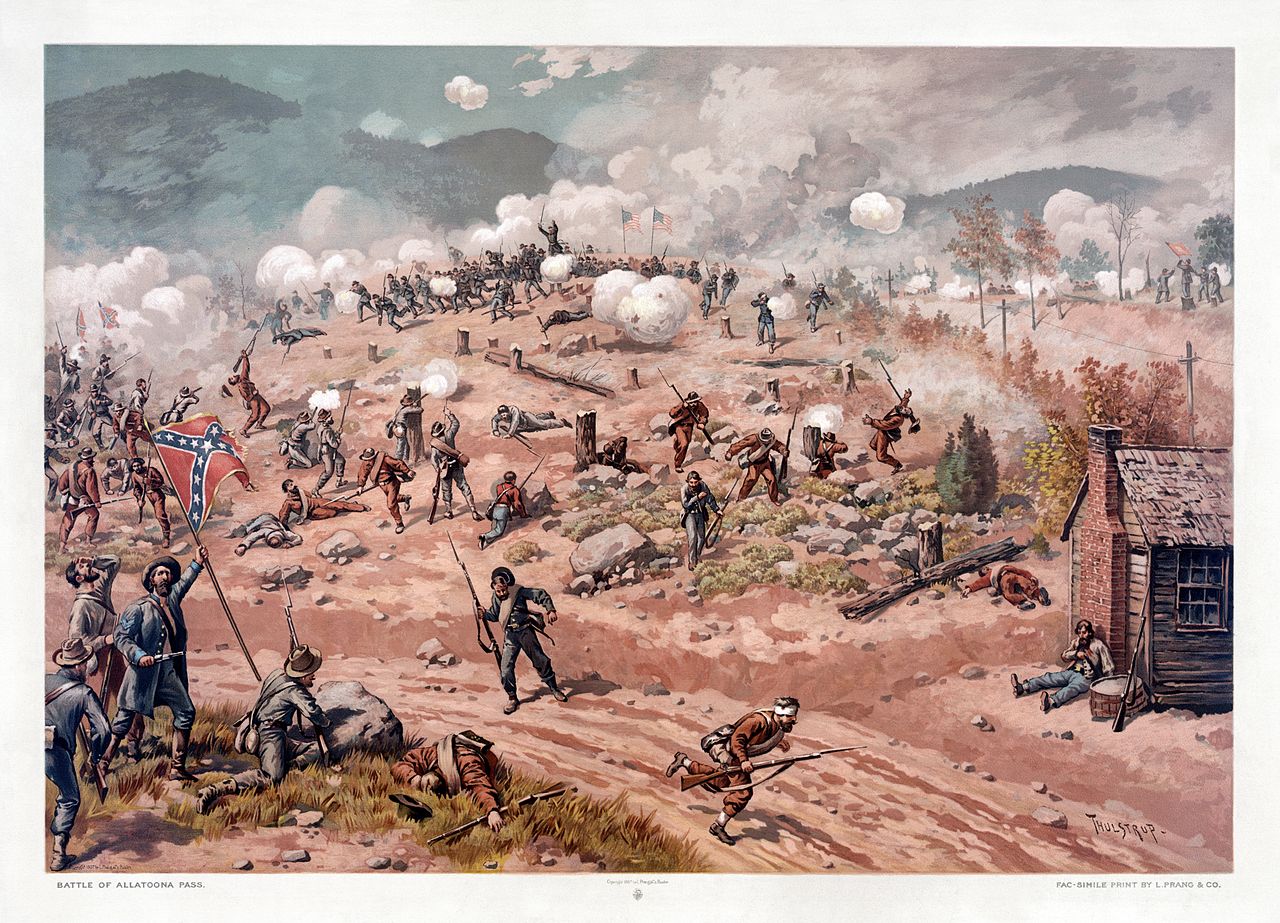 Additional military information can be found in the 1890 Veterans' Census (not shown here), in which he indicated that he was wounded at the Battle of Allatoona Mountain, Georgia (pictured above from Wikipedia) — his right elbow was shattered.   That battle took place on 5 October 1864.
The Battle of Allatoona, also known as the Battle of Allatoona Pass, was fought 5 October 1864, in Bartow County, Georgia, as part of the Franklin-Nashville Campaign of the American Civil War. A Confederate division under Maj. Gen. Samuel G. French attacked a Union garrison under Brig. Gen. John M. Corse, but was unable to dislodge it from its fortified position protecting the railroad through Allatoona Pass. [Source:  Wikipedia]

The wounds received by William Martz on 25 May 1864, as reported on the Pennsylvania Veterans' File Card, were received just prior to the Battle of Dallas, which also occurred in Georgia from 26 May 1864 to 4 June 1864.
The Battle of Dallas was a series of engagements during the Atlanta Campaign of the American Civil War. They occurred between May 26 and June 4, 1864, in and around Dallas, Georgia, between Lt. General William J. Hardee's Confederate corps and the Union defense line, held by the XV Corps under Maj. General John A. Logan of the Army of the Tennessee. The Battle of New Hope Church and the Battle of Pickett's Mill are often sub-grouped as part of the overall engagement at Dallas. [Source:  Wikipedia].

Therefore, if both records are correct, William Martz, was wounded twice – with the one significant wound being to his right elbow.  But it is the right elbow wound that connects him to a post-Civil War document – a prison record from Eastern State Penitentiary in Philadelphia: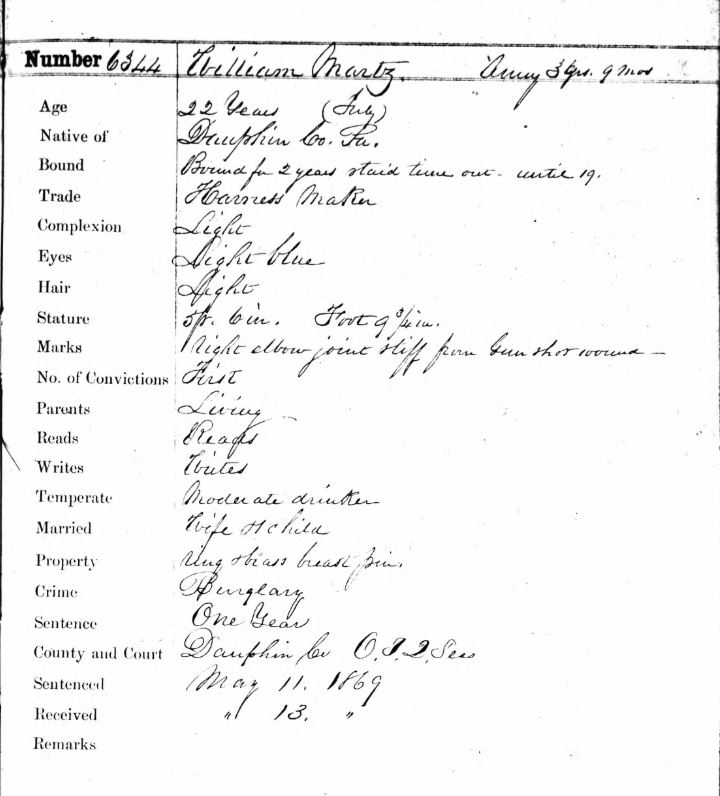 The document, from Ancestry.com, states that William Martz was sentenced on 11 May 1869 to a term of one year for burglary, that he began his sentence on 13 May 1869, and that he was from Dauphin County, Pennsylvania.  Also, in his physical characteristics, it is stated that his "right elbow joint was stiff from gunshot wound."
The circumstances around which he was sentenced and convicted are not known at this time. A small blurb appeared in the Harrisburg Telegraph of 11 May 1869:

William Martz – burglary.  Pay $1 to Commonwealth, restore property, and go to the Eastern Penitentiary for one year.
Census records for William Martz indicate that he was living in Washington Township, Dauphin County, with his family in 1850 and 1860, and that after the Civil War, he moved to Wiconisco and worked as a miner (1870).  Later records have him and his family living in Williams Township and Williamstown, where he died in 1922.  Those records, coupled with the Pennsylvania Veterans' File Card, which names his residence as Millersburg, make him eligible for the Civil War lists of all those communities.  However, the only community that has actually honored him on a monument is Lykens where his name appears on the Lykens G.A.R. Monument.
We know that when William Martz was at the Eastern State Penitentiary that he was married and had a child (see prison record above).  We know from other records that his wife was Malinda Susan Heinbaugh (1846-1922).  And, we know from other records that the name of the child who survived him was Jennie E. Martz (1873-1972), who married Henry Grant Schoffstall (1865-1943) of Gratz Borough.  Unless Jennie's dates are incorrect, she therefore could not have been the child who was mentioned in the prison record.  Was Malinda the spouse who was mentioned?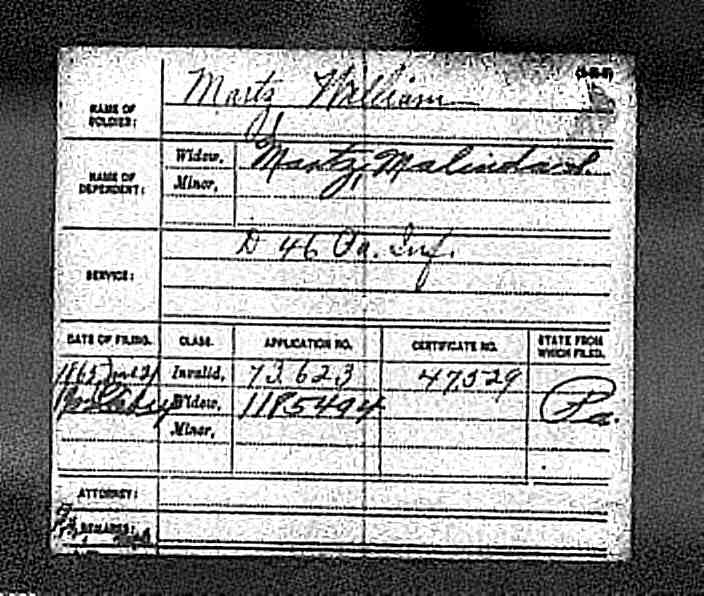 Possibly the information can be found in the pension application file.  The above card from Ancestry.com, shows that after William died, Malinda applied for pension benefits – but she did not receive them.  In checking the death date for Malinda, which is located in both a Pennsylvania Death Certificate and an obituary:  she died 23 April 1922, just about 3 1/2 months after William died.  Her non-receipt of the pension was most likely due to the failure of the heir, her daughter, to follow through on the application after Malinda's death.  She would have been eligible for benefits from the date of William's death to the date of her death, if she met the other criteria – and her heir could have received those benefits as an inheritance.  Possibly also, the application, which required proof of marriage to William, was not complete.  William may also have had a prior marriage.
A request is made to anyone who has seen the pension file to respond as to whether anything further can be said about the marriage or marriages of William.