Posted By Norman Gasbarro on February 9, 2018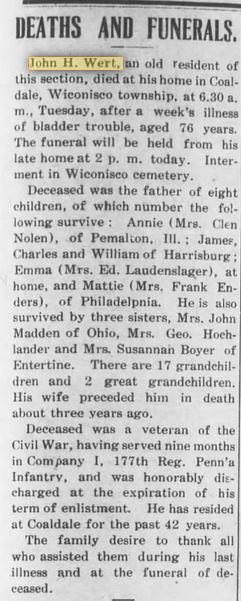 John H. Wert, Civil War veteran, died on 18 November 1913, and his obituary appeared in the Lykens Standard on 21 November 1913:
DEATHS AND FUNERALS

John H. Wert, an old resident of this section, died at his home in Coaldale, Wiconisco Township, at 6:30 a.m., Tuesday, after a week's illness of bladder trouble, aged 76 years.  The funeral will be held from his late home at 2 p.m. today.  Interment in Wiconisco Cemetery.

Deceased was the father of eight children, of which number the following survive:  Annie [Wert] Nolen, Mrs. Clen Nolen, of Pemalton, Illinois; James Wert, Charles Wert, and William Wert of Harrisburg; Emma [Wert] Laudenslager, Mrs. Ed Laudenslager, at home; and Mattie [Wert] Enders, Mrs. Frank Enders, of Philadelphia.  He is also survived by three sisters, Mrs. John Madden of Ohio; Mrs. George Hochlander and Mrs. Susannah Boyer of Enterline.  There are 17 grandchildren and 2 great grandchildren.  His wife preceded him in death about three years ago.

Deceased was a veteran of the Civil War, having served nine months in Company I, 177th Regiment Pennsylvania Infantry [177th Pennsylvania Infantry], and was honorably discharged at the expiration of his term of enlistment.  He has resided at Coaldale for the past 42 years.

The family desire to thank all who assisted them during his last illness and at the funeral of deceased.
Previously, John H. Wert was featured in this blog in a post on honorable discharges from the 177th Pennsylvania Infantry, Company I. and he was also featured in a post on burials at the Calvary United Methodist Church Cemetery, Wiconisco.
Also, it should be noted that he is also named on the Lykens G.A.R. Monument as a veteran who joined the Heilner Post after its organization.
____________________________________
News article from Newspapers.com.