Posted By Norman Gasbarro on January 2, 2018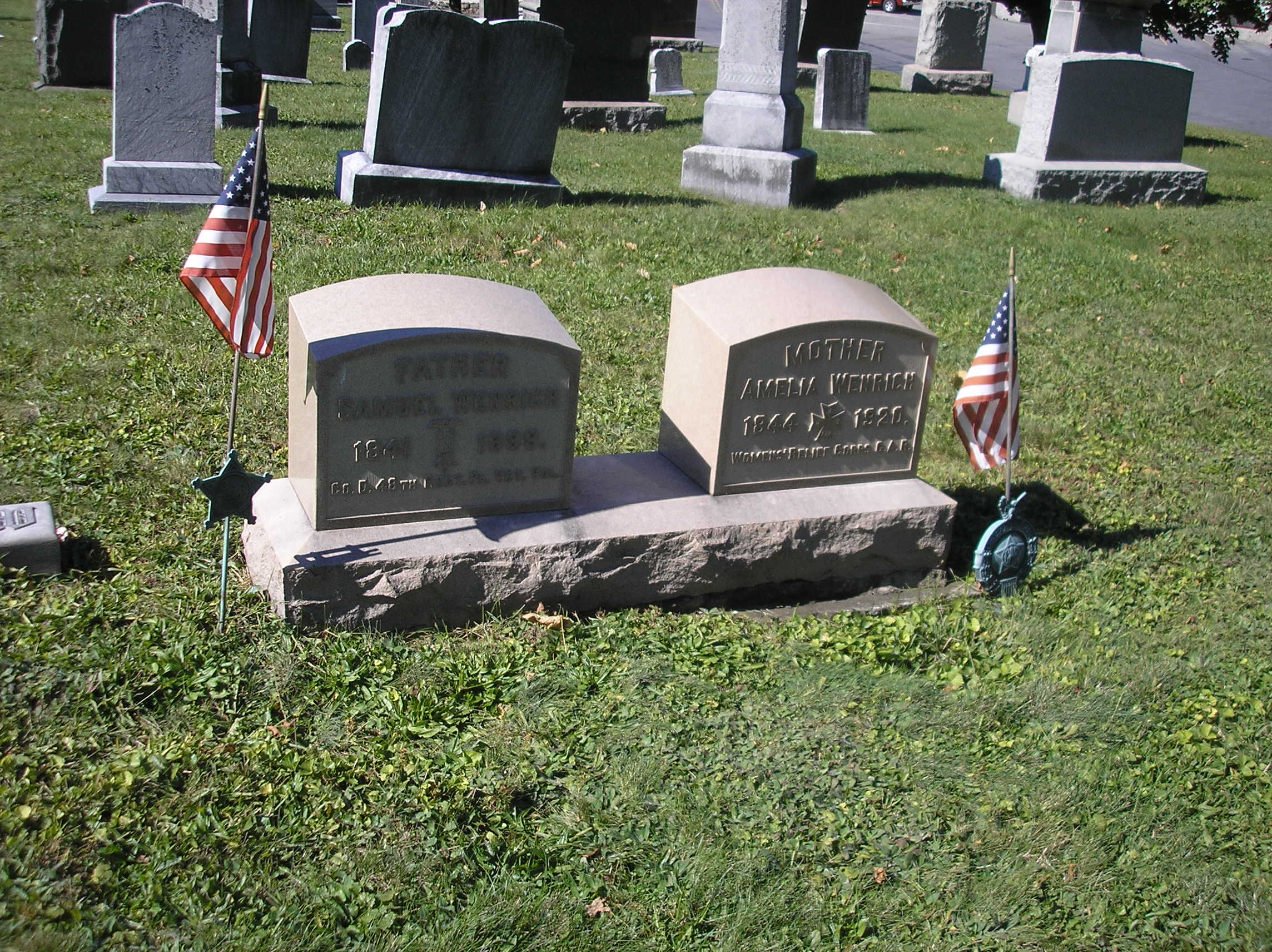 Buried together at the St. Paul (Artz) Cemetery in Sacramento, Schuylkill County, Pennsylvania, are two veterans of the Civil War, or so it would seem from the bronze G.A.R. flag-holder markers adjacent to their grave stones.  Samuel Wenrich and Amelia [Faust] Wenrich were husband and wife.  This is one of the few graves in the Lykens Valley area where a woman received the honor of having her own veteran marker.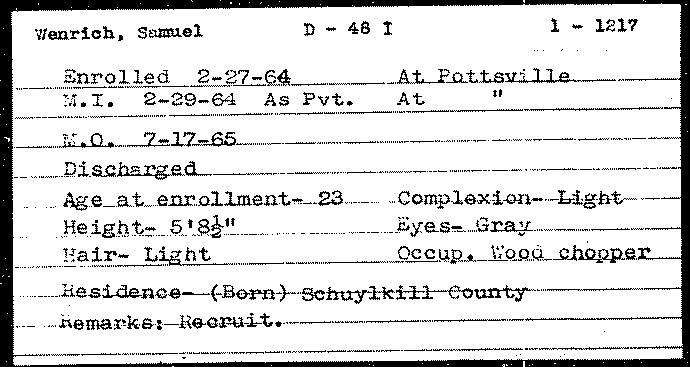 According to information found on Ancestry.com and at the Pennsylvania Archives, Samuel Wenrich was born in Schuylkill County, Pennsylvania, about 1841, the son of Thomas Wenrich and his wife Susanna Wenrich.  At the time of the Civil War when he was about 23 years old, he was recruited into the 48th Pennsylvania Infantry, Company D, at Pottsville, and two days later was mustered into service as a Private.   He gave his occupation as "wood chopper," which was quite different from others already in this regiment, many of whom were coal miners.  He stood nearly 5 foot 9 inches tall, had a light complexion, light hair and grey eyes.  He served his term, mainly taking part in the battles about Petersburg, and was honorably discharged on 17 July 1865.
Amelia Faust was born 27 May 1844 in Berks County, Pennsylvania, the daughter of Reuben Eirich Faust (1818-1890) and Mary Ann "Polly" [Bohn} Faust (1812-1874).  She died on 24 December 1920 in Reading, Berks County.  From the date of birth of her first known child, it is believed that she married Samuel Wenrich during the Civil War.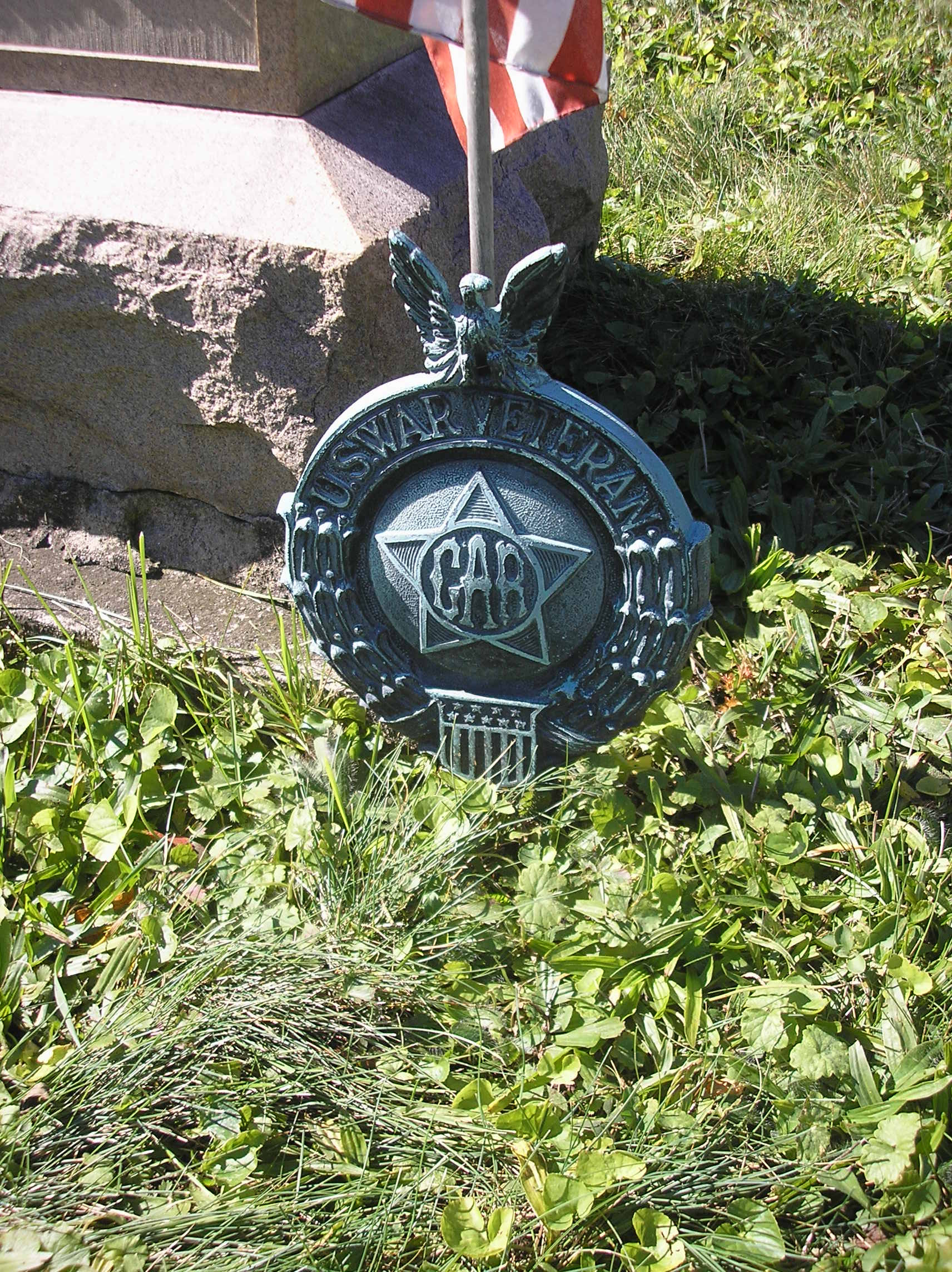 A close-up photograph (above) of the bronze emblem at her grave notes that she was a U. S. War Veteran [of the] G.A .R.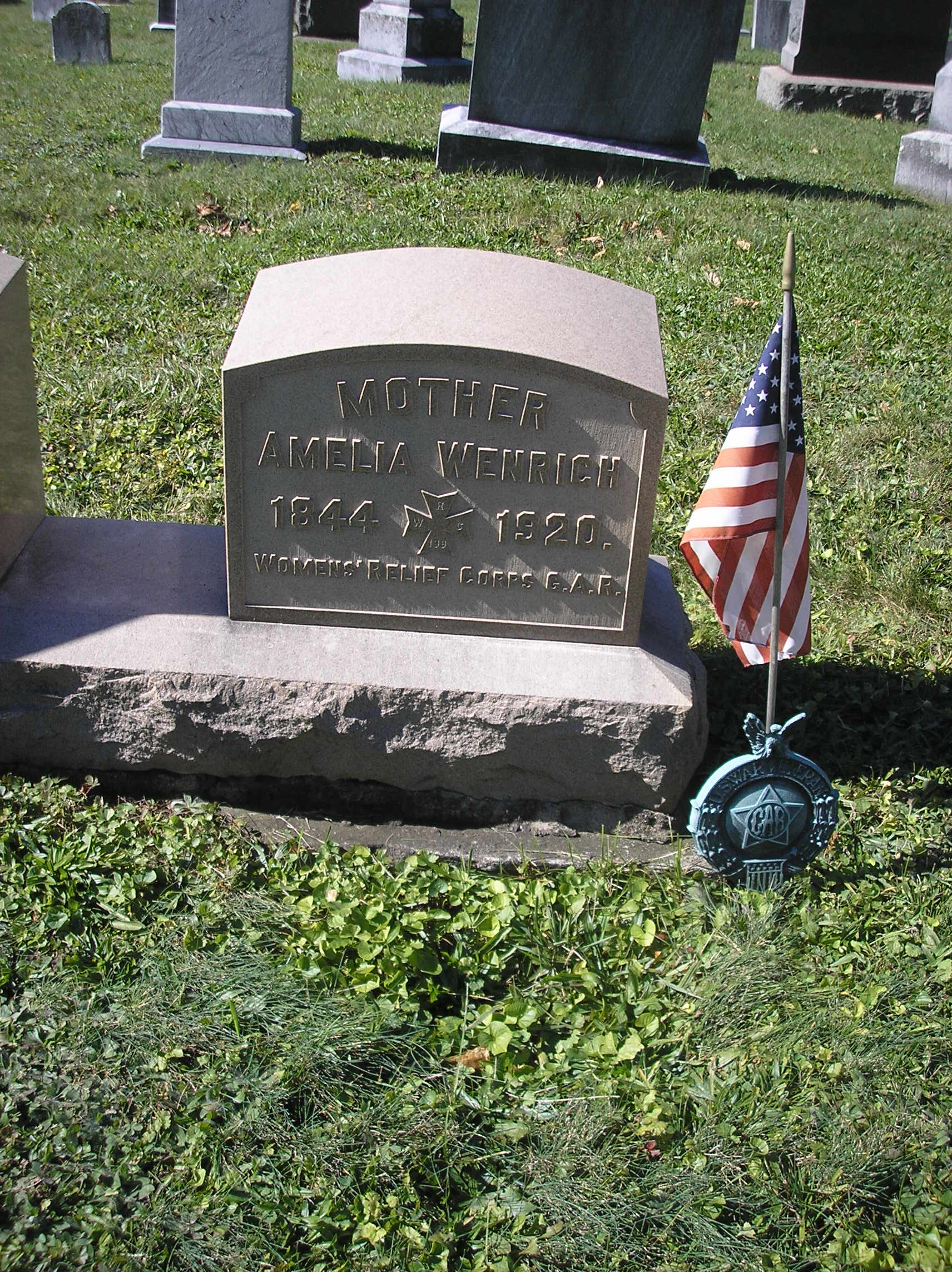 A close-up of the inscription on her grave marker notes that she was a member of the "Women's Relief Corps G.A.R."
An article that appeared in the Lykens Standard, 5 June 1908, told the following story about her: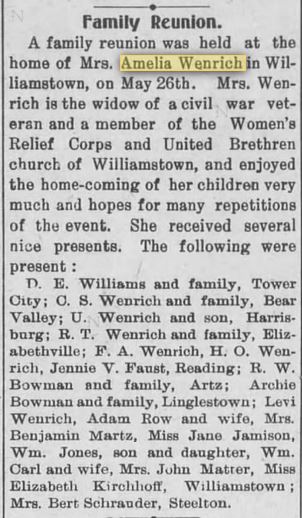 A Family Reunion

A family reunion was held at the home of Mrs. Amelia Wenrich in Williamstown, on 26 May 1907.  Mrs. Wenrich is the widow of a Civil War veteran and a member of the Women's Relief Corps and United Brethren Church of Williamstown, and enjoyed the home-coming of her children very much and hopes for many repetitions of the event.  She received several nice presents.  The following were present:

D. E. Williams and family, Tower City; C. S. Wenrich and family, Bear Valley; U. Wenrich and son, Harrisburg; R. T. Wenrich and family, Elizabethville; F. A. Wenrich, H. O. Wenrich, Jennie V. Faust, Reading; R. W. Bowman and family, Artz; Archie Bowman and family, Linglestown; Levi Wenrich, Adam Row and wife; Mrs. Benjamin Martz, Miss Jane Jamison, William Jones son and daughter; William Carl and wife, Mrs. John Matter, Miss Elizabeth Kirchhoff, Williamstown; Mrs. Bert Schrauder, Steelton.
No other articles have been located identifying Amelia Wenrich as a member of the Women's Relief Corps.  However, an active chapter of this group existed into the 1950s in Lykens Borough, and when the Lykens G.A.R. Monument was erected early in the 20th century, this group took an active part in the raising of funds and worked in conjunction with surviving war veterans to honor them.  Surprisingly, if Amelia Wenrich was a member of the women's group at Lykens, her husband was not named on the monument.
Amelia [Faust} Wenrich is found in the 1860 census for Lykens Township, where she was living with her parents and siblings.  In 1880, after marriage to Samuel Wenrich, she and her husband and children are found in that census for Tremont, Schuylkill County, where Samuel was working in the coal mines.  In 1890, the family was in Hubley Township, Schuylkill County, where Samuel reported his service in the 48th Pennsylvania Infantry.  Samuel Wenrich died on 5 April 1899.  In 1900 and 1910, the widow Amelia was named as head of family, living in Williamstown.
The Pension Index Card for Samuel Wenrich is shown above [from Fold3].  It indicates that Samuel applied for pension benefits on 30 June 1880, which he received and collected until his death, which is confirmed on the card at 5 April 1899.
However, the Pension Index Card for Samuel Wenrich shown above [from Ancestry.com] gives the date of Amelia's application as 22 April 1899, but does not indicate that Samuel applied or received benefits.  Also, it should be noted that the surname is spelled Wenrick on this latter card.
Addition information is sought about both Samuel Wenrich and Amelia [Faust] Wenrich.  Readers who can add to the story of these two veterans are urged to add comments to this post!
______________________________________
News clipping from Newspapers.com.