Posted By Norman Gasbarro on January 15, 2018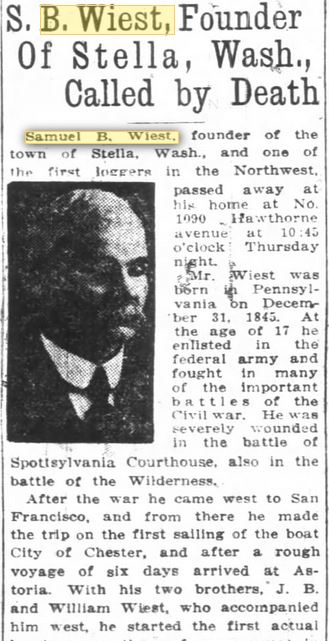 Samuel Beisel Wiest, was born 31 December 1845, in Hebe, Jordan Township, Northumberland County, Pennsylvania, the son of John Klinger Wiest (1821-1877) and Lucetta [Beisel] Wiest (1824-1904).  He was a direct descendant of the first Klinger settlers in the area of the Mahantongo and Lykens Valleys.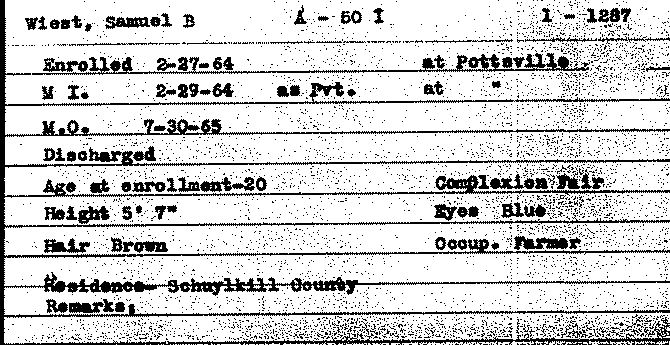 On 27 February 1864, in Pottsville, Samuel B. Wiest enrolled in the 50th Pennsylvania Infantry, and on the 29 February 1854, at the same place he was mustered into Company A, as a Private.  At the time, he was 20 years old, stood 5 foot 7 inches tall, had brown hair, a fair complexion, and blue eyes.  He gave his occupation as farmer and his residence as Schuylkill County.  According to the Pennsylvania Archives, he served until 30 July 1865, and was honorably discharged with his company and regiment.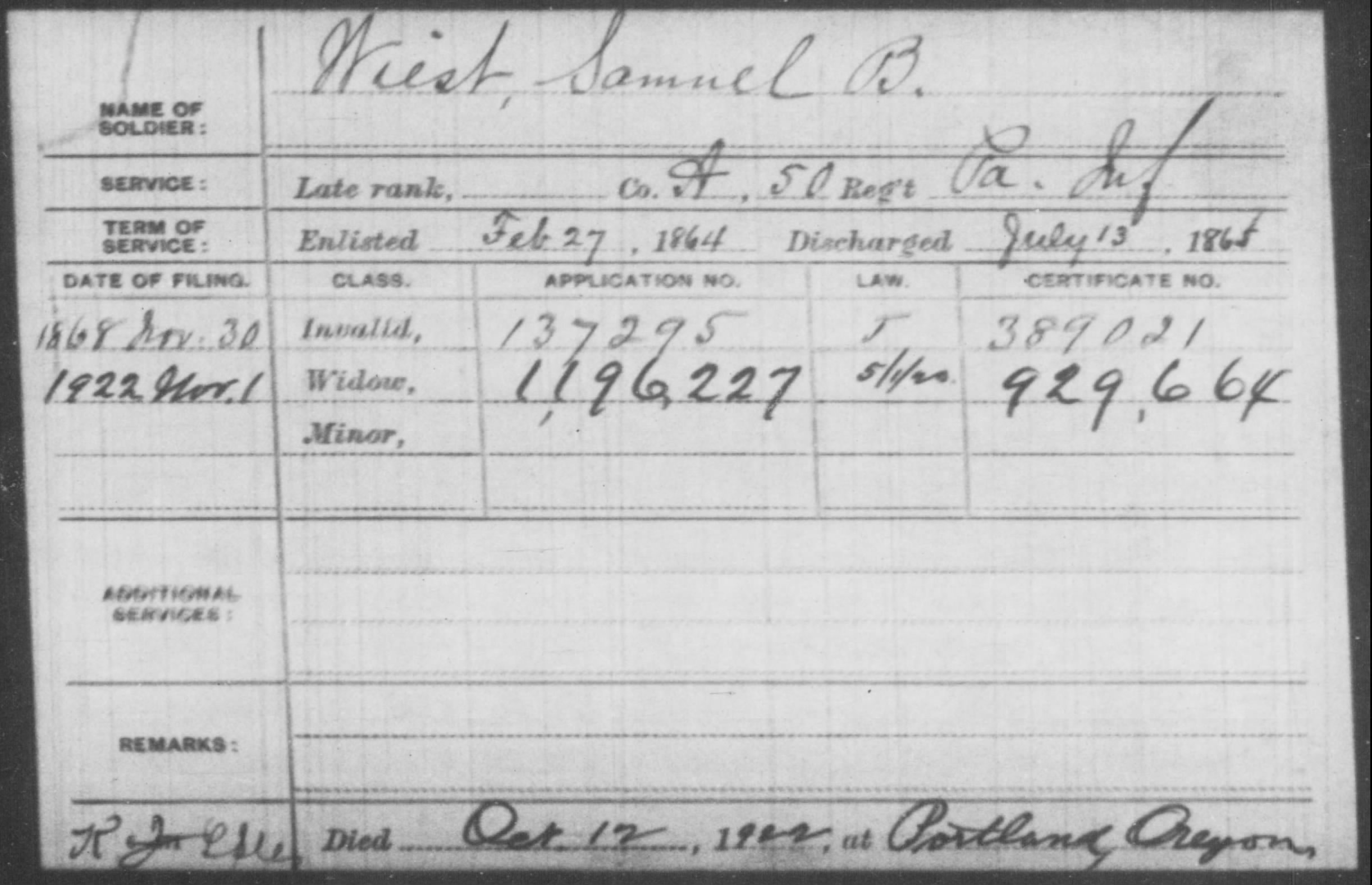 On 30 November 1868, Samuel B. Wiest, he applied for a pension.This relatively early application, and the fact that benefits were awarded, is an indication that he suffered some disability related to his service.  According to the Pension Index Card, shown above from Fold3, he died on 12 October 1922 in Portland, Oregon.
The obituary of Samuel B. Wiest appeared in the Oregon Daily Journal (Portland, Oregon), on 15 October 1922:
S. B. Wiest, Founder of Stella, Washington, Called by Death

Samuel B. Wiest, founder of the town of Stella, Washington, and one of the first loggers in the Northwest, passed away at his home, 1900 Hawthorne Avenue, at 10:45 o'clock Thursday night.

Mr. Wiest was born in Pennsylvania, 31 December 1845.  At the age of 17, he enlisted in the army and fought in many of the important battles of the Civil War.  He was severely wounded in the Battle of Spottsylvania Courthouse, also in the Battle of the Wilderness.

After the war he came to San Francisco, and from there he made the trip on the first sailing of the boat, City of Chester, and after a rough voyage of six days, arrived at Astoria.  With his two brothers, J. B. Wiest, and William Wiest, who accompanied him west, he started the first actual logging operations of consequence in the Northwest, and later founded the town of Stella, Washington.  He was active in the logging business for 20 years, when in an accident, he lost one of his legs, which caused him to retire, and since that time he had made his home in Portland.

He was an active member of Sumner Camp, G.A.R.  He is survived by his widow, Harriet Wiest; two brothers, J. B. Wiest and William Wiest, and a daughter, Mrs. Charles S. Piper, all of Portland.

The funeral will be under the auspices of the G.A.R. at Finley's, Fifth and Montgomery Streets, Monday, 16 October 1922, at 2:30 p.m. with interment at Rose City Cemetery.
One possible error occurs in the obituary:  If the Findagrave record in correct, then he was 19 when he enlisted, not 17 as stated in the obituary.
Additional information is sought about this son of Pennsylvania who supposedly played such an important role in the post-Civil War logging industry in the Northwest.
________________________________________
Obituary is from Newspapers.com.