Posted By Norman Gasbarro on January 29, 2018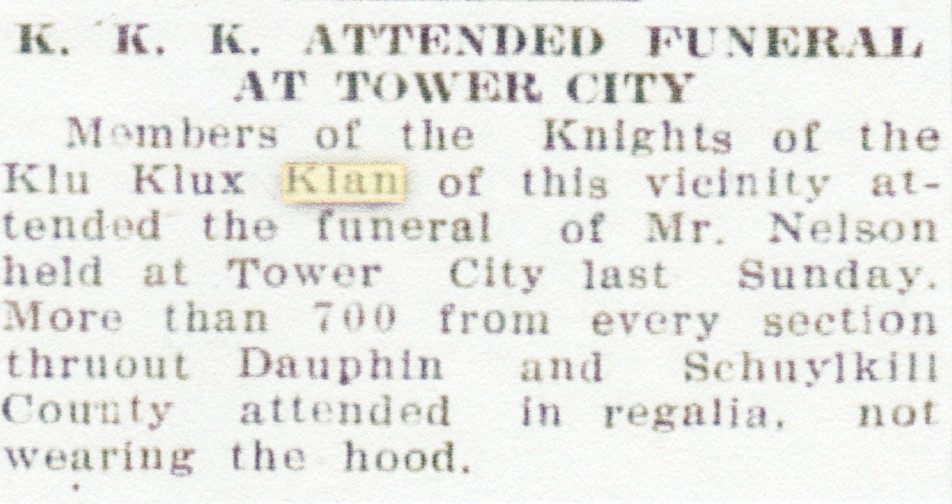 Simon Peter Nelson was born on 23 October 1878, in Orwin, Porter Township, Schuylkill County, Pennsylvania, the son of John Nelson, an immigrant from Germany, and his wife, Rebecca [Heberling] Nelson, who was born in Pennsylvania.  He was a coal miner.  He died on 26 February 1925, killed accidentally by a crush of falling coal.  Ironically, as the son of an immigrant, he chose to support the views of the Ku Klux Klan and rose to be one of the Schuylkill County leaders of the Klan.  Thus, the Klan turned out in force for his funeral.
This post is a continuation of the reporting on hate groups that were active in the Lykens Valley area in the years following the Civil War.  It was a widely known fact that the third iteration of the Ku Klux Klan had a significant presence in the Lykens Valley and adjacent valleys during the early years of the 20th Century.  This third iteration of the Klan was strongly white supremacist and was opposed to equal rights for African Americans, Catholics, Jews, and immigrants.
From the Lykens Standard, 6 March 1925:
K. K. K. ATTENDED FUNERAL AT TOWER CITY

Members of the Knights of the Ku Klux Klan of this vicinity attended the funeral of Mr. Nelson held at Tower City last Sunday.  More than 700 from every section throughout Dauphin and Schuylkill County attended in regalia, not wearing the hood.
_______________________________________________
News clipping from Newspapers.com.