Posted By Norman Gasbarro on December 28, 2017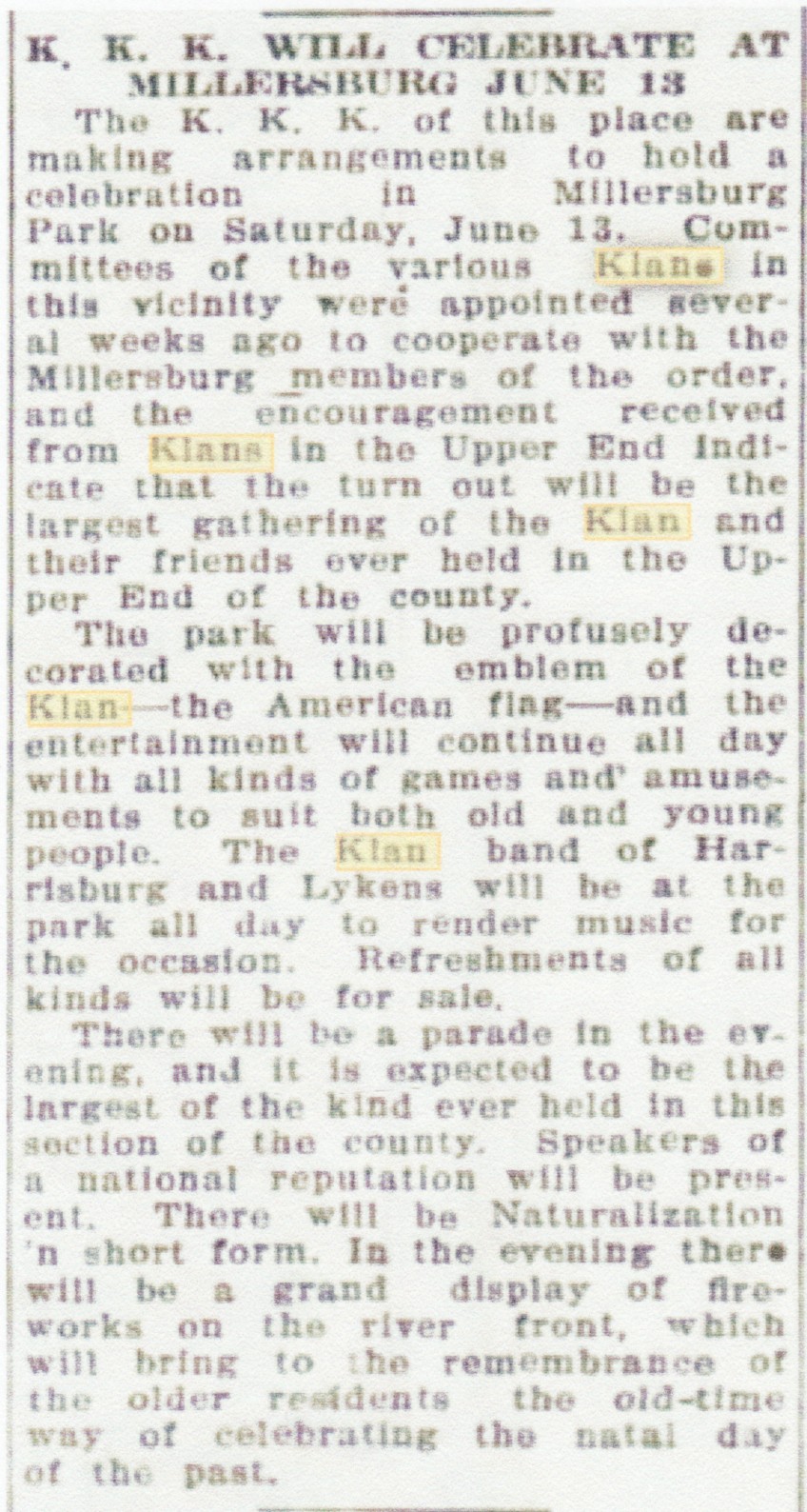 On Saturday, 13 June 1925, the Ku Klux Klan planned for a celebration to be held at Millersburg's Park, Millersburg, Dauphin County, Pennsylvania.  The article promoting the event was interesting in that it claimed the celebration would bring back the "old-time way" of celebrating the past.  The Klan also claimed the American flag as its own symbol and even used the word "naturalization" for its induction into membership.
This post is a continuation of the reporting on hate groups that were active in the Lykens Valley area in the years following the Civil War.  It was a widely known fact that the third iteration of the Ku Klux Klan had a significant presence in the Lykens Valley and adjacent valleys during the early years of the 20th Century.  This third iteration of the Klan was strongly white supremacist and was opposed to equal rights for African Americans, Catholics, Jews, and immigrants.
From the Lykens Standard, 12 June 1925:
K. K. K. WILL CELEBRATE AT MILLERSBURG 13 June 1925

The Ku Klux Klan of this place are making arrangements to hold celebration in Millersburg Park on Saturday, 13 June 1935.  Committees of the various Klans in this vicinity were appointed several weeks ago to cooperate with the Millersburg members of the order, and the encouragement received from Klans in the Upper End indicate that the turn out will be the largest gathering of the Klan and their friends ever held in the Upper End of the county.

The park will be profusely decorated with the emblem of the Klan – the American flag – and the entertainment will continue all day with all kinds of games and amusements to suit both old and young people. The Klan band of Harrisburg and Lykens will be at the park all day to render music for the occasion.  Refreshments of all kinds will be for sale.

There will be a parade in the evening, and it is expected to be the largest of the kind ever held in this section of the country.  Speakers of a national reputation will be present.  There will be Naturalization in short form.  In the evening there will be a grand display of fireworks on the river front, which will bring to the remembrance of the older residents the old-time way of celebrating the natal day of the past.
___________________________________________
News article from Newspapers.com.