Posted By Norman Gasbarro on December 1, 2017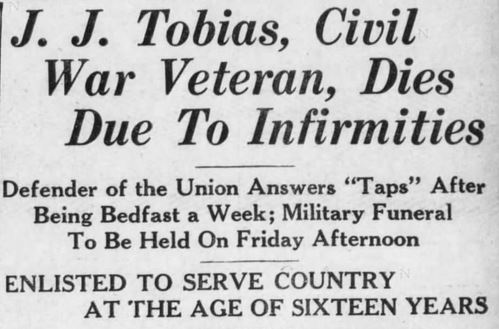 The obituary of Civil War veteran John J. Tobias, who was born near Donaldson, Schuylkill County, Pennsylvania, appeared in the Mount Carmel Item, 19 February 1935:
J. J. TOBIAS, CIVIL WAR VETERAN, DIES DUE TO INFIRMITIES

Defender of the Union Answers "Taps" After Being Bedfast a Week; Military Funeral To Be Held on Friday Afternoon

ENLISTED TO SERVE COUNTRY AT THE AGE OF SIXTEEN YEARS

Thinning ranks of the Grand Army of the Republic [G.A.R.], valiant wearers of the Blue during the Civil War in the days of 1861-1865, were further reduced today in Mount Carmel, when Comrade John J. Tobias, 86, answered the final call of "Taps."

He died at seven a.m. at the family residence, North Maple Street, where he was taken bedfast just a week ago.

His death caused by infirmities brought on by advanced age, leaves only two Civil War veterans in this city, Jacob Umlauf and Charles Evert.

Comrade Umlauf by the passing of Mr. Tobias is the only surviving member of Burnside Post. No. 92, G.A.R., as Comrade Evert held affiliation with the post at Shenandoah, where he lived before becoming a resident here a few years ago.

The military funeral for Comrade Tobias is to be held Friday afternoon with services at the home at 1:30 o'clock by Rev. C. W. Fields, pastor of the First Methodist Episcopal Church.

Military arrangements for the burial will be in charge of Garfield Camp No. 34, Sons of Union Veterans, assisted by Harry Geist Post No. 91, American Legion, the Veterans of Foreign Wars, and Lawton Camp No. 29, United Spanish War Veterans.

Interment following the services to be made at the Mount Carmel cemetery.

John J. Tobias was born 26 June 1848, on a little farm in, Schuylkill County, near Pottsville, a son of John Tobias and Nancy [Rowe] Tobias.

At the early age of 16 while the family was living at Donaldson, also in Schuylkill County, he enlisted with Company I, 48th Regiment, Pennsylvania Veteran Volunteers [48th Pennsylvania Infantry].  It was his third attempt to enter the service and finally meeting with success, the youth was overjoyed.  On two previous occasions, he had been turned down on account of his tender age.

The war at the time of Comrade Tobias' enlistment was in its last year, and with distinction he served until the end.

He saw action in the Battle of Petersburg, Virginia, 2 April 1865, was mustered out of service near Alexandria, Virginia, in July, and received his honorable discharge in Harrisburg a little later the same year.

One of Comrade Tobias' dearest recollections was that he had seen Abraham Lincoln, President of the United States during those stormy times.  The opportunity presented itself when Lincoln reviewed the Union troops.

Returning home after his honorable discharge, Mr. Tobias was married, 8 May 1869, at Tremont, to Emma Frances Long.  It was 2 February 1882, that the couple came to Mount Carmel from Donaldson.

The union was blessed by five children, all sons, three of whom survive.

Comrade Tobias, a mine foreman by occupation, immediately took active interest in the affairs of Burnside Post of the G.A.R. upon becoming a resident of this city and he held the same enthusiasm until the end.  He was a past commander of the post.

Outside of his G.A.R. activities which he held so dear to his heart, the veteran was a member of Donaldson Lodge of the I.O.O.F. without interruption for 66 years, a member of Mount Carmel Lodge No. 376, F. & A. M., and an honorary life member of Mount Carmel Lodge No. 356, B. P. O. Elks.

He was a lifelong member of the Methodist Episcopal Church.

Comrade Tobias was held in reverence by all who knew him for he loved only the things in life that were good.  His was a life well-spent.

The survivors, besides Mrs. Tobias, include three sons:  Charles Fred Tobias of Mount Carmel; Horace W. Tobias of Baltimore, Maryland; Attorney Raymond B. Tobias of this city; nine grandchildren; two brothers, Walter Tobias of Branchdale and William Tobias of Pottsville; and two sisters, Margaret L. Tobias of Pottsville and Mrs. Sarah Carolan of Philadelphia.

Sons who preceded their father in death were:  Clarence E. Tobias and Herbert H. Tobias, for many years secretary of Mount Carmel Lodge of Elks and a former district official in the organization.

Besides the aforementioned survivors, Comrade Tobias leaves an uncle, Thomas Jefferson Tobias, Washington, D. C., who is 89 years of age.
______________________________________________
News article from Newspapers.com.