Posted By Norman Gasbarro on December 22, 2017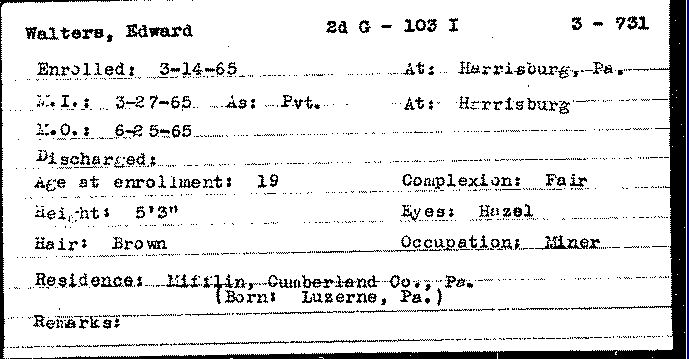 When he enrolled in the 2nd Company G of the 103rd Pennsylvania Infantry at Harrisburg on 14 March 1865, Edward Walters gave his birthplace as Luzerne County, Pennsylvania, and his place of residence as Mifflin Township, Cumberland County, Pennsylvania.  He was employed as a miner, was about 19 years old, stood 5 foot 3 inches tall, had hazel eyes, brown hair and a fair complexion.  Most of the persons in this regiment and company were from the Lykens Valley, but apparently Edward Walters was an exception.
While serving in the company and regiment between 27 March 1865 and 25 June 1865, Edward Walters met John W. Orndorff, a laborer, who had been born in Wiconisco, Dauphin County, claimed to be 17 years old (he was actually closer to 15), stood 5 foot four inches tall, had brown hair, gray eyes, and a light complexion.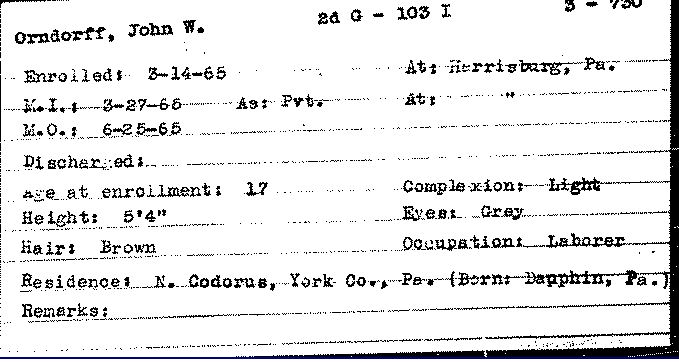 John W. Orndorff was raised in Wiconisco, Dauphin County, Pennsylvania, and was the son of John Orndorff (1824-1894) and Emeline [Nolen] Orndorf (1826-1904), both of Wiconisco.
John had an older sister, Mary Elizabeth Orndorff, who was born on 5 January 1848 in Wiconisco.
After the war, Edward Walters moved to the area around Wiconisco and worked in the mines there.  He courted the sister of John W. Ordorff most likely though an introduction made by her brother.  About 1866, Mary Elizabeth Ordorff and Edward Walters were married. In 1880, the couple and their children were living in Wiconisco, where Edward was working as a coal miner.
By 1890, however, they had moved to Mahanoy City, Schuylkill County.  In 1900 the family was living in Hazleton, Luzerne County, where Edward was working as a miner, and in 1910 he was still living in Hazleton and working as a miner.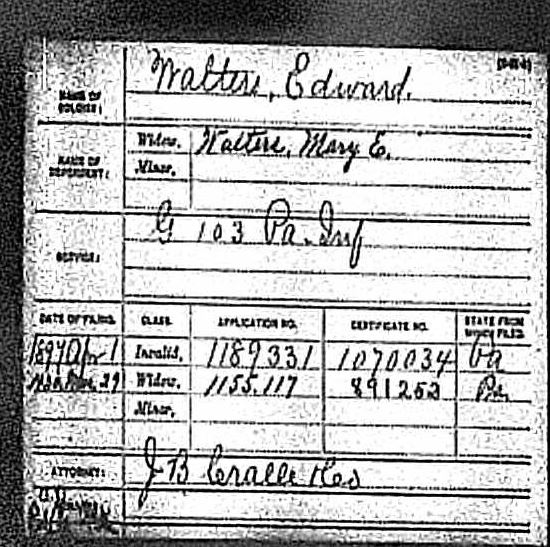 Edward Walters applied for a pension on 1 April 1897, according to the Pension Index Card available from Ancestry.com.  He died on 16 March 1920, in Hazleton, and before the end of the month, his widow applied for benefits.
Although Edward Walters lived and worked for a time in Wiconisco, his name does not appear on the Lykens G.A.R. Monument as someone with a connection to the area who served in the Civil War.  His brother-in-law, John W. Orndorff, is included on the monument plaque as someone who joined the Heiler Post after its founding.
__________________________________________
Pennsylvania Veterans' File Cards are from the Pennsylvania Archives.