Posted By Norman Gasbarro on December 20, 2017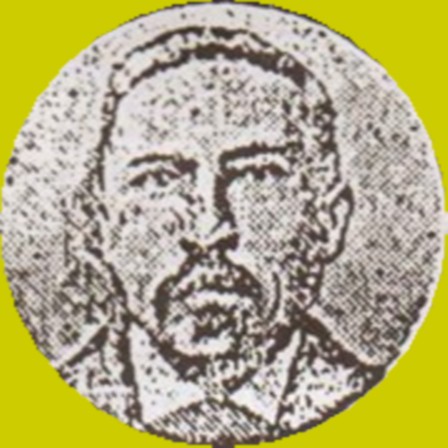 Andrew Weir was born on 19 October 1833 in Scotland and came to the United States about 1855.  By occupation, he was an engineer who worked in the mines around Williamstown, Dauphin County, Pennsylvania, where he lived and raised his family.
In 1863, he registered for the draft, but was not drafted.  However, he did answer the call to militia service when on 21 July 1863 he joined the 53rd Pennsylvania Infantry (Militia), Company E, as a Private, for the Emergency of 1863.  Not much is known about the service of this militia regiment except that it was formed after Gen. Robert E. Lee's forces had retreated from Pennsylvania. The emergency being over as of 18 August 1863, Andrew Weir was discharged.  No other Civil War service has been located for him, and, because his militia service was for less than three months, he was not eligible for a pension.
On 20 March 1856, Andrew Weir married Elizabeth Jones.  On 14 March 1906, the couple announced their 50th Wedding Anniversary where they would be repeating their vows in a second marriage ceremony which would be held at Williamstown.  A local newspaper reported on the event as follows:
Thirty-nine descendants and a host of friends will attend the golden wedding of Mr. and Mrs. Andrew Weir next Thursday.  Mr. Weir is a well-known retired business man.

The feature of the celebration will be a second marriage ceremony for the couple.  Rev. Albert M. Milner will perform the ceremony. 

The couple were married in Pottsville, 20 March 1856.  They have fifteen children.  Rev. John McCool, who married them, christened fourteen of the babies, and when he officiated the last time he did so while blind.

Mr. Weir is 72 years old, and his wife four years his junior,  Mr. Weir is especially vigorous for his years.  Whenever he visits his daughter, Mrs. F. E. Smith, of 3056 North Second Street, Philadelphia, he takes a daily walk from her home to Broad and Chestnut Streets and back.

Mrs. Weir's sister observed her golden wedding anniversary two years ago.
The portrait of Mr. Weir found at the top of this post, was taken from the above news article.  Mrs. Weir's portrait was also with the article and is shown below.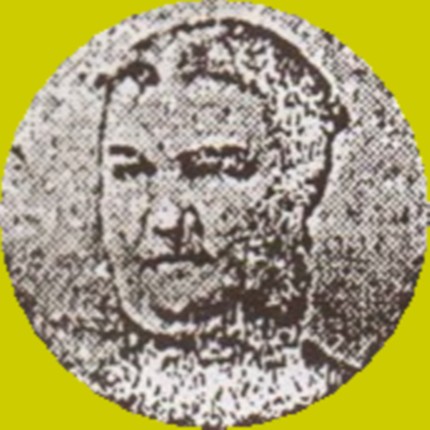 After the Civil War, Andrew Weir worked for a time (1870) as a grocer in Reilly Township, Schuylkill County, but by 1880 he had returned to Williamstown and his primary occupation as an engineer at the mines.  In 1900, he gave his occupation as a day laborer, and in 1910, he was working as a laborer at the Williamstown Water Company.
Andrew Weir died on 5 November 1922 in Williamstown.
Both Andrew Weir and Elizabeth [Jones] Weir are buried at the United Methodist Church Cemetery in Williamstown, Dauphin County, Pennsylvania.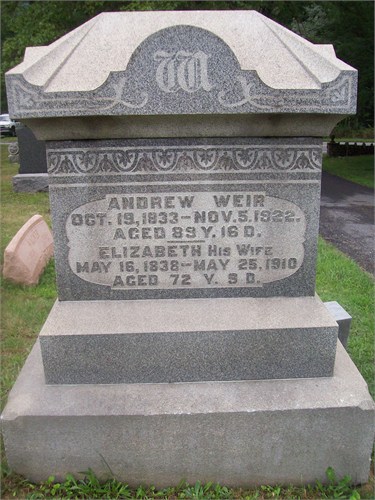 The Civil War service of Andrew Weir does not appear to be recognized at his grave site, nor is there currently any mention of his service at his Findagrave Memorial.