Posted By Norman Gasbarro on December 15, 2017
Aaron Weaver, who was born 30 October 1843, and who died on 18 July 1923, is buried at the Salem Lutheran Church Cemetery, Killinger, Dauphin County, Pennsylvania.  At his grave site, there is a G.A.R. Star-Flag Holder, which recognizes him as an honorably discharged veteran of the Civil War.  However, efforts to locate a good match among the several persons of that name who served in Pennsylvania regiments have not been successful.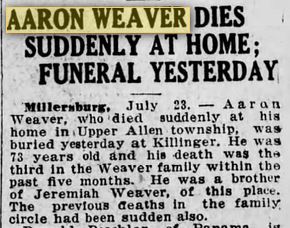 The obituary of Aaron Weaver appeared in the Harrisburg Telegraph of 23 July 1923:
AARON WEAVER DIES SUDDENLY AT HOME; FUNERAL YESTERDAY

Millersburg — 23 July 1923 — Aaron Weaver, who died suddenly at his home in Upper Allen Township, was buried yesterday at Killinger.  He was 73 years old and his death was the third in the Weaver family within the past five months.  He was a brother of Jeremiah Weaver of this place.  The previous deaths in the family circle had been sudden also.
No mention was made in the obituary of Civil War veteran status.
Of the two possibilities for military service, the most promising match is for an Aaron Weaver who entered the 174th Pennsylvania Infantry, Company A, as a Private, on or about 29 October 1862, and was then reported as "deserted – date unknown."  The age of this Aaron Weaver was not given in the Registers of Pennsylvania Volunteers, but his place of enrollment and muster were at Philadelphia.  No pension application was made for this Aaron Weaver.
The second possibility is for an Aaron Weaver who enrolled at Easton, Northampton County, Pennsylvania, in the 115th Pennsylvania Infantry, Company G, as a Private and was mustered into service at Harrisburg on 4 June 1862.  The record for this Aaron Weaver indicates that he was "not accounted for."  However, two Pension Index Cards have been located for the Aaron Weaver who served in this regiment.  The first shows an application from Pennsylvania on 23 July 1890 and awarding of a pension.  The second is for a widow's pension, application made on 2 May 1910 by an Isabella Weaver from Pennsylvania.  She was awarded widow's benefits.  Being that the Aaron Weaver who is buried at Killinger did not die until 1923, and the wife/widow's name is different, this service record can be eliminated.
It is possible that the Aaron Weaver who is buried at Killinger served in a regiment from another state, served in a regular army regiment, or served in another service branch such as the navy.  However, no record has been located to confirm that.
Additional information is sought to confirm or refute that the Aaron Weaver who is buried at Killinger was a Civil War veteran.
__________________________________________
News clipping from Newspapers.com.