Posted By Norman Gasbarro on November 17, 2017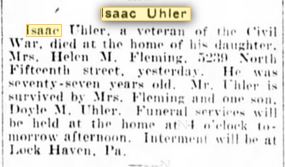 The Philadelphia Public Ledger of 23 April 1921 announced the death of Isaac Uhler:
Isaac Uhler, a veteran of the Civil War, died at the home of his daughter, Mrs. Helen M. Fleming, 5239 North Fifteenth Street [Philadelphia], yesterday.  He was seventy-seven years old.  Mr. Uhler is survived by Mrs. Fleming and one son, Doyle M. Uhler.  Funeral services will be held at the home at 4 o'clock tomorrow afternoon.
Isaac Uhler was born on 20 October 1843, in Washington Township, Dauphin County, Pennsylvania, the son of Isaac Uhler (1813-1850) and Hannah [Hoffman] Uhler (1819-1899).  The mother was a direct descendant of Johann Peter Hoffman (1709-1797), pioneer settler of the Lykens Valley.
The Veteran Index Cards, shown below from the Pennsylvania Archives, summarize his service.  Additional information was provided by researcher Dennis Brandt.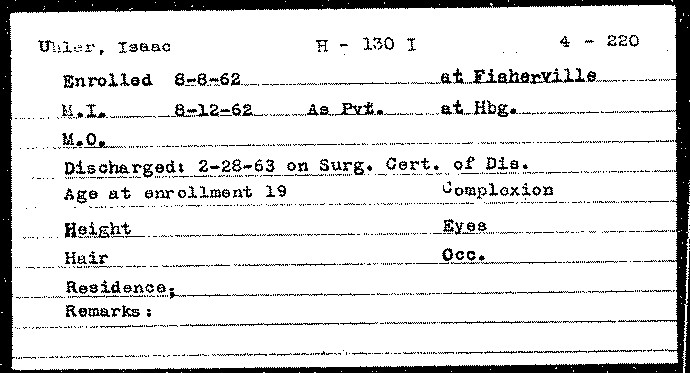 Early in the Civil War, Isaac Uhler at age 19, enrolled at Fisherville, Dauphin County, in the 130th Pennsylvania Infantry, Company H, as a Private, 12 August 1862, from which he was discharged on a Surgeon's Certificate on 28 February 1863, due to "hypertrophy of heart contracted before enlistment."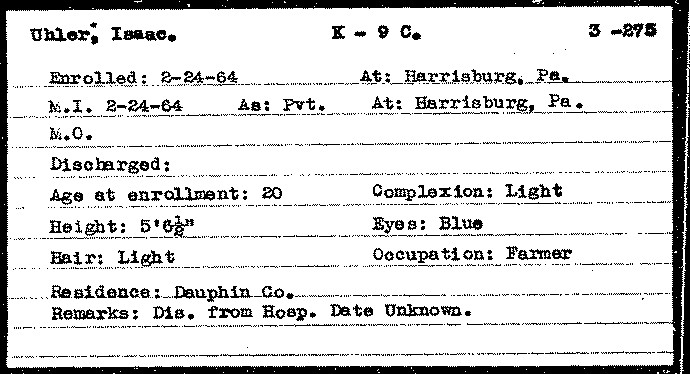 At Harrisburg, on 24 February 1864, he enrolled in the 9th Pennsylvania Cavalry, Company K, as a Private, and was mustered into service the same day.  At the time, he said he was a farmer and he resided in Dauphin County.  His physical description:  nearly 5 foot 7 inches tall; light colored hair; blue eyes; and light complexion.  During his service he was hospitalized for bronchitis and a hernia and was again discharged on a Surgeon's Certificate on 25 May 1865 at South Madison, Indiana.
Isaac Uhler is buried at Highland Cemetery, Lock Haven, Clinton County, Pennsylvania.  Additional information about him can be found at his Findagrave Memorial.
________________________________
News clipping from Newspapers.com.