Posted By Norman Gasbarro on November 22, 2017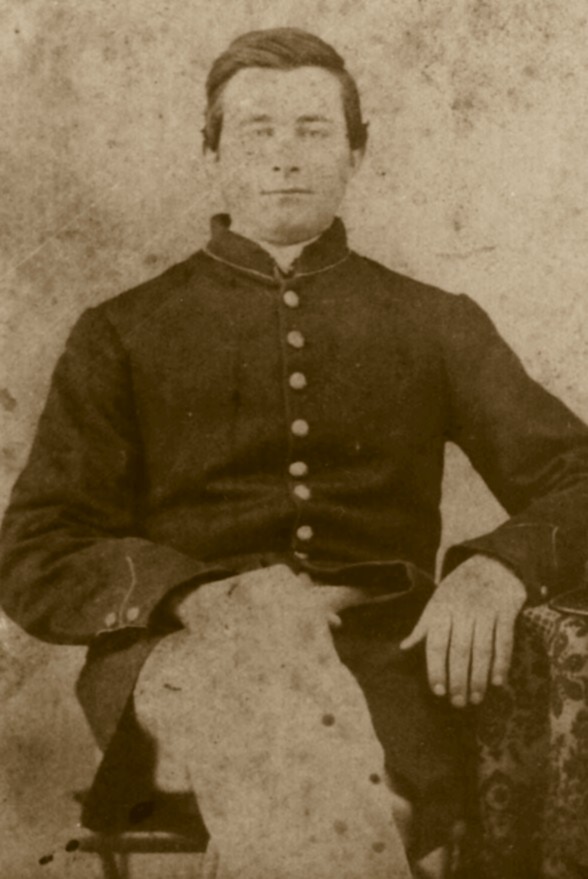 Mathew A. Taylor, who was born in Halifax, Dauphin County, Pennsylvania, died in New Virginia, Warren County, Iowa, on 21 December 1926.  He was a Civil War veteran and his name appears in the list of veterans from the Halifax, Pennsylvania area.  The portrait of him in his Civil War uniform is from a family history and additional information about him is available at Ancestry.com and Findagrave.
In 1908, in The History of Warren County Iowa, Rev. W. C. Martin, presented the following biographical sketch of M. A. Taylor:
M. A. Taylor, an honored veteran of the Civil War now living retired in New Virginia, Iowa, claims Pennsylvania as his native state, being born near Harrisburg on 2 June 1841.  His parents, William Taylor and Elizabeth [Braught] Taylor, were also natives of Pennsylvania.

Our subject was reared and educated in much the usual manner of boys of his day and early became interested in the trouble between the north and the south arising from the question of slavery.  His patriotism being aroused he joined the boys in blue, enlisting in August 1861, at the age of twenty years, in Company D, Forty-sixty Pennsylvania Volunteer Infantry [46th Pennsylvania Infantry].  He took part in the battles of Cedar Mountain, Virginia; Gettysburg, Pennsylvania; Resaca and Peach Tree Creek, Georgia; and the siege of Atlanta.  At Cedar Mountain he received a gunshot wound which confined him to the hospital for eight months, and at Gettysburg he was wounded by a shell, but not seriously.  He entered the service as a Private but was promoted to the rank of Corporal and did Sergeant duty for awhile.  When his term of enlistment expired he received an honorable discharge and was mustered out at Atlanta in September 1864.

Returning home to Pennsylvania, Mr. Taylor remained there until the spring of 1866, when he came to Iowa and purchased 80 acres of unimproved land in Squaw Township, Warren County, upon which he lived for eighteen years.  He then bought a farm of one hundred and twenty acres and made his home for twenty-two years, but in 1906 he retired from active farming and has since lived retired in New Virginia, purchasing one of the nicest homes in the village.

Before leaving Pennsylvania, Mr. Taylor was married on 12 October 1865 to Miss Mary Lebo, who is also a native of that state, and they became the parents of seven children, of whom one died in infancy.  Those living are:

*William G. Taylor, a farmer of Virginia Township.

*Rebecca Taylor, the wife of James Garrison, a farmer of Squaw Township;

*Ada Taylor, the wife of Lloyd Reed, of Jackson Township;

*Ira A. Taylor, a farmer of Squaw Township;

*Nora Taylor, the wife of Fred Reddish, a farmer of Nebraska; and

*Dell Taylor, the wife of Walter Mitchell, a business man of New Virginia.

For many years Mr. Taylor affiliated with the Republican Party, but is now an independent in politics.  He is a strong temperance man and does all in his power to promote the cause of temperance in his locality. He has served as school director and justice of the peace but has never cared for political honors, though as a public-spirited and enterprising citizen he give his support to any measures which he believes will advance the general welfare.  He now holds membership in the Methodist Episcopal Church at New Virginia and he assisted in building the church at Medford, where he served as trustee and treasurer.  He is a man honored and respected wherever known and has a host of friends throughout Warren County.

Mathew Taylor's name appears on the plaque for Company D of the 46th Pennsylvania Infantry at the Pennsylvania Memorial at Gettysburg.  He is named as M. O. Taylor, and he is listed with the Privates in that company, the rank which held at the time of battle in 1863.