Posted By Norman Gasbarro on November 6, 2017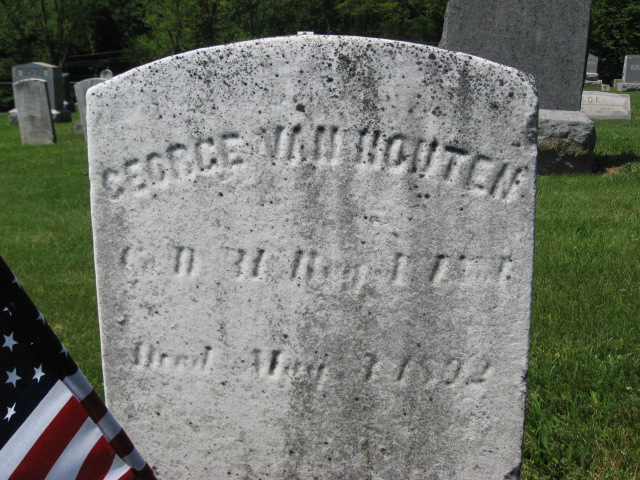 George VanHouten was born on 25 December 1833 in Hunterdon County, New Jersey.  During the Civil War he served with the 31st New Jersey Infantry, Company D, as a Private, from about 17 September 1862 through an honorable discharge on 24 June 1863.  He died on 3 May 1892 in Hopewell, Mercer County, New Jersey, and is buried there in the Highland Cemetery.
However, the same George VanHouten appears in the 1890 Veterans' Census for Orwin, Schuylkill County, Pennsylvania, naming the 31st New Jersey Infantry as his regiment of service.
Why was George VanHouten in New Jersey in 1890?  An interesting story can be found in a tale of two competing widows for George's pension.
Although George returned to New Jersey after the 1890 census and died there, he apparently had been living in Pennsylvania for 17 years with what everyone there assumed was his wife, the former Matilda J. Krebs and a number of children he had with her in Pennsylvania.  However, there was a wife in New Jersey, Elizabeth M. [Case] VanHouten.  Supposedly, he returned to the first wife in New Jersey and then died there.
Both "widows" applied for pension benefits, as shown by the Pension Index Cards shown below from Ancestry.com and Fold3: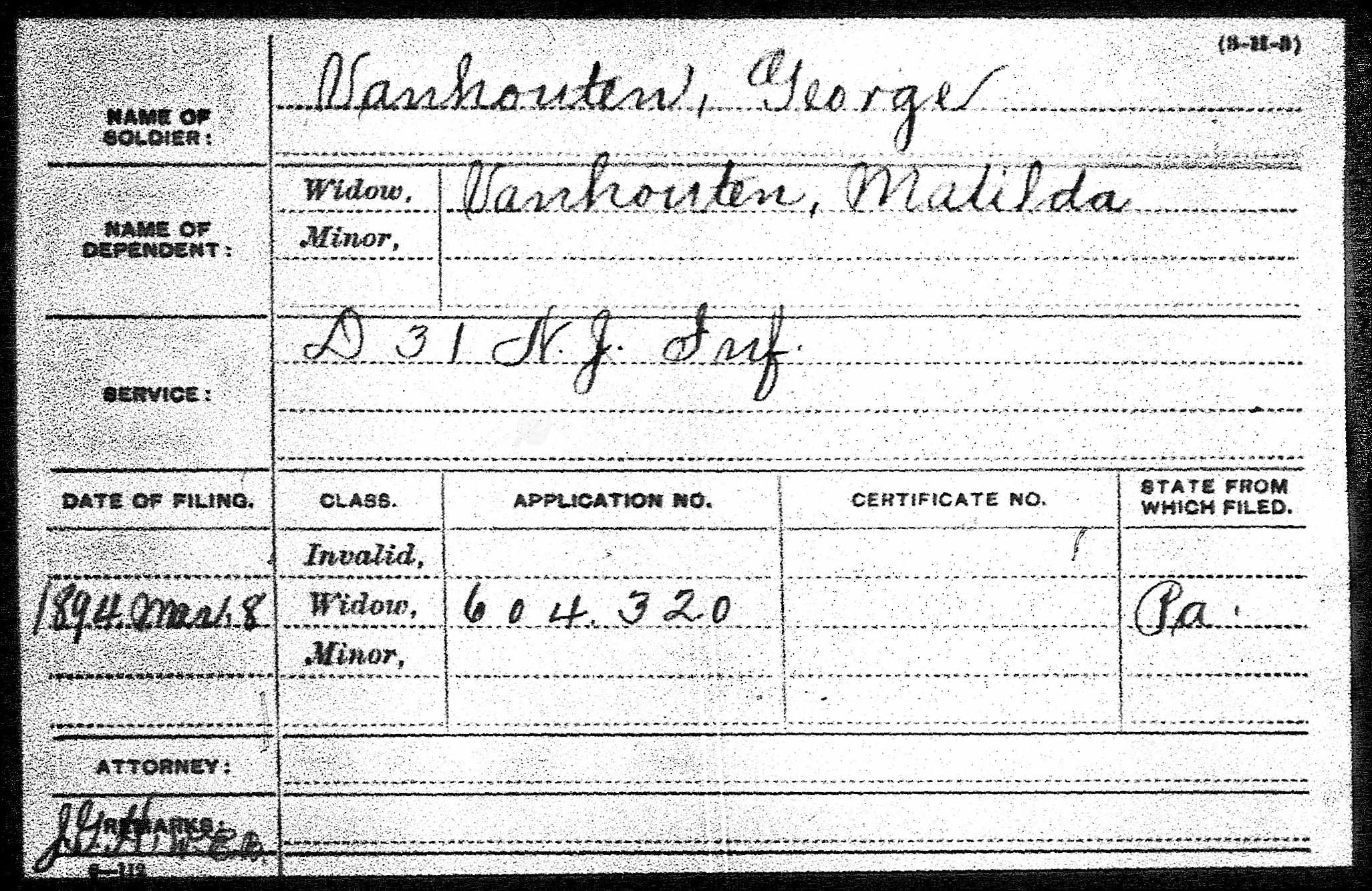 On 8 March 1894, Matilda J. [Krebs] VanHouten applied from Pennsylvania for pension benefits, which she did not receive.  She could not prove that she had married George and since no divorce record was produced, the first "wife" won out as shown below.  Matilda claimed that she had married George in Pine Grove, Schuylkill County, on 7 April 1872 and at the time, both declared that they had never been married before.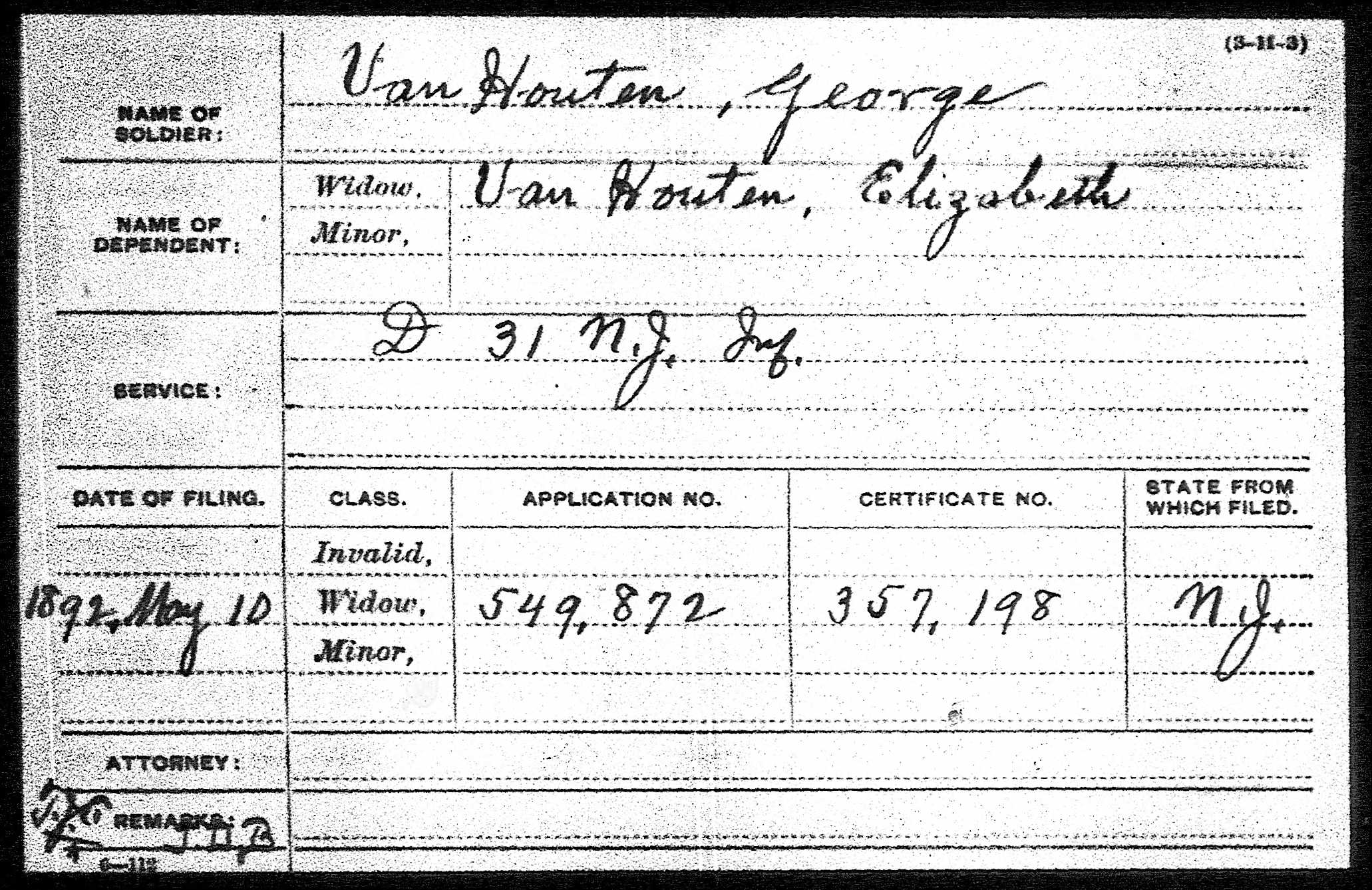 On 10 May 1892, one week after George's death, Elizabeth M. [Case] VanHouten applied for benefits from New Jersey- which she received, because there was proof of her marriage to George, and even though George had deserted her, there was no divorce record, so she was the legal wife.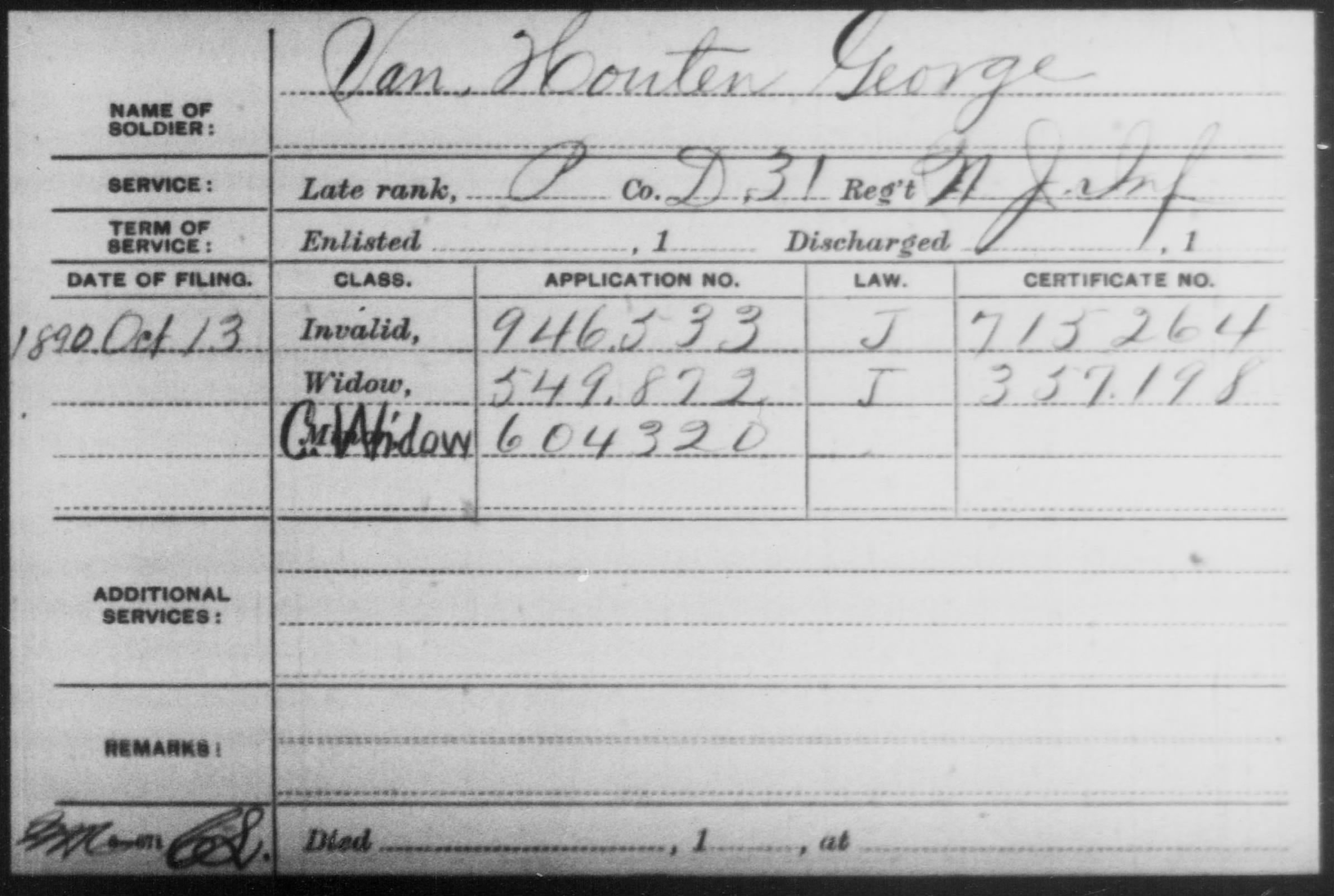 The summary card from Fold3, notes that George applied for benefits on 13 October 1890, which he received and collected until his death in 1892.  The widow who received the pension was Elizabeth and the "C. Widow" [competing widow] was Matilda, who received nothing.
Additional information about this case can be found at the Findagrave Memorial.  However, the "full" story will more likely be found in the pension application files at the National Archives, which have not been consulted for the post.  Does any reader have copies of the files and is willing to share them?