Posted By Norman Gasbarro on November 20, 2017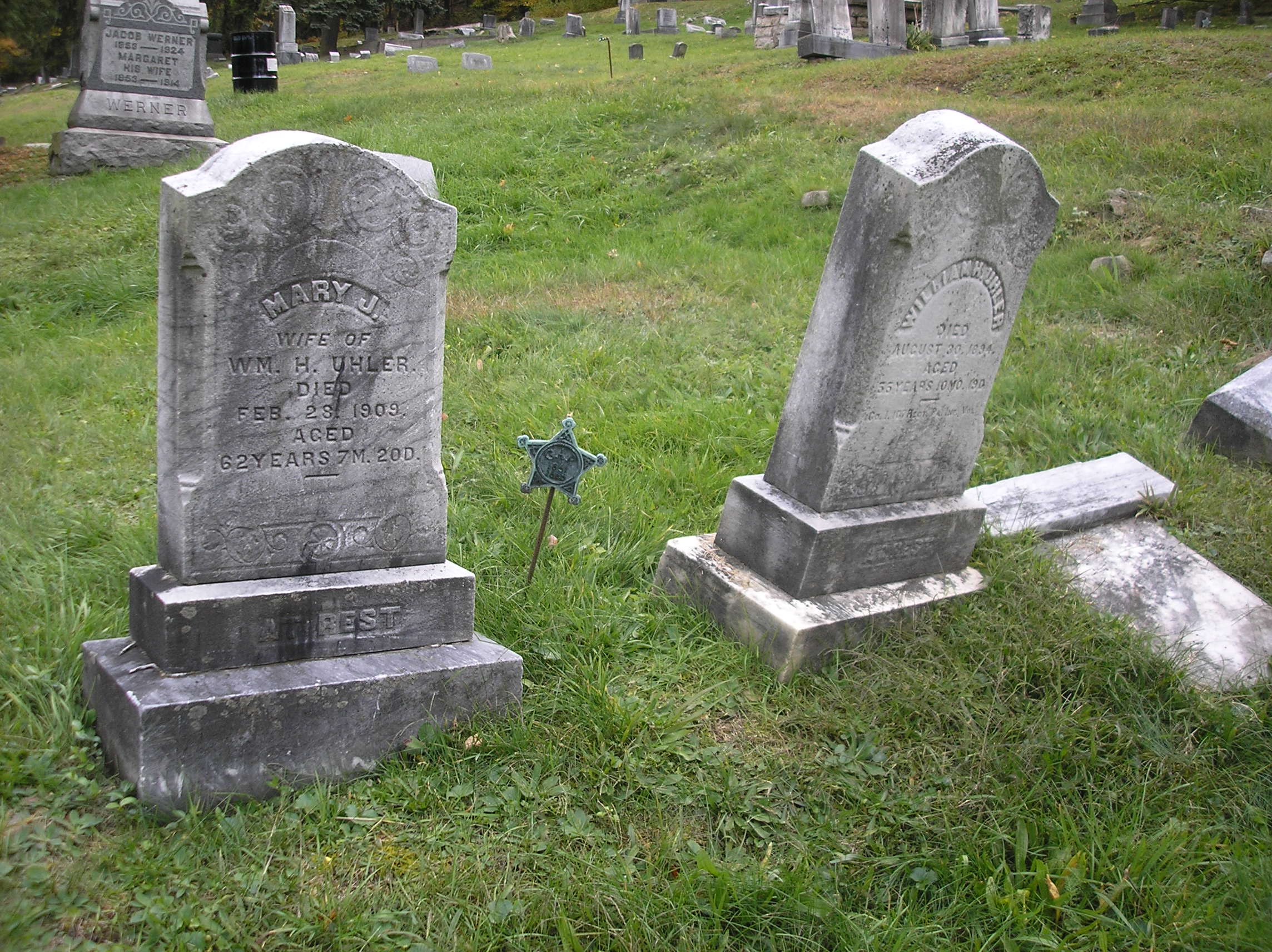 Dr. William H. Uhler, Civil War veteran, died on 30 August 1894 in Lykens, Dauphin County, Pennsylvania.  He is buried at the Odd Fellows Cemetery (I.O.O.F.) in Lykens. along with his wife, Mary Jane [Martz] Uhler, who died in 1909.
A brief death announcement appeared in the Harrisburg Telegraph on 31 August 1894:
At his home in Lykens yesterday, Dr. W. H. Uhler for over a score of years a resident and dentist of that town, died after a long illness from brain trouble, aged about 50 years.  A wife and five children survive.  Funeral services will be held Sunday afternoon.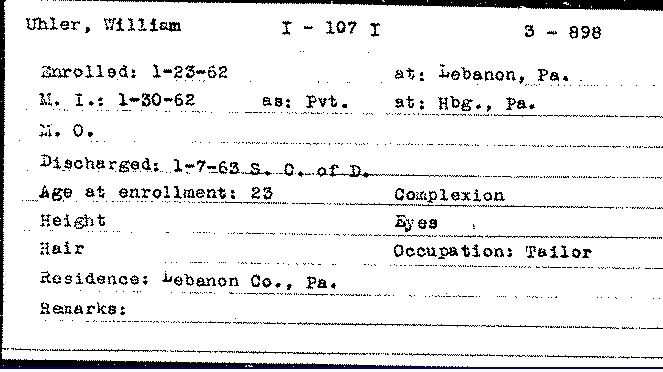 At the time of the Civil War, William Uhler resided in Lebanon County, Pennsylvania, and gave his occupation as tailor.  When he enlisted in the 107th Pennsylvania Infantry, Company I, as a Private, he said he was 23 years old.  Other records found on Ancestry.com show that he was born in Lebanon County.  On 7 January 1863, Private William Uhler was discharged on a Surgeon's Certificate of Disability.  The Veterans' Card, above, is from the Pennsylvania Archives.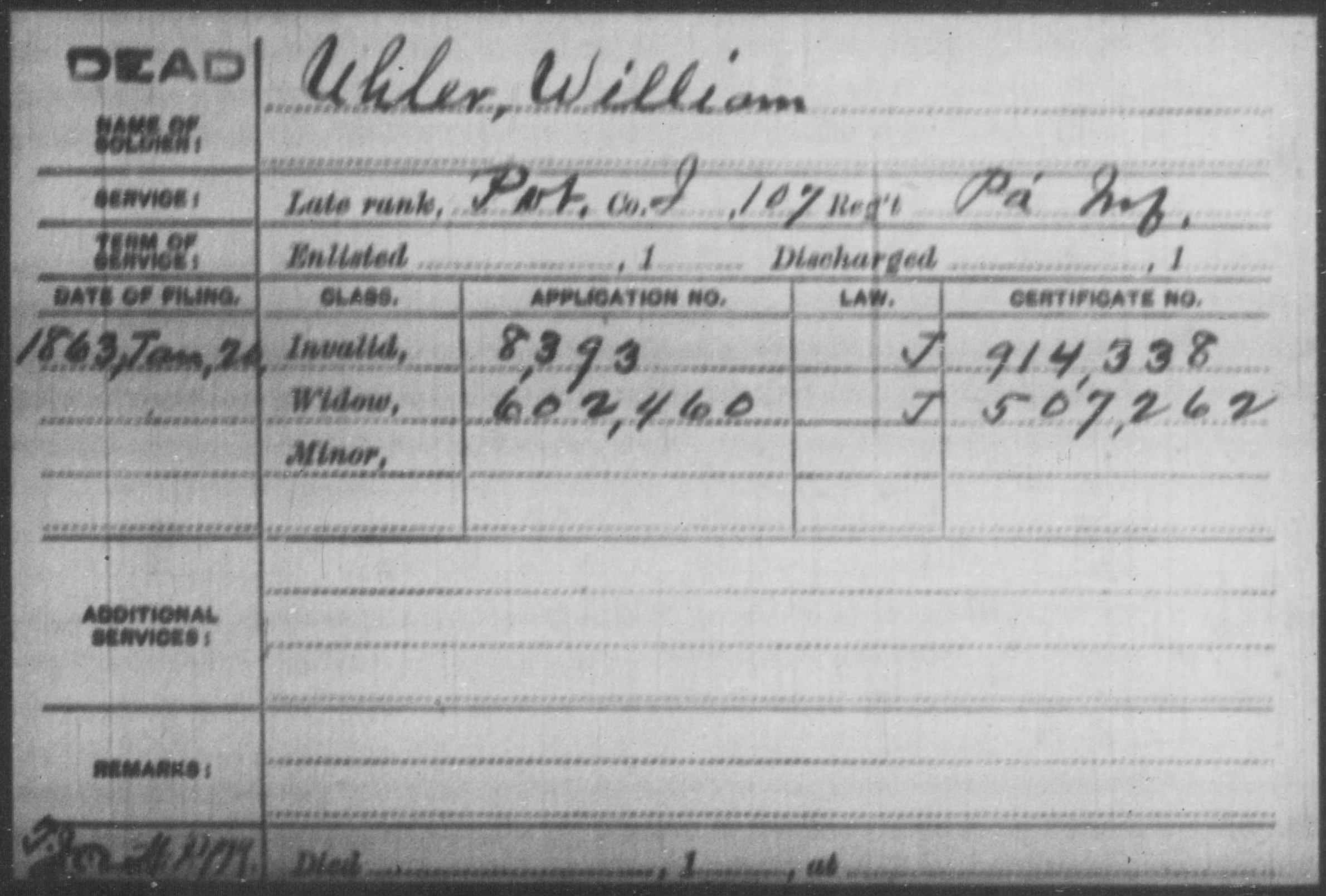 Less than two weeks after his discharge, William Uhler applied for an invalid pension, which he received and collected until his death (as shown on the Pension Index Card, above, from Fold3).  Following his death, his widow applied for and received benefits.  The nature of the disability which resulted in his discharge is not noted on the card, but should be in the pension application records.  It should be noted that there is a significant difference in the application number (four digits) and the certificate number (6 digits), which usually indicates that it took a long time for the application to be approved.
Ironically, another person named William Uhler also died of a head injury in Washington County, Pennsylvania, and at the time of this writing, the wrong obituary is posted on Dr. William Uhler's Findagrave Memorial, although the correct birth, death and cemetery information is there as well as the correct grave photo in Lykens.

For his service in the Civil War and for his membership in the Heilner G.A.R. Post in Lykens, William H. Uhler is named on the Lykens G.A.R. Monument.