Posted By Norman Gasbarro on October 20, 2017
On 15 October 1861, Samuel Trump, claiming to be 27 years old (born about 1834), enlisted in the 7th Pennsylvania Cavalry, Company F, at Schuylkill Haven, Schuylkill County, Pennsylvania.  On 7 November 1861, he was mustered into service as a Private at Harrisburg.  According to the Pennsylvania Veterans' File Card, shown above from the Pennsylvania Archives, he served the full three year term of his enrollment and was mustered out of service on 7 November 1864.  However, it is believed that during his service, he was captured and held as a Prisoner of War from 20 December 1862 to his release on 8 January 1863 when he was part of an exchange.
On 28 February 1881, Samuel Trump applied for a disability pension, giving his residence as Pennsylvania.  And in 1890, he reported to the census that he was living in Philadelphia.  The Pension Index Card, shown below from Ancestry.com indicates that Samuel collected the pension to his death and that no widow applied.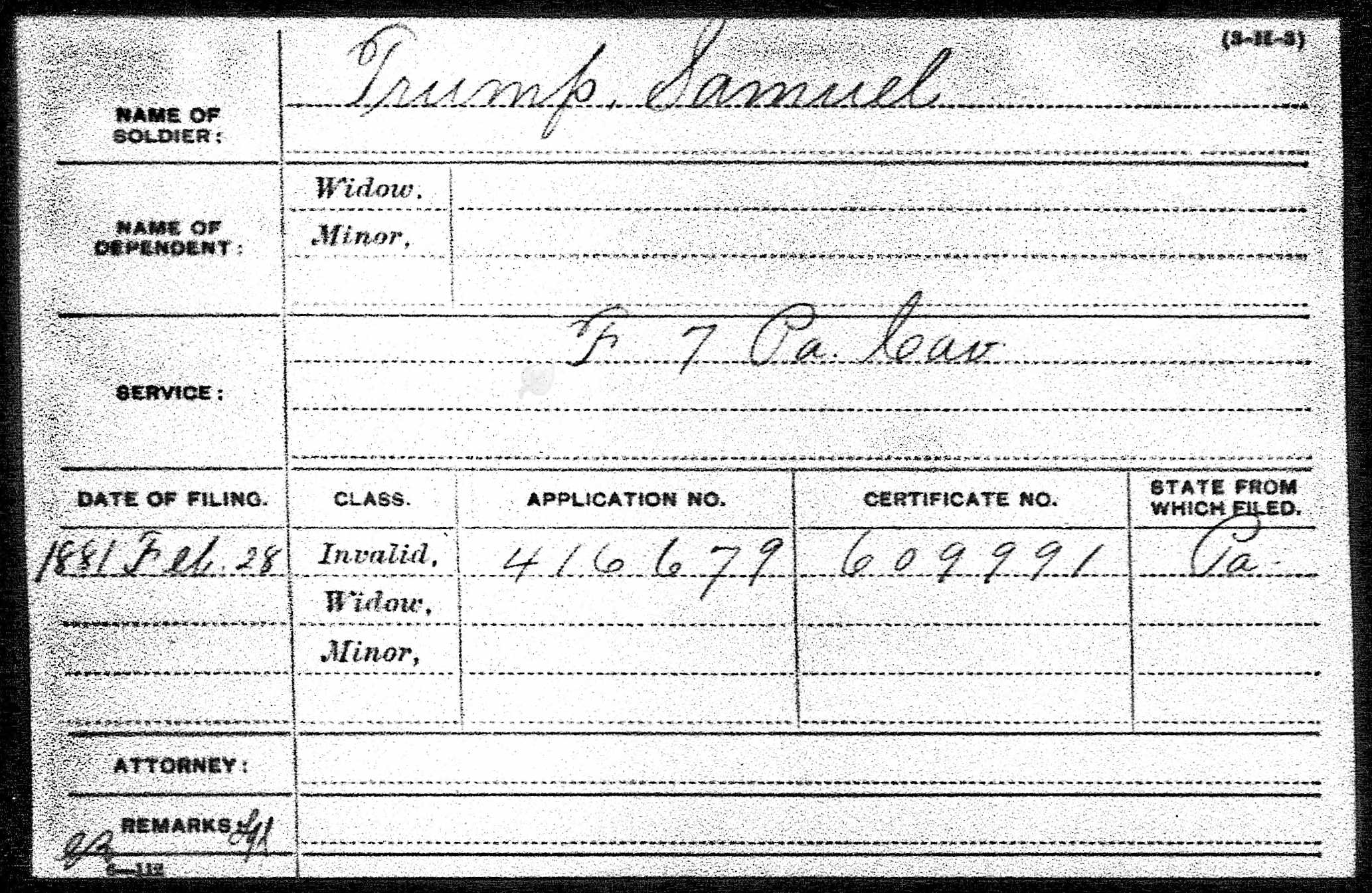 A cemetery interment control record was located on Ancestry.com (below) that states that Samuel Trump died on 16 September 1901 and that he was buried in the Philadelphia National Cemetery.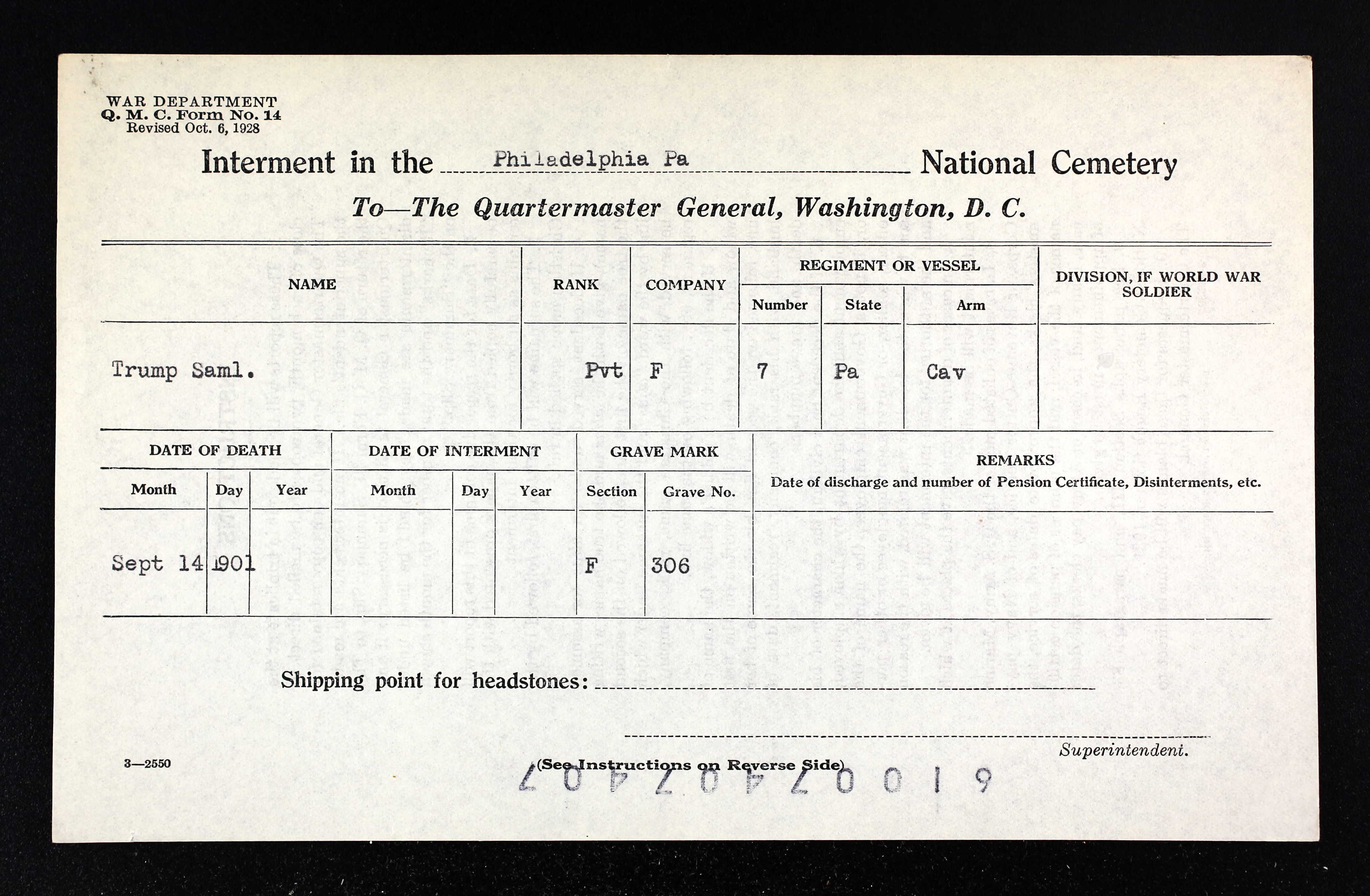 A Philadelphia Death Certificate for Samuel Trump confirms the death date but gives his birth date as January 1827.  A registry from the National Cemetery notes that he was 73 at the time of death – which would coincide with the death certificate.
Working backwards, Samuel Trump, age 72, was a boarder in 1900 in the home of Louis Shulmiller in Philadelphia.  At the time, he said he was a widower and working at "no vocation."  He also stated that he was born in January 1827.
In 1880, Samuel Trump was head of household, living in Philadelphia, married, with one child living in the household.  He claimed he was 47 years old (born about 1833) and was working as a boatman.  His wife was Frances F. Trump, age 57 (born about 1823), born in Pennsylvania.  His son was W. George Trump, age 21, born in Pennsylvania, and working as a brakeman.  Philadelphia death records show that George died in 1888 and Frances died in 1892.  George and Francis are buried in the Odd Fellows Cemetery in Philadelphia.
In 1870, Samuel Trump was head of household, living in Philadelphia, married, with one child living in the household.  He claimed he was 39 years old (born about 1831) and was working "on the canal."  His wife Frances Trump, age 53 (born about 1817).  The son, George Trump, was 11 years old and "going to school."
Despite the varying ages given by Samuel Trump, it could be concluded that the man found in the Philadelphia censuses, with wife Francis and son George, is the same person as the veteran who served in the 7th Pennsylvania Cavalry.
At this time not much more is known about him.  If he was from Schuylkill Haven, the place where he enrolled, he is not mentioned on the list of Civil War veterans from that place found on the Schuylkill Haven web site.
If any blog reader has any information about Samuel Trump, Civil War veteran, please share it here by adding a comment to this post.  Also, confirmation is needed that he was a prisoner.