Posted By Norman Gasbarro on October 9, 2017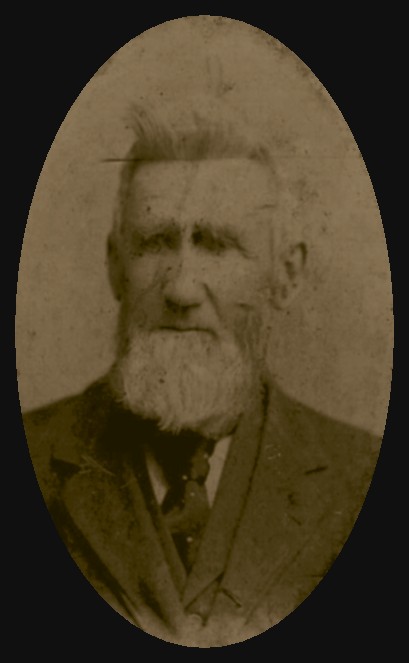 During the Civil War, Samuel Snyder of Mifflin Township, Dauphin County, Pennsylvania, served in Captain Murray's Cavalry Militia as a Private, from about 18 June 1863 to his discharge on an unknown date as a result of typhoid fever.   This information was discovered in the 1890 Veterans' Census for Pillow, Dauphin County, where he was living in that year.
At his death in 1904, a brief mention of those who attended his funeral was found in the Elizabethville Echo, 24 November 1904:
Of our town [Elizabethville], people who attended the Samuel Snyder obsequies at Berrysburg on Sunday were, W. M. Hoke and wife, and Mrs. Lydia Lentz and son Charles Lentz.
A photograph of Samuel Snyder's Civil War rifle can be seen at his Findagrave Memorial, along with the following information:
This rifle was made by John Parks of Selinsgrove, Pennsylvania, and purchased by Samuel Snyder to protect his family if the Civil War made it as far north as his home. He lived northeast of Harrisburg, Pennsylvania.

Samuel Snyder was born in 1827 in PA. In 1851 he married Anna Maria Miller. On 17 Jun 1863 he was mustered into Murray's Independent Cavalry, Company C as a private. He was discharged on 11 August 1863 due to having typhoid fever.

In 1870 he lived in Berrysburg, Dauphin County, Pennsylvania, and was a farm laborer. In 1880 he owned a farm in Berrysburg. He died in 1904 and is buried at the Old Methodist Cemetery in Berrysburg, Pennsylvania.
Additional information about this Civil War veteran was found in three separate obituaries that appeared in the Harrisburg Telegraph over a seven day period from his death to his funeral.
First, from 17 November 1904:
Samuel Snyder

Samuel Snyder, of Berrysburg, died suddenly yesterday afternoon at 5 o'clock.  He is surrounded by his wife and nine children, three of whom reside in this city, Mrs. H. W. Snyder, of 1605 North Second Street; Charles B. Snyder, a well known passenger conductor; and Frank M. Snyder, a clerk at DE office.  Interment at Berrysburg on Sunday.
Second, from 19 November 1904:
BERRYSBURG

Berrysburg, 19 November 1904 — Mr. Samuel Snyder, aged 77 years, a well-known and highly respected citizen of this place, died suddenly on Wednesday afternoon while walking in the yard with his little granddaughter.  A wife and nine children, Mrs. H. W. Snyder, Mr. Frank Snyder, and Mr. Charles Snyder, of Harrisburg; Mrs. Katherine Williams, of Everett, Pennsylvania; Mrs. F. O. Carter of Williamsport; Miss Ella Snyder, of Reading; Mrs. L. R. Hoover, Miss Minnie Snyder, and Mr. Harry Snyder, of Berrysburg, Pennsylvania, mourn the loss of husband and father.  Funeral services were held in the Methodist Episcopal Church, of this place, this afternoon.  Rev. Potticher officiating.
Finally, from 24 November 1904, the most extensive obituary:
BERRYSBURG

Special to the Telegraph

Berrysburg, 23 November 1904 — Samuel Snyder, one of the oldest and most esteemed residents of Berrysburg, dropped dead last Wednesday.  Mr. Snyder was 77 years of age and until he fell and slightly injured himself six months ago he showed no signs of failing health.  He was the son of Nicholas Snyder and Rebecca Wells and was one of thirteen children, Mrs. Leah Boyer, of Freeburg, Pennsylvania, is the only surviving member of this large family.

More than forty years ago, Mr. Snyder organized a choir in the Methodist Church, and was its leader as long as he was able to sing.  He held his place in this body almost to the time of his death.  In his earlier years, it was his delight to gather the children of the church and teach them vocal music.  For years he was an enthusiastic member of the Berrysburg Glee Club, which had a reputation in this end of the county.

In 1850 he was united in marriage to Anna Maria Miller, daughter of John Miller, originally of Lebanon, and Leah Bowen, of Orwigsburg, Pennsylvania.  Eleven children were born to this couple, two of whom died in infancy.  Mr. Snyder leaves to mourn his loss his widow, nine children, seventeen grandchildren, and one great-grandchild.  The children are:  Mrs. H. W. Snyder, Charles R. Snyder, Frank M. Snyder, of Harrisburg; Mrs. Thomas O. Carter, of Williamsport; Mrs. Katharine Williams, of Everett; Miss Ella R. Snyder, of Reading; and Miss Minnie Snyder, Mrs. L. W. Hoover, and Harry E. Snyder, of Berrysburg, Pennsylvania.

Of these, all were present at the funeral except four grandchildren.

The services were held Sunday afternoon at 2 o'clock. The church was packed with relatives and friends who came to pay this last tribute of respect.

A thoughtful and instructive sermon was preached by H. H. Pritcher [sic].  Interment was made in the Methodist Cemetery.
None of the obituaries mentioned that Samuel Snyder was a Civil War veteran.  However, credit for being a veteran is due him because he volunteered at the time of the Emergency of 1863, when Gen. Lee was invading Pennsylvania.
This service is recorded in the General Index Card at the National Archives, shown above from Fold3 and on the Pennsylvania Veterans' Index Card, shown below from the Pennsylvania Archives.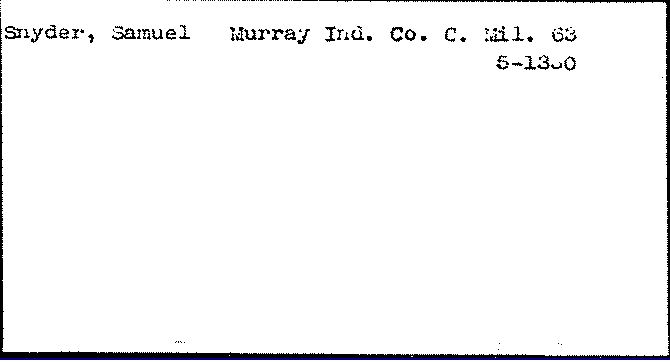 Proof that Samuel Snyder considered himself a Civil War veteran is found in two documents shown below.
The first, is his report to the 1890 Census, when he was living in Pillow.


The census taker noted that Snyder "cannot know when discharged" and that his disability which caused the discharge was that he was "sick with typhus fever."
The second document is his application for a invalid pension: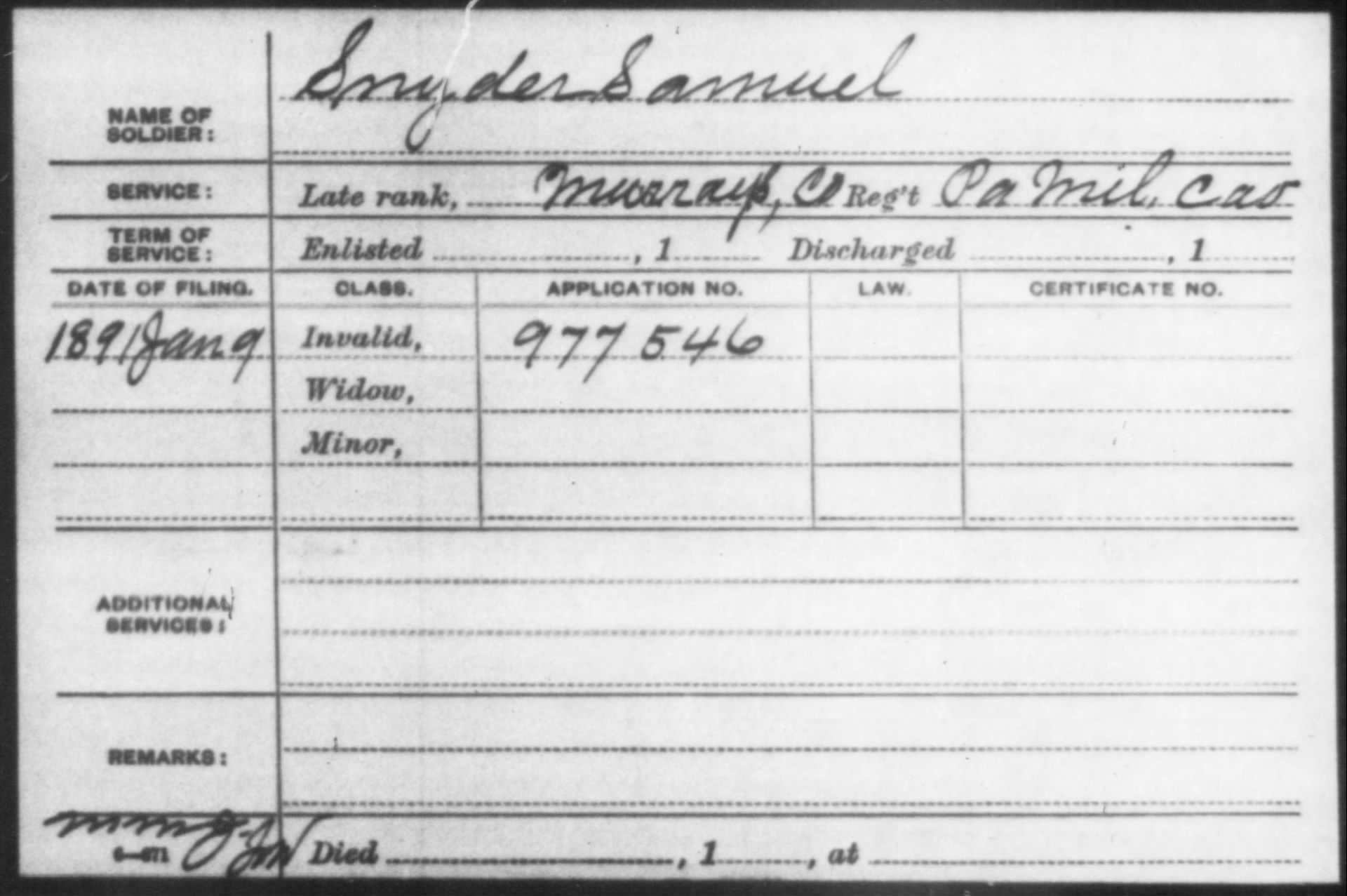 The application was made on 9 January 1891, but most likely was not accepted because Samuel Snyder's service was not for at least three months, therefore, he did not receive a pension.
Not much is known about the limited Civil War service of Samuel Snyder.  Research is on-going into the militia regiment in which he served.  It was organized by Frank A. Murray, who was about 28 years old, and from the Harrisburg area,.  Murray had previously served as a 2nd Lieutenant in another militia regiment, Byers Independent Company, for the Emergency of 1862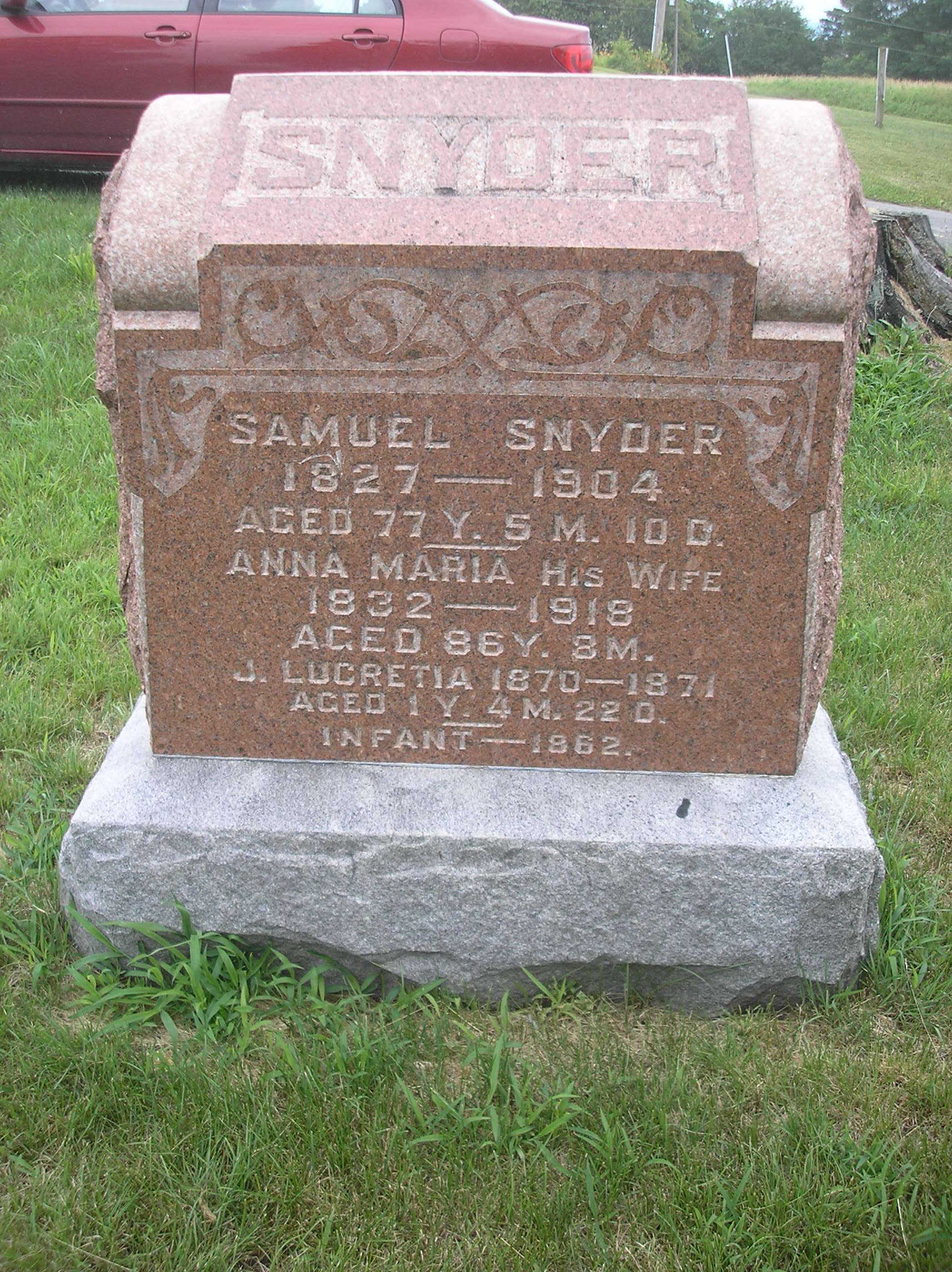 The grave marker at the Old Methodist Cemetery in Berrysburg notes his birth and death years.  There is no mention of his Civil War service.
____________________________________________
The photograph above was cropped from one found on his Findagrave Memorial.  The news clipping is from Newspapers.com.  Census information is from Ancestry.com.