Posted By Norman Gasbarro on October 23, 2017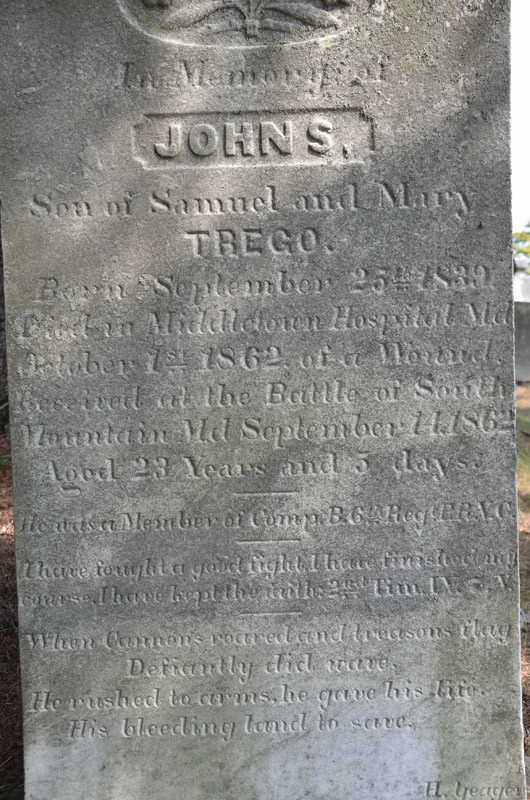 "When cannons roared and treason's flag
Defiantly did wave,
He rushed to arms, he gave his life
His bleeding land to save."
The above poem appears on the grave marker of John S. Trego at the Stove Valley (Zion) Cemetery, Hickory Corners, Northumberland County, Pennsylvania.  Also on the stone is the following information:
In Memory of John S., son of Samuel Trego and Mary Trego
Born 25 September 1839
died in Middletown Hospital, Maryland, 1 October 1862, of a Wound
Received at the Battle of South Mountain, Maryland, 14 September 1862
23 Years and 5 Days
He was a Member of Company B, 6th Regiment, P.R.V.C. [Pennsylvania Reserve Volunteer Corps, a.k.a. 35th Pennsylvania Infantry].
"I have fought a good fight, I have finished my course, I have kept the faith," (2 Timothy 4)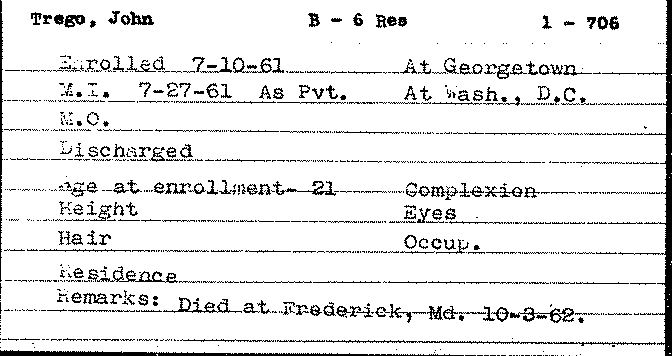 On 10 July 1861, at Georgetown [later known as Dalmatia], Northumberland County, Pennsylvania,  21 year old John Trego enrolled in the 35th Pennsylvania Infantry [a.k.a. 5th Pennsylvania Reserves].  He was mustered into service at Washington, D. C. as a Private in Company B on 27 July 1861.  The only other information on the above card from the Pennsylvania Archives is that he died at Frederick, Maryland, 3 October 1862.
The Battle of South Mountain, also known as the Battle of Boonesboro Gap, and part of the Maryland Campaign, was fought 14 September 1862.  The battle centered around control of three mountain passes between the Hagerstown Valley and the Cumberland Valley.  During this battle, John S. Trego was wounded and afterward removed to a hospital in the vicinity of Frederick, Maryland, where he died either on 1 October 1862, as stated on his grave marker, or on 3 October 1862, as stated on the Pennsylvania Veterans' File Card (above).


Information from the page of Deaths of U. S. Volunteers, 1861-1865 (shown above, from Ancestry.com) indicates that "J. S. Trego, a Private in Company B of the 6th Pennsylvania Reserve, died on 1 October 1862 at New Middletown, Maryland, of a G. S. [gun shot] Wound."
No Pension Index Card has been located for John S. Trego, indicating that he was not married and therefore had no dependents to apply for benefits.  If someone had applied for benefits a file would be available at the National Archives which could give more information on how he died.  Also, since he was wounded on the field and taken to a hospital, there might be information about him in medical records related to the battle.
More information is sought about this veteran – his family, his service and his death.   Please add as comments to this post or send as e-mail.
____________________________________________
The grave marker photo is from a public tree on Ancestry.com.