Posted By Norman Gasbarro on September 28, 2017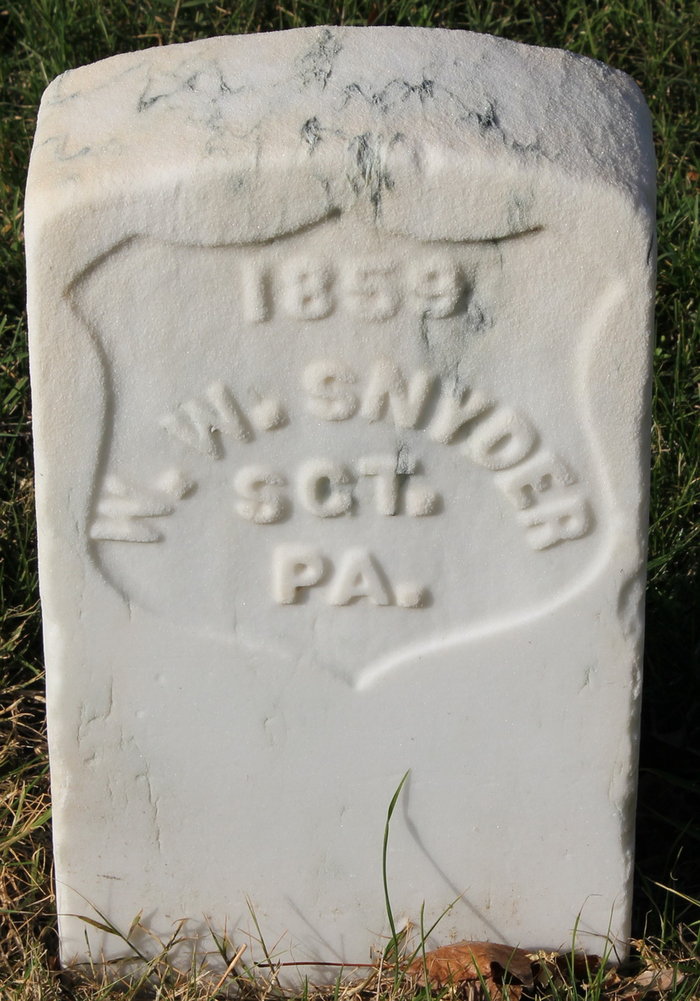 William W. Snyder was born about 1838 in Klingerstown, Schuylkill County, Pennsylvania.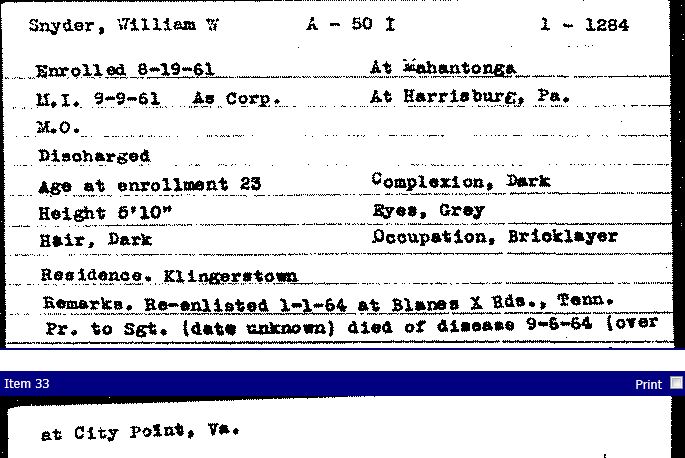 On 19 August 1861, he enrolled in the 50th Pennsylvania Infantry at Mahantonga, Schuylkill County, and on 9 September 1861, he was mustered into Company A as a Corporal at Harrisburg.  At the time, he was 23 years old, stood 5 foot 10 inches tall, had dark hair, a dark complexion, and grey eyes.  He gave his residence as Klingerstown and his occupation as bricklayer.  Near the end of his term of service, he re-enlisted at Blaine's Crossroads, Tennessee, and at some point during this re-enlistment, he was promoted to Sergeant.  The record also shows that he died of disease on 6 September 1864 at City Point, Virginia.  Source:  Pennsylvania Veterans' File Card, shown above from the Pennsylvania Archives.
Other military records show that he died at a hospital at City Point as a result of diarrhea.  He is buried in the National Cemetery at that place.
Not much more is known about him except that in the immediate years after the Civil War, no one applied for a pension based on his service and sacrifice.  However, on 21 April 1882, his mother applied for survivor's benefits, which, according to the Pension Index Card shown below from Fold3, she did not receive.
Additional information about William W. Snyder can therefore be found in the pension application by his mother, which unfortunately is not yet available on Fold3.  However, the file is available at the National Archives.  The file was not consulted for this blog post.
Additional information is sought about William W. Snyder, his life and Civil War service as well as information about any survivors he may have left behind.
_________________________________________