Posted By Norman Gasbarro on September 18, 2017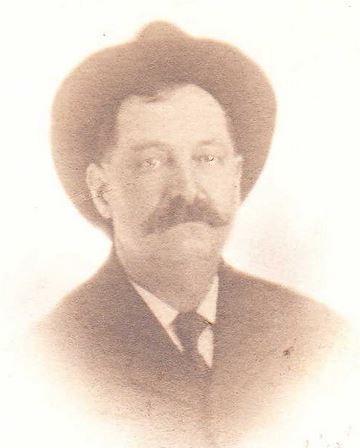 John Christian Steckley, who was born 17 November 1845, was briefly profiled here on 11 June 2013:
John Christian Steckley (1845-1912) ——– 107th Pennsylvania Infantry, Company I, Private (Mustered In 18 February 1862, Harrisburg – Mustered Out 8 March 1865).  Enrolled: Hummelstown, Dauphin County.  Captured as prisoner (POW) at Weldon Railroad and held prisoner from 19 August 1864 – 8 March 1865.  Prisoner at Libby Prison, Belle Isle, and Salisbury, North Carolina.  Married:  JoAnn Mary Milliken.   Buried:  Dauphin Cemetery, Dauphin Borough, Dauphin County.  Occupation: Boatman.  Residence:  Dauphin County.   AKA:  John C. Steckley.
John C. Steckley died in Altoona, Blair County, Pennsylvania, on 17 December 1912, and his obituary appeared in the Altoona Tribune on 12 December 1912:
Death of John C. Steckley.

The remains of the late Civil War veteran, John C. Steckley, who died of pneumonia in the Altoona Hospital at 10:30 Tuesday night will be taken to Harrisburg this forenoon on train No. 8, leaving Altoona at 11:35.  At 1:30 p.,. on Saturday funeral service will be held in the home of a son, A. M. Steckley, of 2017 1/2 North Sixth Street, and the body of the veteran will be laid to rest in the family burial ground at Dauphin.  The remains may be viewed this morning until 10 o'clock, in the undertaking establishment of Roher and Mauk, in Juniata, and just preceding the movement of the funeral cortege to Harrisburg a brief service of prayer will be held in the undertaking parlor at 9:30.

The deceased was distinguished as a soldier, serving with valor through several years of the Civil War.  He was born in Hummelstown, 17 November 1845, and was a youth of but 17 when he enlisted as a member of Company I, One Hundred and Seventh Pennsylvania Volunteer Infantry [107th Pennsylvania Infantry], and fought in the battles of Gettysburg, Fredericksburg, Antietam, on the Weldon Railroad and a number of other engagements.  He was a survivor of southern prison pens, having been at different times confined in both Libby and Andersonville, and his war record was of far more than ordinary interest.  He was a member of Post 58, Grand Army of the Republic, Harrisburg.

After the war Mr. Steckley became a bridge builder and was found on many of the large steel structures throughout the country.  He was a different times in the employ of the Phoenixville Bridge Company and the Steelton Steel Company, and followed this hazardous occupation as long as he was able to work.  For several years past he had lived retired from toil and with his children spent his last days in quiet enjoyment of life.

Surviving are ten children:  James W. Steckley, A. M. Steckley, and John D. Steckley, of Harrisburg; Mrs. Samuel Thomas, of Sunbury; Mrs. John E. Reilly, of Pleasantville, New Jersey; Mrs. C. P. Byerley and Miss Lucy H. Steckley, of New York City; Mrs. Fred Connells, of Chicago; Mrs. Frederick Brown, of Sioux City, Iowa; and S. D. Steckley, of 510 Fifth Street, Juniata, with whom the deceased made his home during several months past.  Also surviving are two brothers – Richard Steckley, of Dauphin; and William Steckley, of Fairview, just across the Susquehanna from Harrisburg.
The Pennsylvania Veterans' File Card, shown below from the Pennsylvania Archives, confirms his service: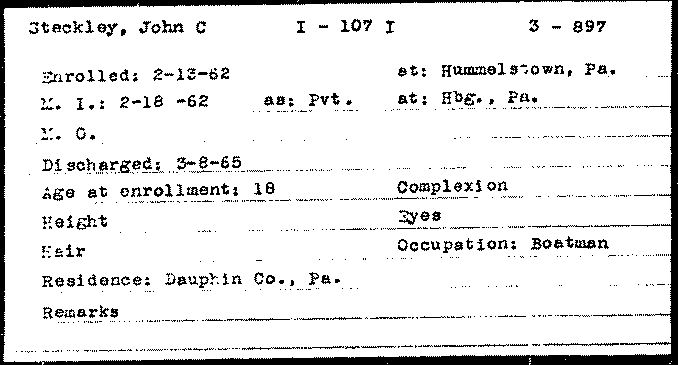 ___________________________________
Obituary transcribed from Newspapers.com.  Portrait of John C. Steckley from a public family tree on Ancestry.com.