Posted By Norman Gasbarro on September 11, 2017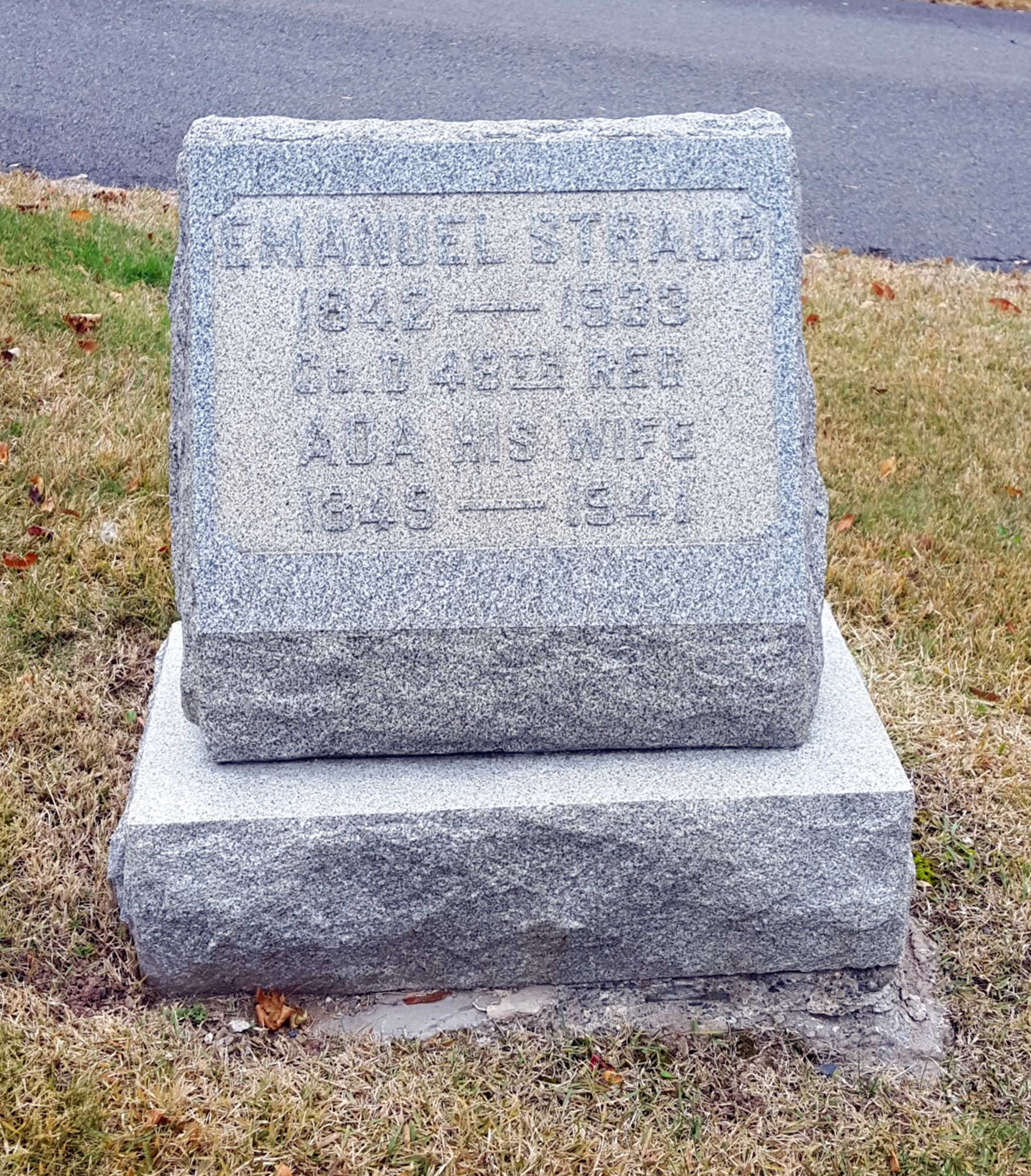 Emanuel Straub, who was born in Northumberland County, Pennsylvania, on 5 November 1842, was the son of George Straub (1803-1859) and Barbara [Zerbe] Straub (1803-1899).  After the death of his father, the mother and Emanuel moved in with Daniel Straub, Emanuel's brother, who was a farmer in Hegins Township, Schuylkill County.  All appear together in the Hegins census of 1860.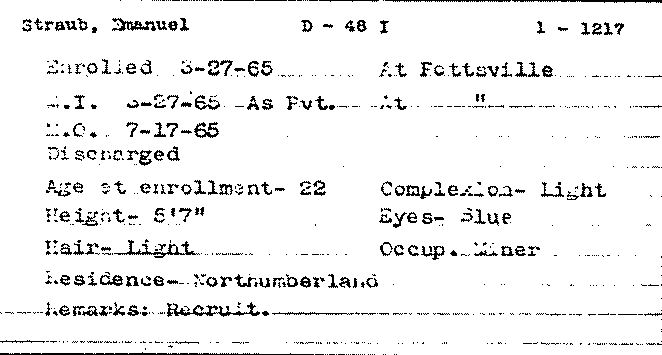 On 27 March 1865, with his residence at that time declared as Northumberland County, Emanuel enrolled in Pottsville in the 48th Pennsylvania Infantry, Company D, as a Private.  He gave his age as 22 and his occupation as miner.  His height was 5 foot 7 inches, he had light hair, a light complexion, and blue eyes.  According to the record card at the Pennsylvania Archives (shown above), he was honorably discharged on 17 July 1865.
Following the war, about 1868, Emanuel married Adaline "Ada" Snyder (1849-1941), and with her had several children.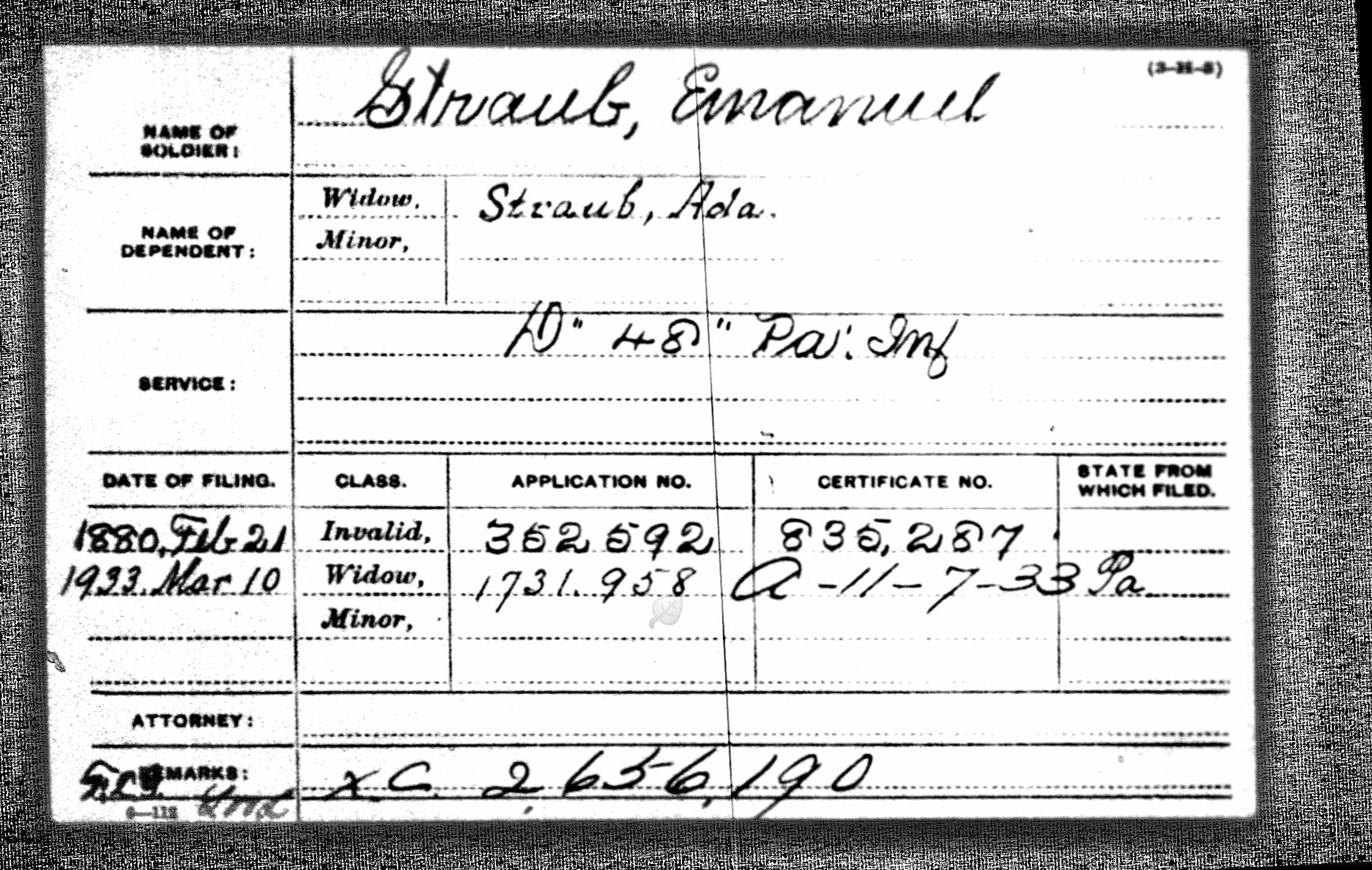 On 21 February 1880, Emanuel Straub applied for a pension based on his Civil War service.  He was awarded the pension, which he collected until his death on 19 February 1933.  Afterward, his widow applied for benefits.  She died in 1941.
When Emanuel Straub died in 1933 in Shamokin, Northumberland County, he was one of the longest surviving area Civil War veterans.  His obituary, and several other news articles told of some of his war experiences.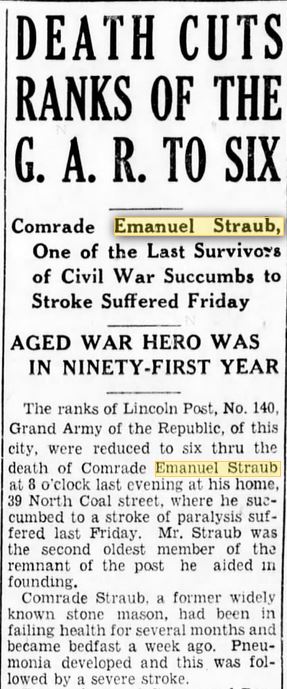 The obituary from the Shamokin News-Dispatch, 20 February 1933, follows:
DEATH CUTS RANKS OF THE G.A.R. TO SIX

Comrade Emanuel Straub, One of the Last Survivors of Civil War Succumbs to Stroke Suffered Friday

AGED WAR HERO WAS IN NINETY-FIRST YEAR

The ranks of Lincoln Post, No. 140, Grand Army of the Republic, of this city, were reduced to six through the death of Comrade Emanuel Straub at 8 o'clock last evening at his home, 39 North Coal Street, where he succumbed to a stroke of paralysis suffered last Friday  Mr. Straub was the second oldest member of the post he aided in founding.

Comrade Straub, a former widely known stone mason, had been in fading health for several months and became bedfast a week ago.  Pneumonia developed and this was followed by a severe stroke.

Emanuel Straub, son of George Straub and Barbara [Zerbe] Straub, was born in the Mahantongo Valley, 3 November 1842, and was reared to manhood on the family farm.  At the outbreak of the Civil War he enlisted as a member of the Forty-eighth Pennsylvania Volunteer Infantry [48th Pennsylvania Infantry] and served throughout the civil conflict, having participated with distinction in many of the major battles in the southland.  At the close of the war he returned to his home, later residing in the Deep Creek Valley of Schuylkill County.  He was married in 1866 to Miss Ada Snyder, of Tremont, and in 1868 came to this city and became affiliated with fellow comrades in the upbuilding of the Grand Army of the Republic veterans, in which organization he was keenly interested and active as long as health permitted.

A member of a family of stone masons, Mr. Straub had followed his trade until he attained the age of 72, when he retired.  During his many years as a stone worker, he had assisted in the building of many of the town's oldest stone and brick structures, these included the former G.A.R. Opera House, several local churches and other large buildings.

Religiously, Comrade Straub was the oldest member of St. John's Evangelical Church.  Surviving are his wife, one brother, Tobias Straub of Williamstown, six grandchildren and twelve great grandchildren.

The funeral will be held at 2:00 Wednesday afternoon from the Shamokin funeral parlors on North market Street, with the Rev. Earl Slichter to officiate and with burial to follow in the Odd Fellows Cemetery.
Note:  Emanuel Straub's enlistment date needs to be checked.  The Pennsylvania Archives gives his date of enlistment as 27 March 1865, but his obituary states he served from the "outbreak," which was in 1861.
__________________________________
News clipping is from Newspapers.com.  Grave marker is from Findagrave.