Posted By Norman Gasbarro on September 25, 2017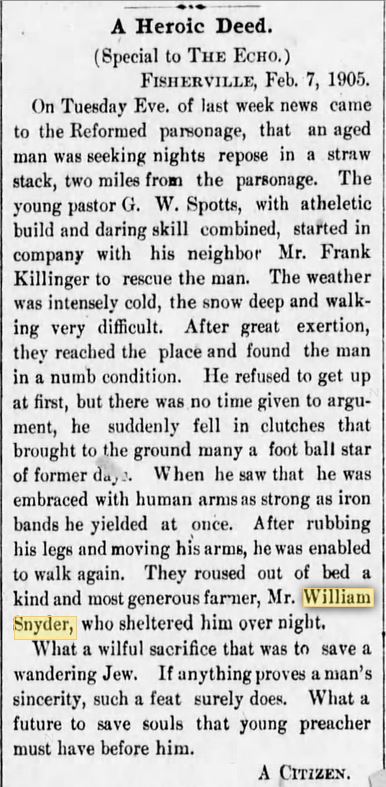 From the pages of the Elizabethville Echo of 9 February 1905, comes the following story of a rescue from the snow of a numb traveler in the area of Carsonville, Dauphin County, Pennsylvania.  One of those included in the rescue was William Snyder, a Civil War veteran of Carsonville, who opened his home to the poor man.
A Heroic Deed (Special to THE ECHO)

FISHERVILLE, 7 February 1905.  On Tuesday Eve. of last week news came to the Reformed parsonage that an aged man was seeking nights repose in a straw stack, two miles from the parsonage.  The young pastor, G. W. Spotts, with atheletic [sic] build and daring skill combined, started in company with his neighbor, Mr. Frank Killinger to rescue the man.  The weather was intensely cold, the snow deep and walking very difficult.  After great exertion, they reached the place and found the man in a numb condition.  He refused to get up at first, but there was no time given to argument, he suddenly fell in clutches that brought to the ground many a foot ball star of former days.  When he saw that he was embraced with human arms as strong as iron bands he yielded at once.  After rubbing his legs and moving his arms, he was enabled to walk again.  They roused out of bed a kind and most generous farmer, Mr. William Snyder, who sheltered him overnight.

What a wilful sacrifice that was to save a wandering Jew.  If anything proves a man's sincerity, such a feat surely does.  What a future to save souls that young preacher must have before him.

A CITIZEN
During the Civil War, William Snyder served in the 127th Pennsylvania Infantry, Company G, as a Private, from 9 August 1862 through an honorable discharge on 29 May 1863.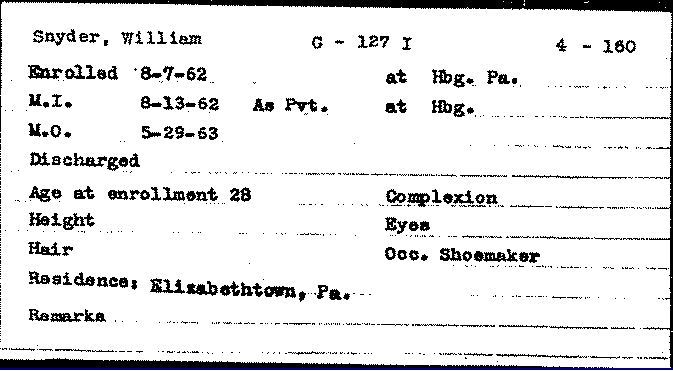 Although the above card from the Pennsylvania Archives states that his residence was Elizabethtown, he actually was from Elizabethville and Washington Township.  He was about 28 years old at the time of enlistment and gave his occupation as shoemaker.
Following the war, he settled in the Carsonville area and is found in the 1890 Veterans' Census for Carsonville, Wayne Township, Dauphin County, Pennsylvania.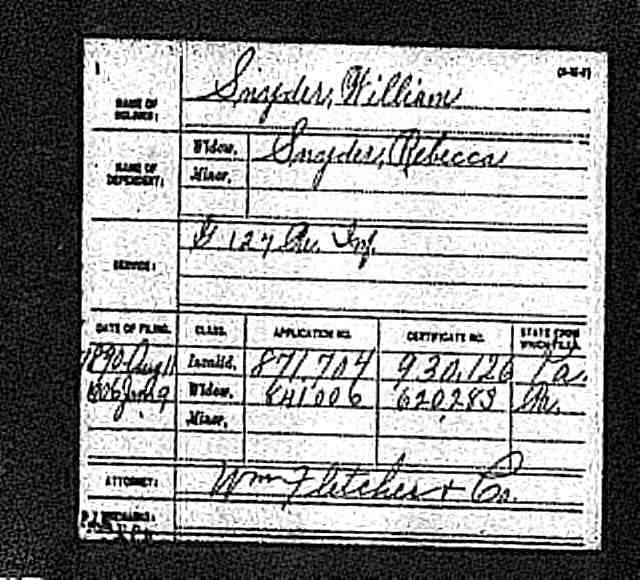 The Pension Index Card from Ancestry.com notes that William Snyder applied for an invalid pension on 11 August 1890, and his widow Rebecca Snyder, applied on 9 January 1906, an indication that William died prior to that date.
In searching the Elizabethville Echo, a brief notice was found that residents of Dietrich, Dauphin County, attended the funeral of a William Snyder in December 1905 at Carsonville. No mention was made in the article that William Snyder was a Civil War veteran.
From other sources, namely Pennsylvania Death Certificates from 1906 and afterward, a son Aaron Nathaniel Snyder, who died in 1929, Rebecca, the widow, was the former Rebecca Bretz.
From the date of the rescue of the traveler, William Snyder lived less than a year.
He is buried at the St. James Cemetery, Carsonville, Dauphin County, Pennsylvania.
________________________________
News clippings from Newspapers.com.