Posted By Norman Gasbarro on August 28, 2017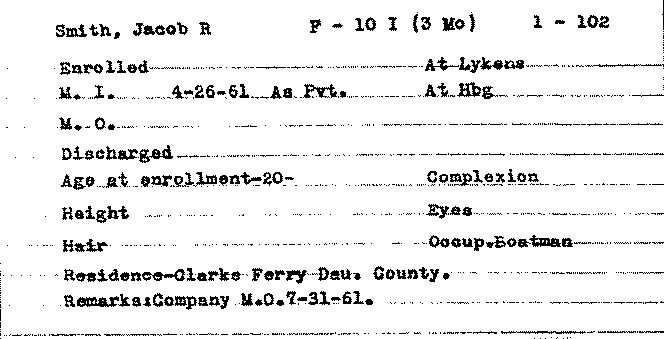 On 26 April 1861, Jacob R. Smith was mustered into the 10th Pennsylvania Infantry, Company F, as a Private.  At the time,he said he was 20 years old (born about 1841), was employed as a boatman, and lived at Clarks Ferry, Dauphin County, Pennsylvania.  He was honorably discharged on 31 July 1861.
No record has been seen that he applied for a pension based on his service.
According to information on his Pennsylvania Veterans' File Card, shown above from the Pennsylvania Archives, he enrolled at Lykens.  This regiment was composed of many soldiers from the Lykens area, but efforts to identify this individual have so far come up blank.
If any reader can supply more information on Jacob R. Smith, it would be welcome!