Posted By Norman Gasbarro on August 2, 2017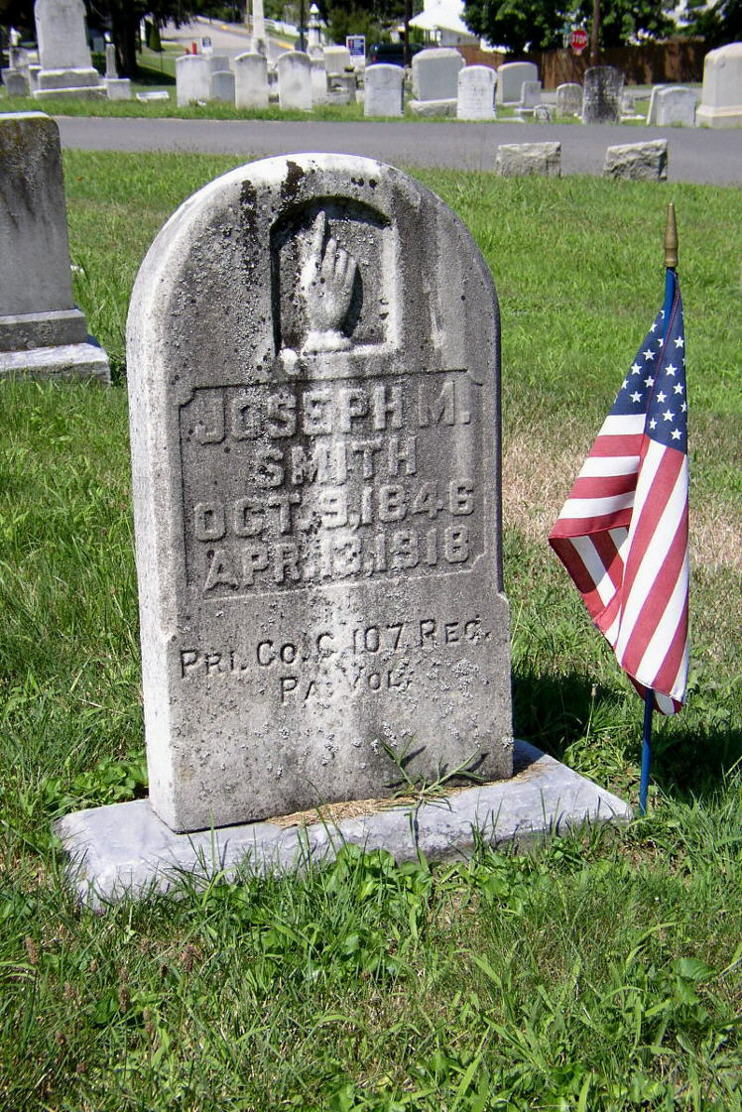 Joseph M. Smith is buried at Halifax United Methodist Church Cemetery, Halifax, Dauphin County, Pennsylvania. His stone states that he was born 9 October 1846 and died 13 April 1918 – and that he served as a Private in Company C of the 107th Pennsylvania Infantry.  At his grave there is a G.A.R. Star-Flag Holder.  And, his name appears in the Halifax list of Civil War veterans.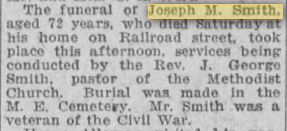 The Harrisburg Evening News of 16 April 1918 reported on his funeral as follows:
The funeral of Joseph M. Smith, aged 72 years, who died Saturday at his home on Railroad Street, took place this afternoon, services being conducted by the Rev. J. George Smith, pastor of the Methodist Church.  Burial was made in the Methodist Episcopal Cemetery.  Mr. Smith was a veteran of the Civil War.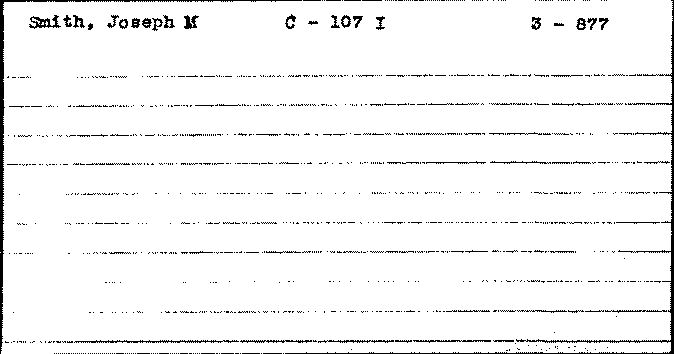 The file card at the Pennsylvania Archives contains little information about his service beyond the regiment and company.  By consulting with other records it can be determined that he was mustered into service as a Private on 23 January 1865 and was "absent sick at muster out."

In the 1890 Census of Veterans, Joseph M. Smith indicated that that he had served for 5 months and 23 days, and was discharged on 20 June 1865 for disability.
So, where is the confusion?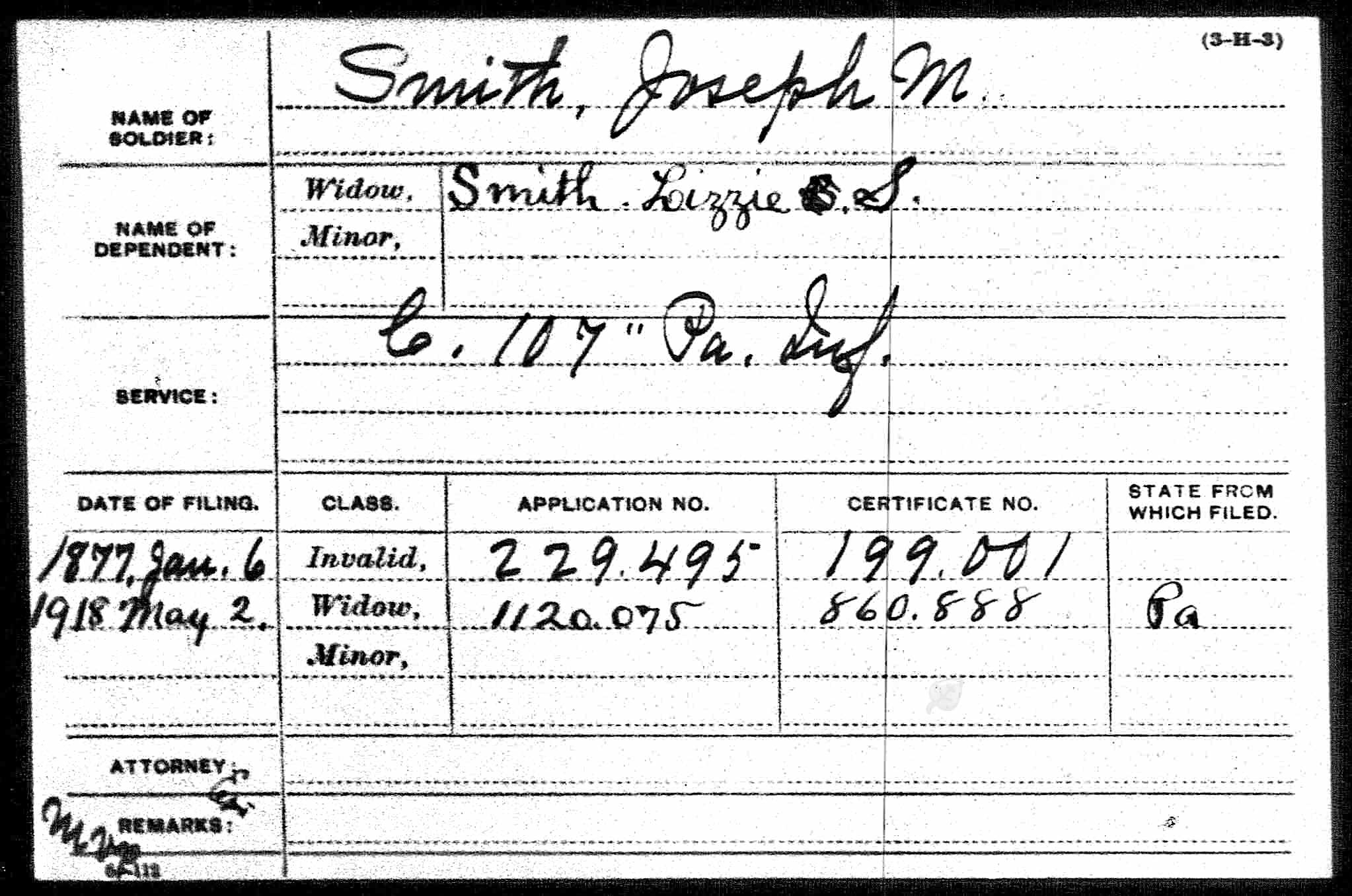 On 6 January 1877, Joseph M. Smith applied for a pension based on his service.  The card, above, from Ancestry.com, shows that he received the pension, and when he died, shortly after, his widow, Lizzie S. Smith applied on 2 May 1918 for benefits – which she received and collected until her death.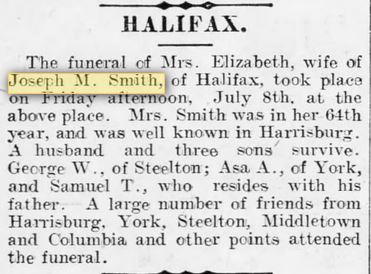 However, on 16 July 1900, the Harrisburg Telegraph, reported on the death of a Mrs. Elizabeth Smith:
HALIFAX

The funeral of Mrs. Elizabeth, wife of Joseph M. Smith, of Halifax, took place on Friday afternoon. Mrs. Smith was in her 64th year, and was well known in Harrisburg. A husband and three sons survive:  George W. Smith, of Steelton;  Asa A. Smith, of York; and Samuel T. Smith, who resides with his father.  A large number of friends from Harrisburg, York, Steelton, Middletown, and Columbia and other points attended the funeral.
Was the Elizabeth Smith who died in 1900 a first wife?  And, did Joseph M. Smith re-marry after her death to another woman named "Lizzie?"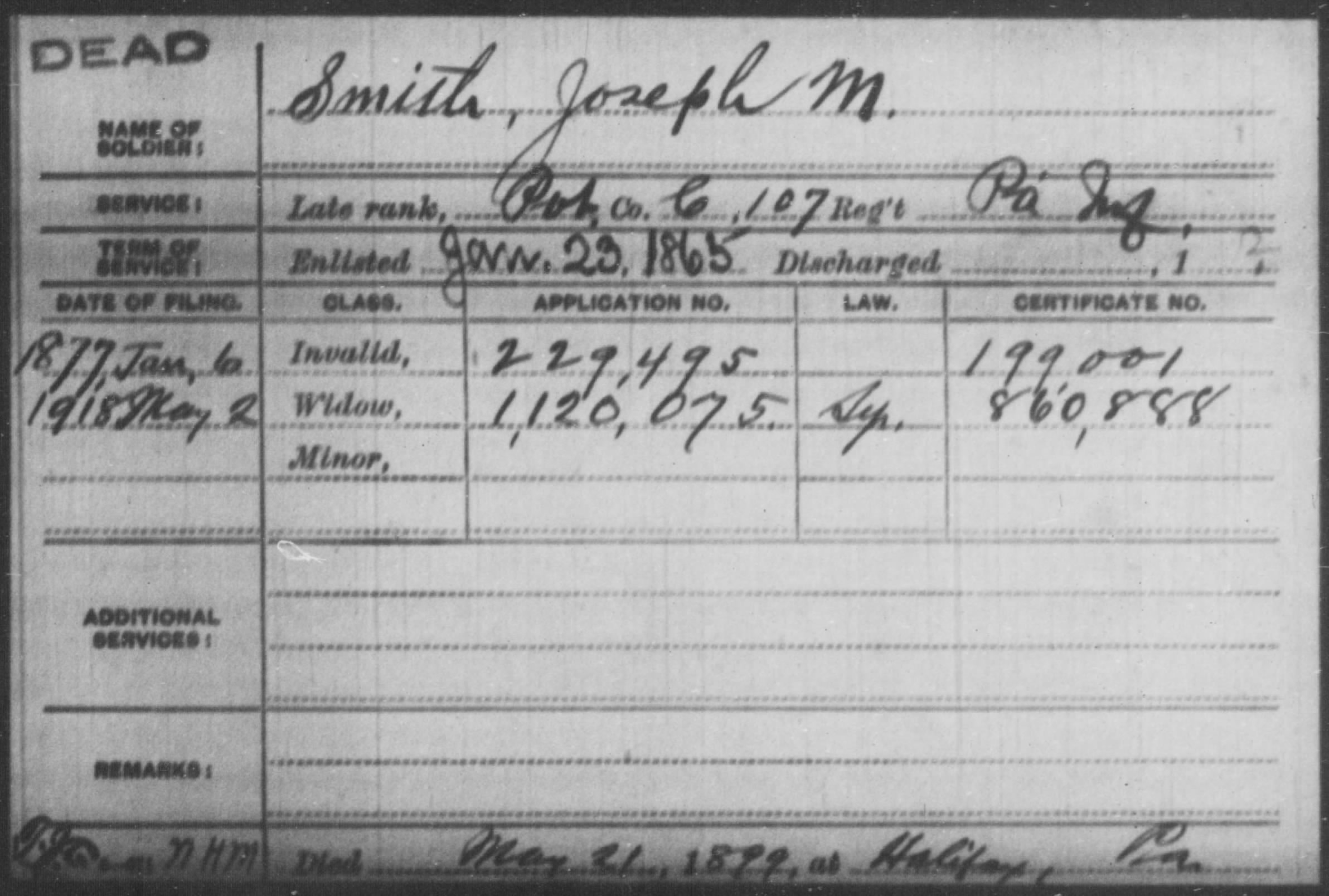 Another point of confusion is found on the Pension Index Card from Fold3 as shown above where the date of death for Joseph M. Smith is erroneously given as 21 May 1899.  Consultation of the actual pension application file will undoubtedly clear up this confusion.  Note:  The file was not available for the research for this blog post.
There is a Findagrave Memorial for Joseph M. Smith, but none for an Elizabeth Smith – or Lizzie S. Smith.
Research on this veteran continues and any reader who has information is urged to contribute it.
____________________________
News clippings are from Newspapers.com.