Posted By Norman Gasbarro on July 24, 2017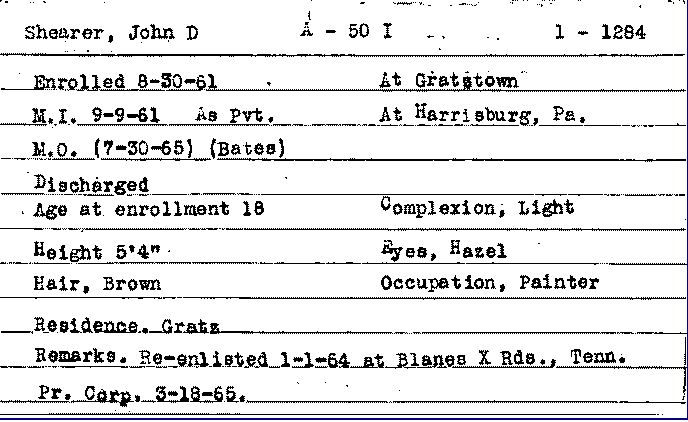 On 30 August 1861, at Gratz, Dauphin County, Pennsylvania, John D. Shearer enrolled in the 50th Pennsylvania Infantry, Company A, as a Private.  He was mustered into service at Harrisburg on 9 March 1861.  The record card shown above from the Pennsylvania Archives notes that John D. Shearer re-enlisted on 1 January 1864, was promoted to Corporal on 18 March 1865, and was mustered out (according to Bates) on 30 July 1865.  At the time of his enrollment, he claimed he was 18 years old (born about 1843), was a painter by occupation, and resided in Gratz.  His physical description included a height of 5 foot 4 inches, brown hair, a light complexion, and hazel eyes.
In checking the book A Comprehensive History of the Town of Gratz, the name of John D. Shearer was not found – under either Shearer or Schearer.  So, who was he, and what happened to him after the war?
One record, easily located is the Pension Index Card, shown below from Ancestry.com.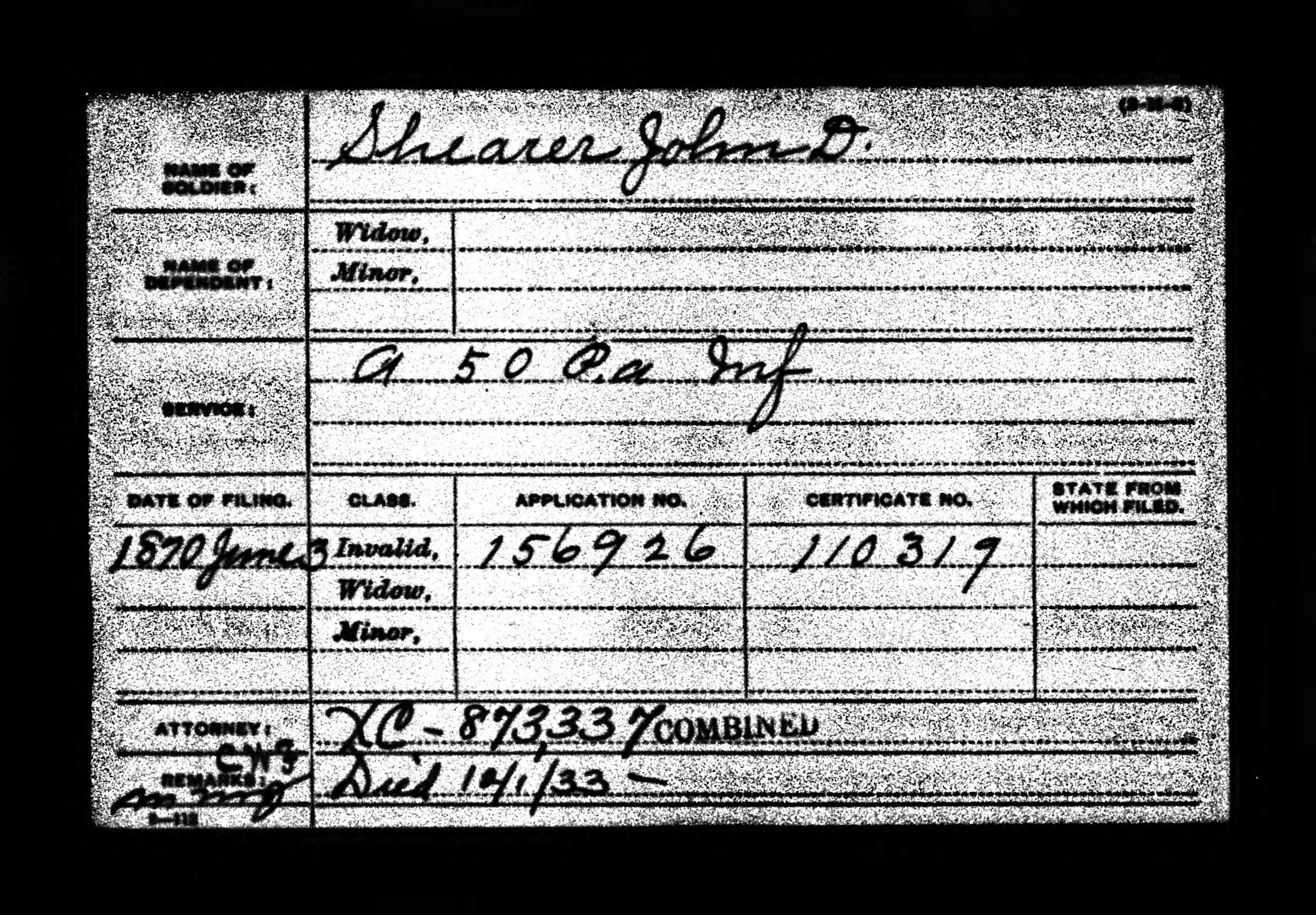 This card indicates that an invalid pension was first applied for in June 1870, but no state location for application is given.  At the bottom of the card, a new number, "873336 combined" suggests that there was a re-application and the two sets of records were combined. The card also notes a date of death of 1 October 1933.  There was no widow application.
In searching for John D. Shearer in the 1890 Veterans' census, no matching person was found, although it has to be assumed that he was living at the time if he died in 1933.  This could either be because he didn't report his Civil War service to the 1890 census or because he was at the time living in a state from which the records were destroyed by fire.
In searching for John D. Shearer in Findagrave, one good match was found for someone born around 1843 and died in 1933: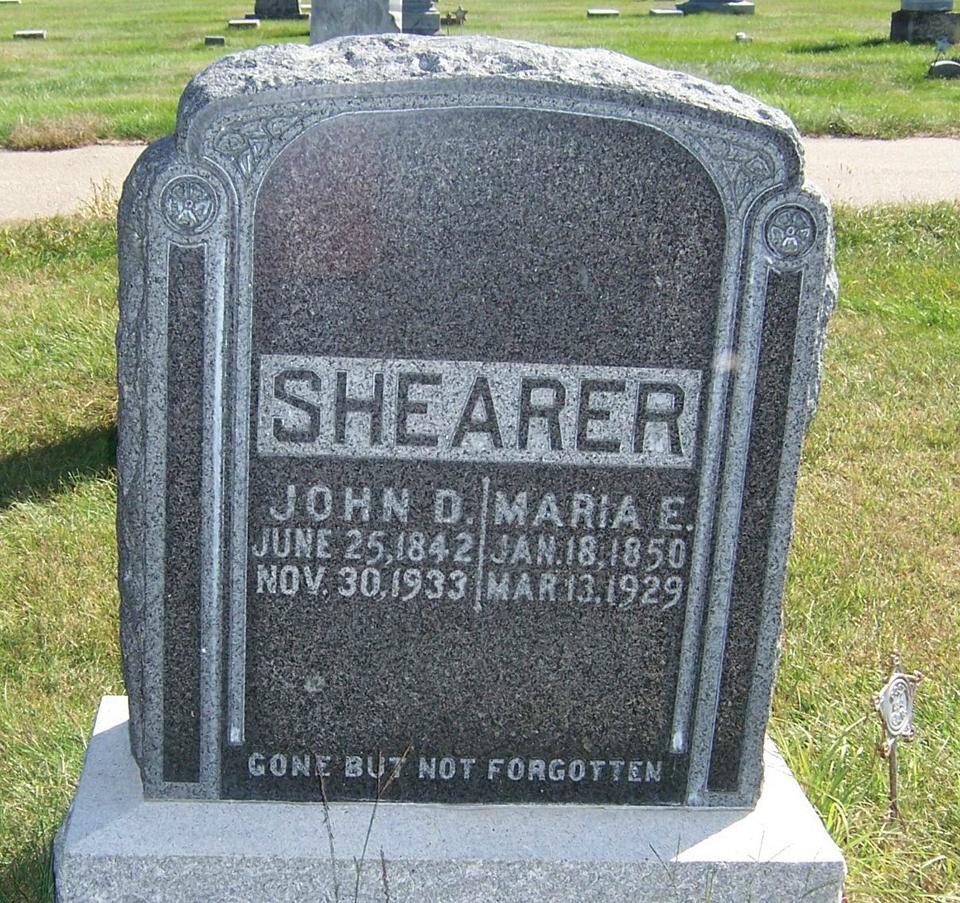 According to the Findagrave Memorial, John D. Shearer was born 25 June 1842 in Pennsylvania, and died on 30 November 1933 in Los Angeles, California.  He was married to Maria Elizabeth Hileman, who was born on 18 January 1850 in Indiana County, Pennsylvania, and died on 13 March 1929 in Los Angeles, California. No mention is made in the memorial that this John D. Shearer was a Civil War veteran.   However, despite the fact that John died in Los Angeles, he is buried in Wood River Cemetery, Wood River, Hall County, Nebraska.
In the 1910 Census for Los Angeles, California, John D. Shearer was found along with his wife, Maria E. Shearer.  No occupation was given, but John did indicate that he was "U. A.," meaning a veteran of the Union Army.
Was this the same person who lived in Gratz in 1861?
This question can most likely be answered by viewing the pension file, which has not been seen for the writing of this blog post.  If any reader has seen the pension file and would like to share its contents, please do so here.
How did John D. Shearer arrive in Gratz, what caused him to apply for a pension in 1870, and why did he not return to Gratz after the war?  Was he married only once, and did he have any children?  Why did he re-apply for a pension?   And finally, if both he and his wife died in Los Angeles, why are they buried in Nebraska?