Posted By Norman Gasbarro on July 19, 2017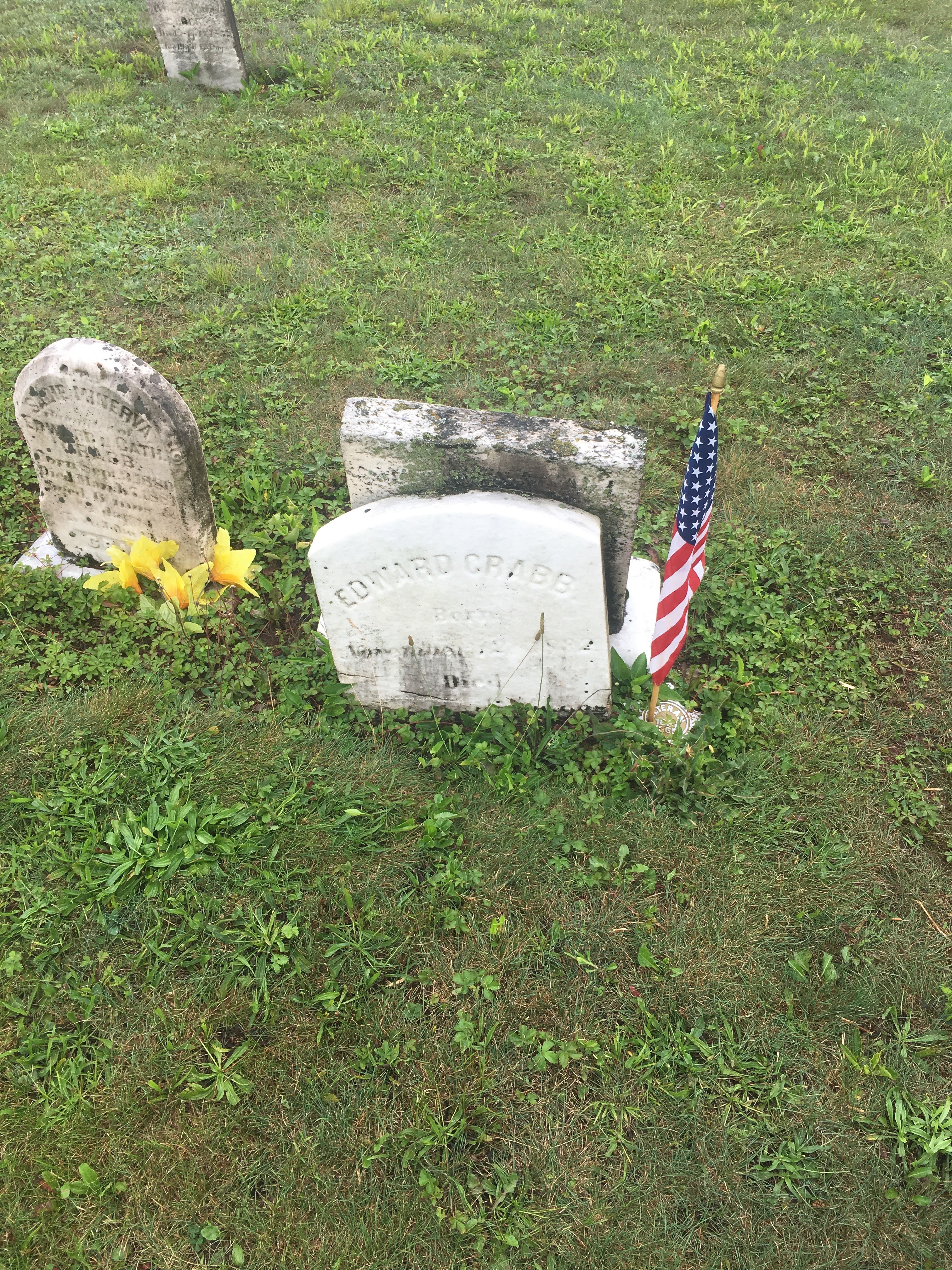 Almost exactly one year after an extremely critical blog post was published here on the Civil War Blog regarding the deplorable condition of an African American family grave plot at the Gratz Union Cemetery, a.k.a., Simeon's Cemetery, Gratz, Dauphin County, Pennsylvania, a small change has now been seen the grave site of Edward Crabb, Civil War veteran!  A military star has been placed in the ground and a flag has been placed there next to the broken stone.
The picture above, taken earlier this month, was submitted by Jeremiah Umholtz, who is a descendant of the family with whom Edward Crabb lived in Gratz in 1850.  Jeremiah visited the grave site on 7 July 2017 and noted that a relatively new marker had been placed in the ground along with a flag.
Although it seems that proper recognition has now been given to this veteran, other issues remain unresolved.
The first and most important issue is to determine who acted on behalf of Edward Crabb to place the marker there?  And, is that person or persons going to follow-up with a repair to the grave marker and/or get a proper replacement?  And, when the replacement stone is set in place, will there be a dedication ceremony where African American descendants of this veteran are notified and be given an opportunity to attend?  Will there be an apology on behalf of the cemetery, the church, the historical society, the veterans organization, etc., for the treatment this veteran has received in his home town?
Edward Crabb was a son of one of the first settlers of Gratz.  The father, Peter Crabb, an African American, was a blacksmith who built one of the first houses in Gratz, and was a member of Simeon's Church  Most of his children were born in Gratz, and one other son, John Peter Crabb, was also a Civil War veteran.
The burial plot at the front of the Lutheran section of the Gratz Union Cemetery was purchased by Peter Crabb at the time the cemetery was established in the 1830s.  It's quite large compared to some others there, and it appears that Peter Crabb had every intention of having enough space for himself, his wife, and for all his children.  It is said by some that Peter Crabb and his wife are buried there, but no stones mark the location of their graves.  Was there ever a stone there marking the grave of this early settler?  If so, what happened to it?
Following the Civil War, African Americans gradually disappeared from the Lykens Valley.  Some moved to Harrisburg, as did John Peter Crabb, Edward's brother, who when presented with the news that African Americans could not join the two white G.A.R. posts there, decided to help found a "colored" post.  It was not the policy of the national G.A.R. to exclude African Americans who had honorably served the Union.  Membership decisions were left up to local posts, most of whom used the "blackball" to deny admittance to anyone not white.
Edward Crabb died in 1886 in Hubley Township, Schuylkill County.  But he is buried in the family plot in Gratz.  It is not known when Edward's wife, Catherine "Rossie" [Jones] Crabb died, or if she is buried in the family plot.  Two of Edward and Rossie's young children who died in Schuylkill County are buried in Gratz, George E. Crabb (1877-1879) and Sadie Minerva Crabb (1880-1881), and their graves are appropriately marked with small stones.
Early in the 20th century, the Ku Klux Klan was very active in Gratz and in the surrounding area.  As late as 1997, when a history of Gratz was published, a Crabb family genealogy was included, but there was no mention made that the family was African American, although the ethnic roots of most other families were given.  Early in the 21st century, a video was produced by the historical society which featured a Ku Klux Klan "shrine" at the local museum.  See:  Why Are There Ku Klux Klan Uniforms in Gratz?  Shortly afterward, a cross was burned at the home of an African American woman in a neighboring town.  And, during the past year, a Hometown Heroes Project, solicited for banners recognizing individual veterans who had Gratz as their hometown; no one provided a banner recognizing either Edward Crabb or his brother John Peter Crabb.
So, when will the stone be replaced and when will the re-dedication ceremony be held?  The African American descendants and many others are waiting to hear.
_______________________________
Note:  Following the publication of the blog post, Edward Crabb, Victim of Bigotry in Gratz, several persons made contact with both U.S. Senators and the U.S. Representative for the 11th Congressional District of Pennsylvania, expressing their outrage over what has happened.  Did that result in the placement of the Civil War star at Edward Crabb's gravesite?