Posted By Norman Gasbarro on July 21, 2017
In a previous post here on this blog, the name of Joel R. Sparr was given as a Civil War veteran who is buried at St. Paul's United Church of Christ Cemetery, Northumberland County, Pennsylvania.  That information was taken from the Klingerstown Bicentennial Album, 1807-2007, which was reviewed in relation to its Civil War references.  As a result of the naming in that book, Joel R. Sparr (sometimes found in the records as Joel R. Spahr or Spohr) was included in the Civil War Project list of veterans from the Lykens Valley area.  Subsequent research has now shown that the Joel R. Sparr buried at St. Paul's Cemetery in Urban may not be a Civil War veteran and that he may have been confused with a Joel R. Spahr who is buried at Walnut Ridge Cemetery, Jeffersonville, Clark County, Indiana.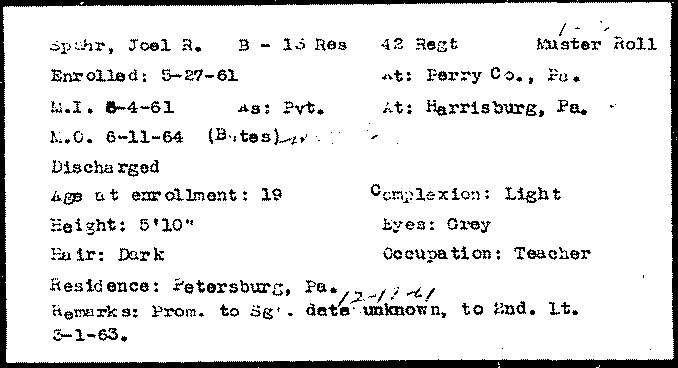 Based on information in the Klingerstown Bicentennial Album, 1807-2007, it was determined that Joel R. Spahr served in the 42nd Pennsylvania Infantry, Company B, first as a Private, but eventually promoted to the rank of 2nd Lieutenant.  Information on the card (above) from the Pennsylvania Archives, Joel was mustered into service on 4 June 1861 at Harrisburg.  At the time of his enrollment, he stood 5 foot 10 inches tall, had dark hair, a light complexion, grey eyes, and was 19 years old.  He claimed his residence was Petersburg [Perry County], Pennsylvania, and that he was a teacher.  His 1860 residence, as confirmed by the census, was Petersburg Borough.  Joel R. Spahr was honorably discharged at the end of his term of service on 1 June 1864.
Following this Joel R. Spahr in the census records, it can be noted that after the war, he appeared in various places including the Dakota Territory, Dodge City [Kansas], and finally Jeffersonville, Indiana.  Indiana death records show that Joel died in Indiana on 5 December 1903 and is buried at the Walnut Ridge Cemetery, in Jeffersonville.
Dennis Brandt, who has done extensive research on Civil War soldiers from York County and Adams County, Pennsylvania, supplied information on Joel R. Spahr to the Findagrave Memorial. Information from Brandt was confirmed by him by consultation with the pension application records at the National Archives.  Brandt concluded that the Joel R. Spahr who served in the 42nd Pennsylvania Infantry is buried at Jeffersonville, Indiana.  Brandt's conclusions are not only borne out by the records he has examined, but also by further genealogical research on the family.  And, to date, no connection has been found to the Lykens Valley area for this veteran!
If there is a Joel R. Sparr buried at Urban, there is no Findagrave Memorial for him and no photograph has been seen of the grave marker there.
Epilogue:  In 1923, Joel's son Howard H. Spahr applied for an emergency passport so he could work on U. S. graves registration for the army.  If his father is incorrectly "registered" as buried at Urban, Northumberland County, then this ironic twist can be added to the story of this veteran, who, from follow-up research does not belong in the Lykens Valley list of Civil War veterans!