Posted By Norman Gasbarro on July 5, 2017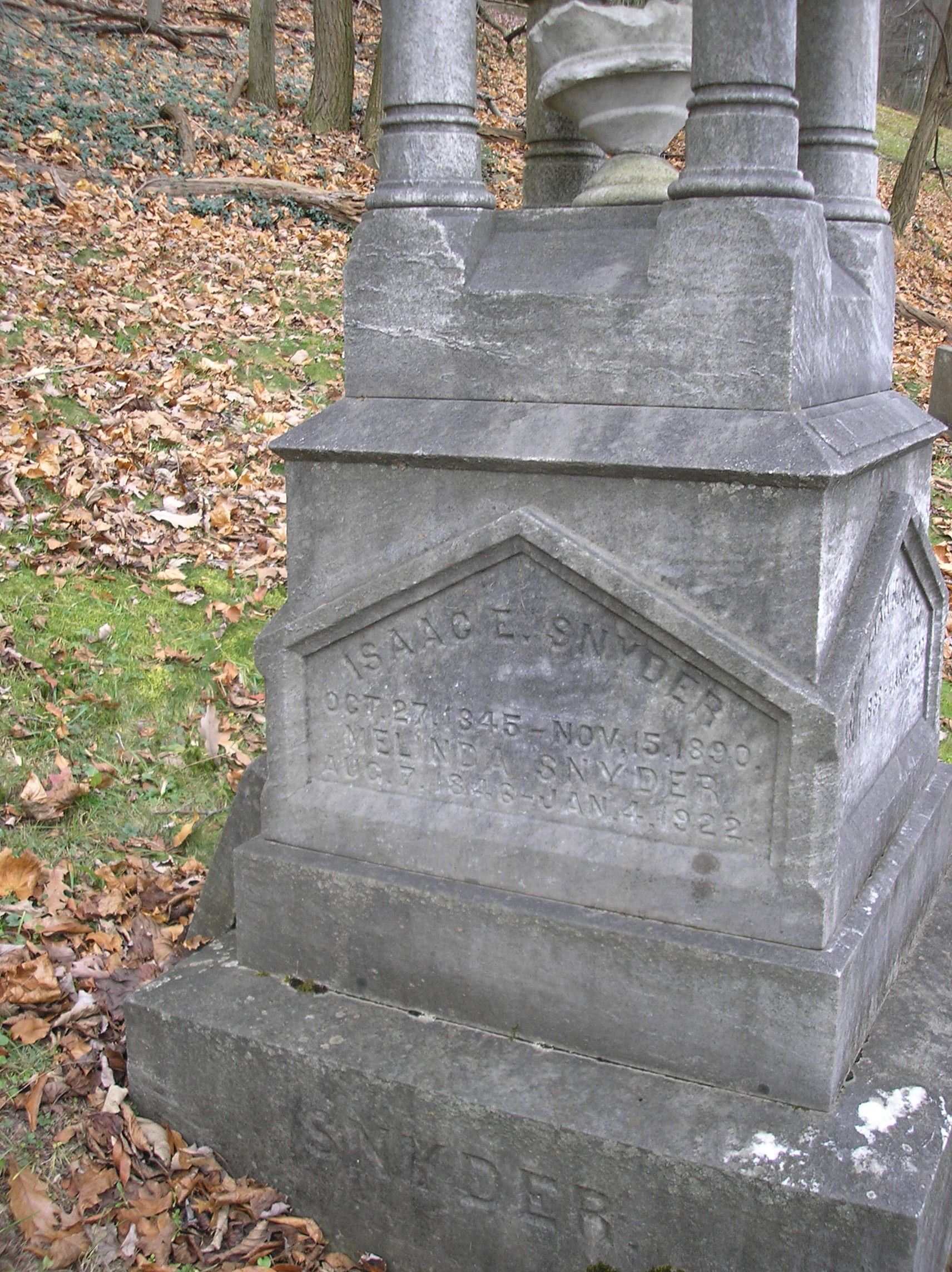 Isaac E. Snyder, Civil War veteran, is buried at the I.O.O.F. Cemetery in Lykens, Dauphin County, Pennsylvania.  He died on 15 November 1890.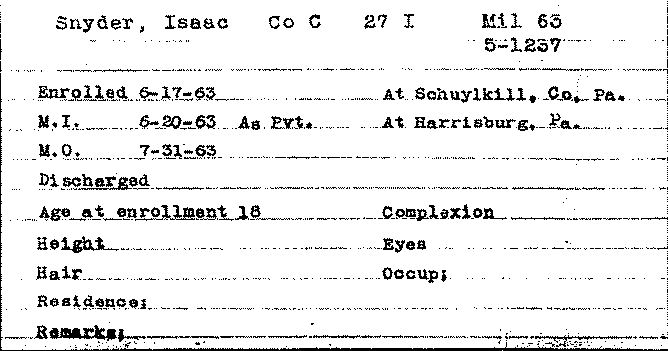 During the Civil War, he served in the Emergency Militia, 27th Pennsylvania Infantry, Company C, as a Private.  He was mustered into service in Schuylkill County, 17 June 1863, and completed his service at the end of the emergency on 31 Jul7 1863.  At the time of his enrollment, he was 18 years old.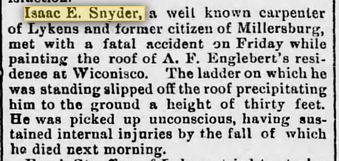 According to the Harrisburg Telegraph of 22 November 1890:
Isaac E. Snyder, a well known carpenter of Lykens and former citizen of Millersburg, met with a fatal accident on Friday while painting the roof of A. F. Englebert's residence at Wiconisco.  The ladder on which he was standing slipped off the rood precipitating him to the ground a height of thirty feet.  He was picked up unconscious, having sustained internal injuries by the fall of which he died the next morning.
At the time of his death he was 45 years old.  He left a wife, Melinda [Nutt] Snyder, and several children, at least two of whom were minors at the time of his death. Because he had only served in the war for about 6 weeks, he was not eligible for a pension and therefore his widow was not able to collect benefits.  Melinda lived until 1922.  She is buried with her husband at the I.O.O.F. Cemetery in Lykens.

One thing that must be resolved about Isaac E. Snyder is that his name appears on the Lykens G.A.R. Monument as a veteran who was a member of the Heiler Post at Lykens who was wounded during the war (the asterisk after him name indicates "wounded"). Unless he served in another regiment (no other has been located to date), he was not wounded during his service as his militia unit did not see any battle action.  In 1890, prior to his death, he reported to the census that his only service was the militia regiment previously noted and did not give any disability as a result of his service.
If any blog reader can add any information to this veteran's story, it would be greatly appreciated.
Also, it was mentioned in his obituary that he resided in Millersburg prior to moving to Lykens.  The Project is still looking for proof of this since his name does not appear on any Millersburg veteran lists and he has not yet been located in a Millersburg or Upper Paxton Township census prior to 1870.  If proof can be found of his Millersburg residence, his name should then be added to the list of veterans from that place.
_________________________________
News clipping from Newspaper.com.