Posted By Norman Gasbarro on July 7, 2017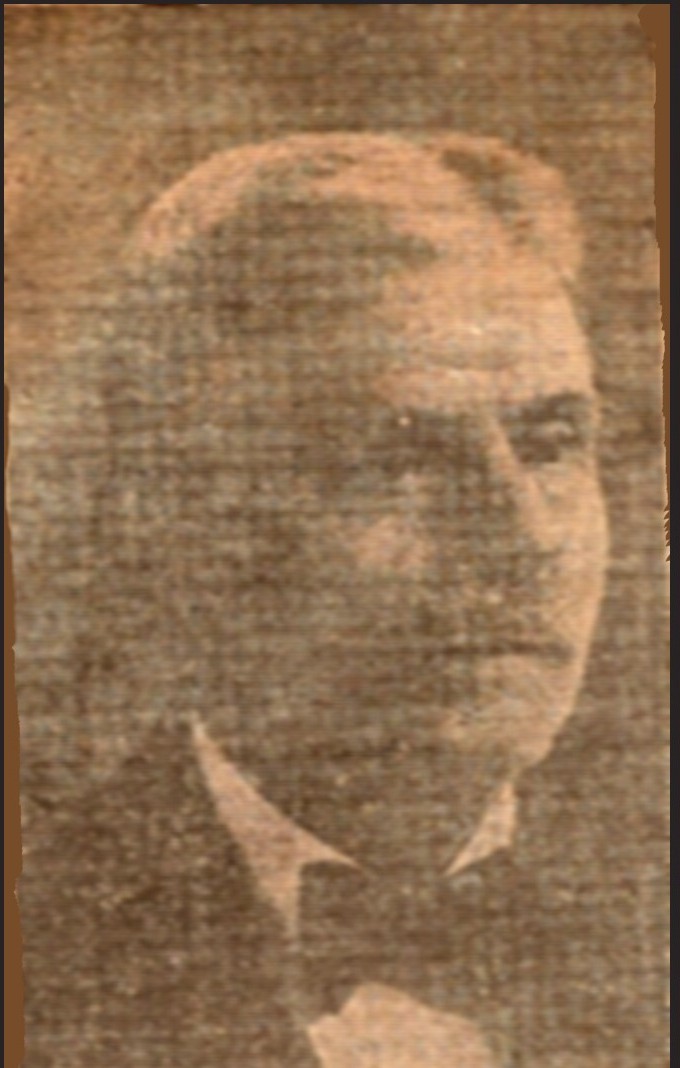 Henry W. Snyder, who served in the 2nd Company G of the 103rd Pennsylvania Infantry, as a Corporal, died on 20 February 1928 in Wilmington, Delaware.
His obituary appeared in a Harrisburg newspaper at the time of his death: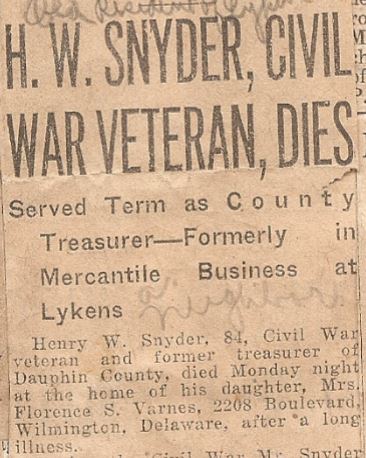 H. W. SNYDER, CIVIL WAR VETERAN, DIES

Served Term as County Treasurer

Formerly in Mercantile Business at Lykens

Henry W. Snyder, 84, Civil War veteran and former treasurer of Dauphin County, died Monday night at the home of his daughter, Mrs. Florence S. Varnes, 2208 Boulevard, Wilmington, Delaware, after a long illness.

During the Civil War, Mr. Snyder was a member of Company I [sic], 103rd Pennsylvania Infantry.  He was a merchant in Lykens and following his election as county treasurer in 1890, he moved to this city,  He moved to Wilmington ten years ago.

He was a member of Pilgrim Commandery, No. 11, Knights Templar; Susquehanna Lodge, No. 364, F. and A. M. of Millersburg; and Post 58, G. A.R.  He was also a member of the Grace Methodist Church.

He is survived by two daughters, Mrs. Varnes, and Mrs. Anna S. Lewis, of this city [Harrisburg]; and one son, N. H. Snyder, Washington [D.C.].

Funeral services will be held Friday morning at 11 o'clock at the home of his daughter, Mrs. Anna S. Lewis, 902 Green Street, this city.  The Rev. Dr. George Edward Reed will officiate.  Burial will be in the Harrisburg Cemetery.  The body may be viewed tomorrow evening after 7 o'clock at the Lewis home.
Henry W. Snyder's Civil War service is summarized on the card shown below from the Pennsylvania Archives: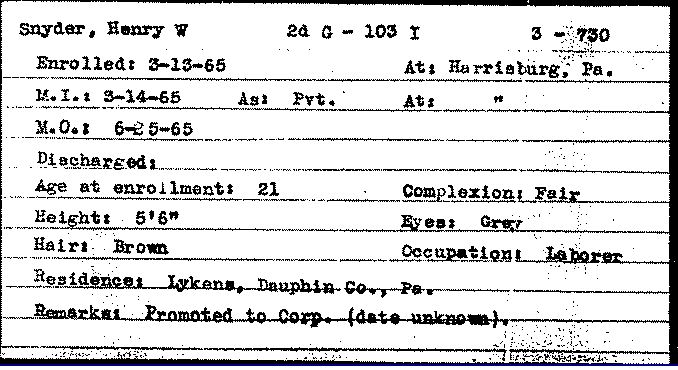 On 13 March 1865, Henry W. Snyder enrolled in the 103rd Pennsylvania Infantry, Company G, as a Private.   The next day he was mustered into service.  At some point, date not known, he was promoted to Corporal.  At the time of his enrollment, he was about 21 years old, was a laborer, and resided at Lykens.  He stood 5 foot, 6 inches tall, had brown hair, a fair complexion, and grey eyes.  On 25 June 1865, he was honorably discharged.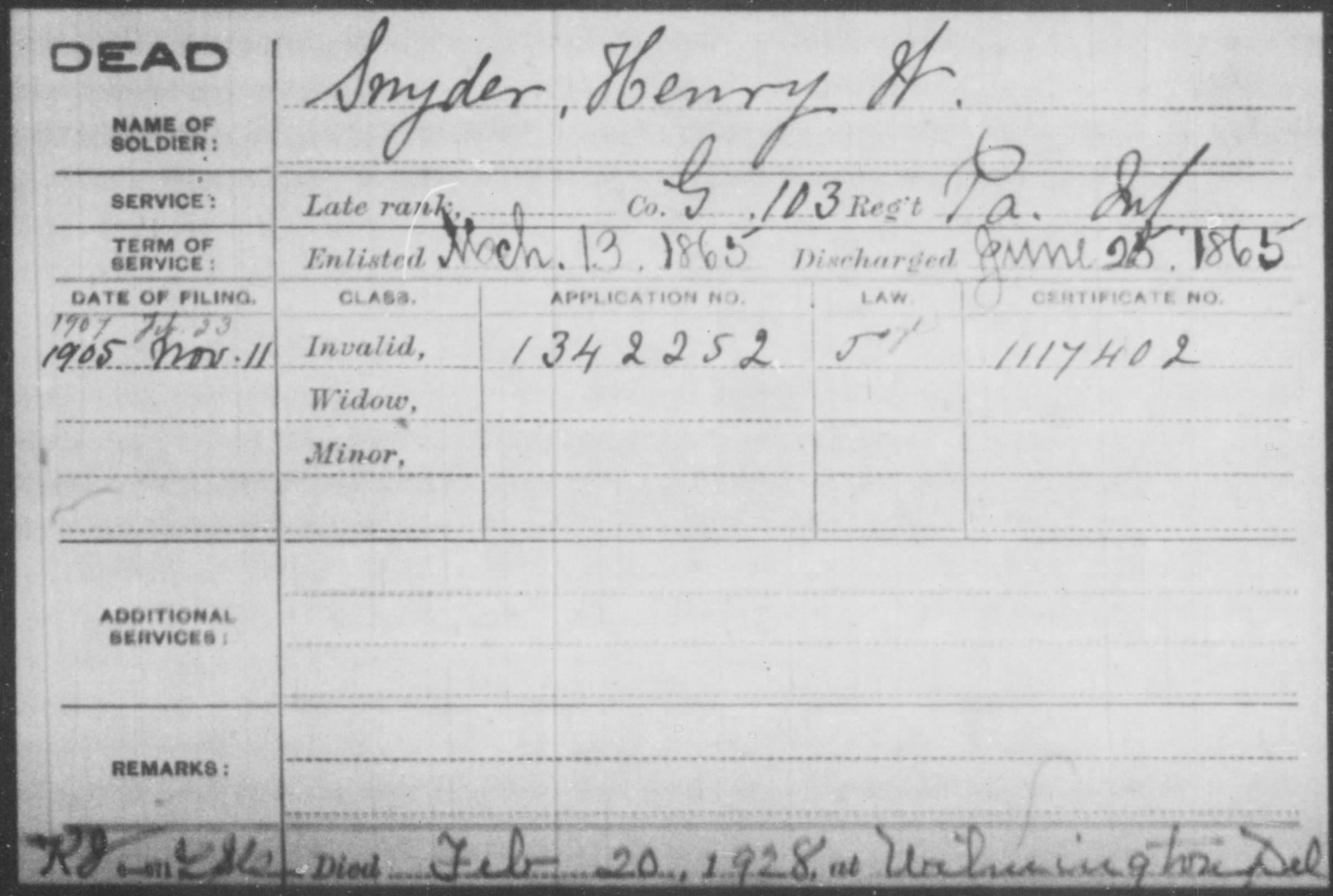 On 11 November 1905, Henry W. Snyder applied for an invalid pension based on his Civil War service, which he collected until his death on 20 February 1928 as noted on the card (above) from Fold3.
Henry W. Snyder was married to Clara Louisa [Snyder] Snyder, who died in 1913.  Both Henry and Clara are buried in the Harrisburg Cemetery.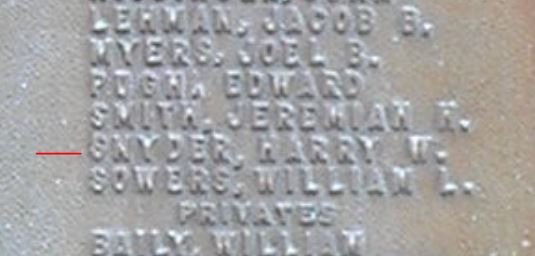 Henry's name appears on the Lykens G.A.R. Monument as "Harry W. Snyder," a Corporal who joined the Heilner Post after its organization.  At some point he transferred his membership to Post 58 in Harrisburg.  Generally speaking, veterans could be members of only post at a time.  Perhaps this transfer was done after he moved to Harrisburg when elected County Treasurer.
Additional information about Henry W. Snyder would be greatly appreciated.