Posted By Norman Gasbarro on July 17, 2017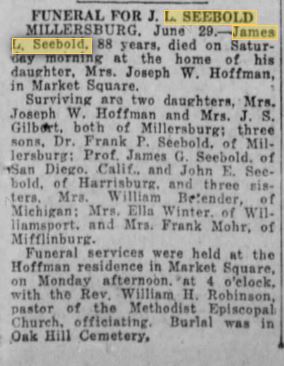 The Harrisburg Telegraph of 29 June 1927 provided information on the funeral of James L. Seebold.  He was a founding member of the Kilpatrick Post of the G.A.R. in Millersburg and was previously mentioned here in several blog posts.
FUNERAL FOR J. L. SEEBOLD

MILLERSBURG, 29 June 1927 — James L. Seebold, 88 years, died on Saturday morning at the home of his daughter, Mrs. Joseph W. Hoffman, in Market Square.

Surviving are two daughters, Mrs. Joseph W. Hoffman and Mrs. J. S. Gilbert, both of Millersburg; three sons, Dr. Frank P. Seebold, of Millersburg, Prof. James G. Seebold, of San Diego, California, and John R. Seebold, of Harrisburg, and three sisters, Mrs. William Betender, of Michigan; Mrs. Ella Winter, of Williamsport; and Mrs. Frank Mohr, of Mifflinburg.

Funeral services were held at the Hoffman residence in Market Square, on Monday afternoon, at 4 o'clock, with the Rev. William H. Robinson, pastor of the Methodist Episcopal Church, officiating. Burial was in Oak Hill Cemetery.
During the Civil War, James L. Seebold served in the 51st Pennsylvania Infantry, Company E, where he rose in rank from Sergeant to 2nd Lieutenant.  However, nothing was mentioned in the funeral description that he had served in the war, nor was it noted that he was one of the longest surviving veterans from the Millersburg area.  He is memorialized on the Millersburg Soldier Monument in Market Square in Millersburg and on his grave marker in the Oak Hill Cemetery.  Both memorializations are pictured below.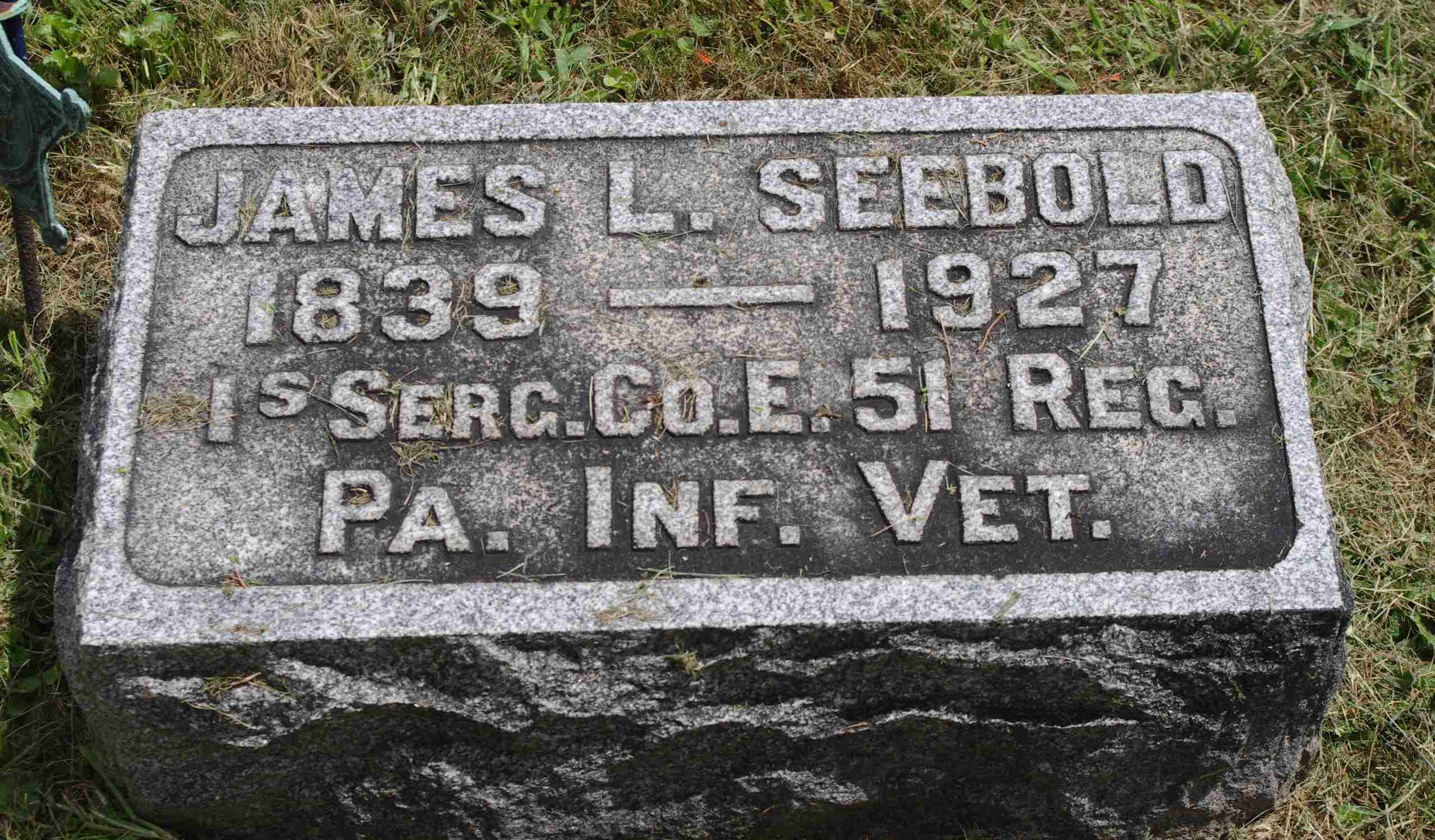 The picture above was taken at the time of the dedication of the Millersburg Soldier Monument in 1914 and is displayed on the historical marker next to the monument in the square. It is believed that James L. Seebold was at the dedication and is therefore in the picture.  However, no identification key has been located.  If a blog reader is aware of either an identification key for this photo or of an individual photograph of James L. Seebold who lived more than thirteen years after the dedication ceremony, that information/picture would be greatly appreciated.