Posted By Norman Gasbarro on July 26, 2017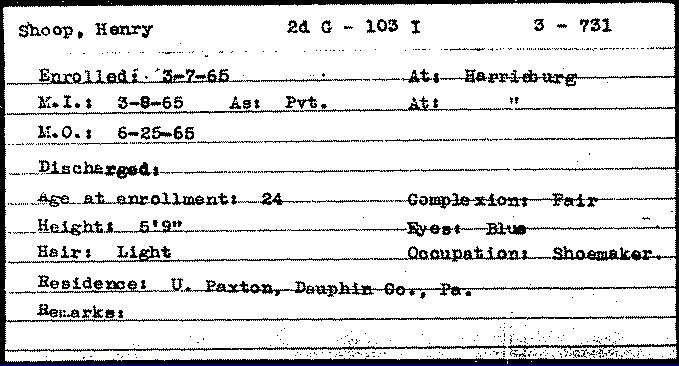 On 7 March 1865, Henry Shoop, who resided in Upper Paxton Township, Dauphin County, Pennsylvania, enrolled in the 2nd Company G of the 103rd Pennsylvania Infantry at Harrisburg, and was mustered into service as a private two days later at the same place.  He was a 24 year old shoemaker who stood 5 foot 9 inches tall, had light hair, blue eyes and a fair complexion.  According to the military records, he was mustered out with his company on 25 June 1865 New Bern, North Carolina.  Previously on this blog, the service of this replacement company was discussed.
In the 1850 Census of Halifax Township, Dauphin County, Henry Shoop appears as a 12 year old child in the household of George Shoop, age 51 (born about 1799), a farmer.  Presumably, this George Shoop is the father of Henry.  Elizabeth Shoop, age 48 (born about 1802), is presumably the mother.
In 1860, Henry Shoop appears in Upper Paxton Township, where he is living in the household of William Jury, a 40 year-old farmer.  At this time, Henry was 22 years old (born about 1838), and was working as a master shoemaker.  Although the age is slightly off, this Henry Shoop matches the soldier who enrolled in the 103rd Pennsylvania Infantry in 1865 claiming he was 24 years old (born about 1841).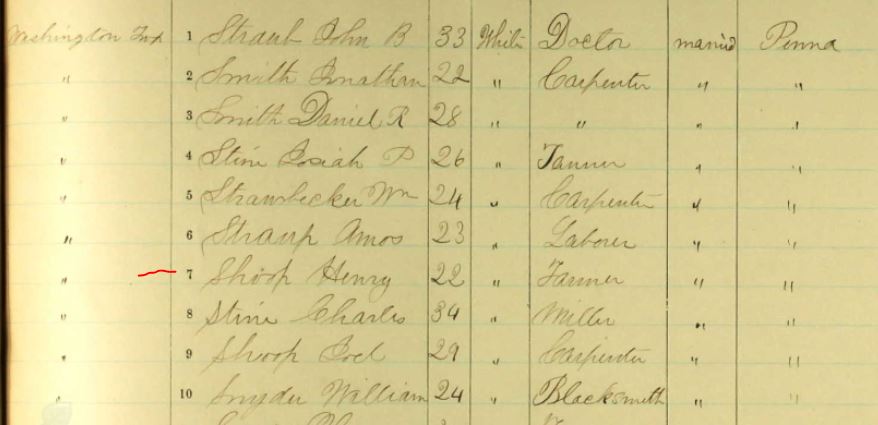 In 1863, a Henry Shoop, age 22, of Washington Township, Dauphin County, registered for the draft claiming he was married and was a farmer.  Was this the same person? If so, in the interim between the census and the draft, he changed occupations and location — and got married.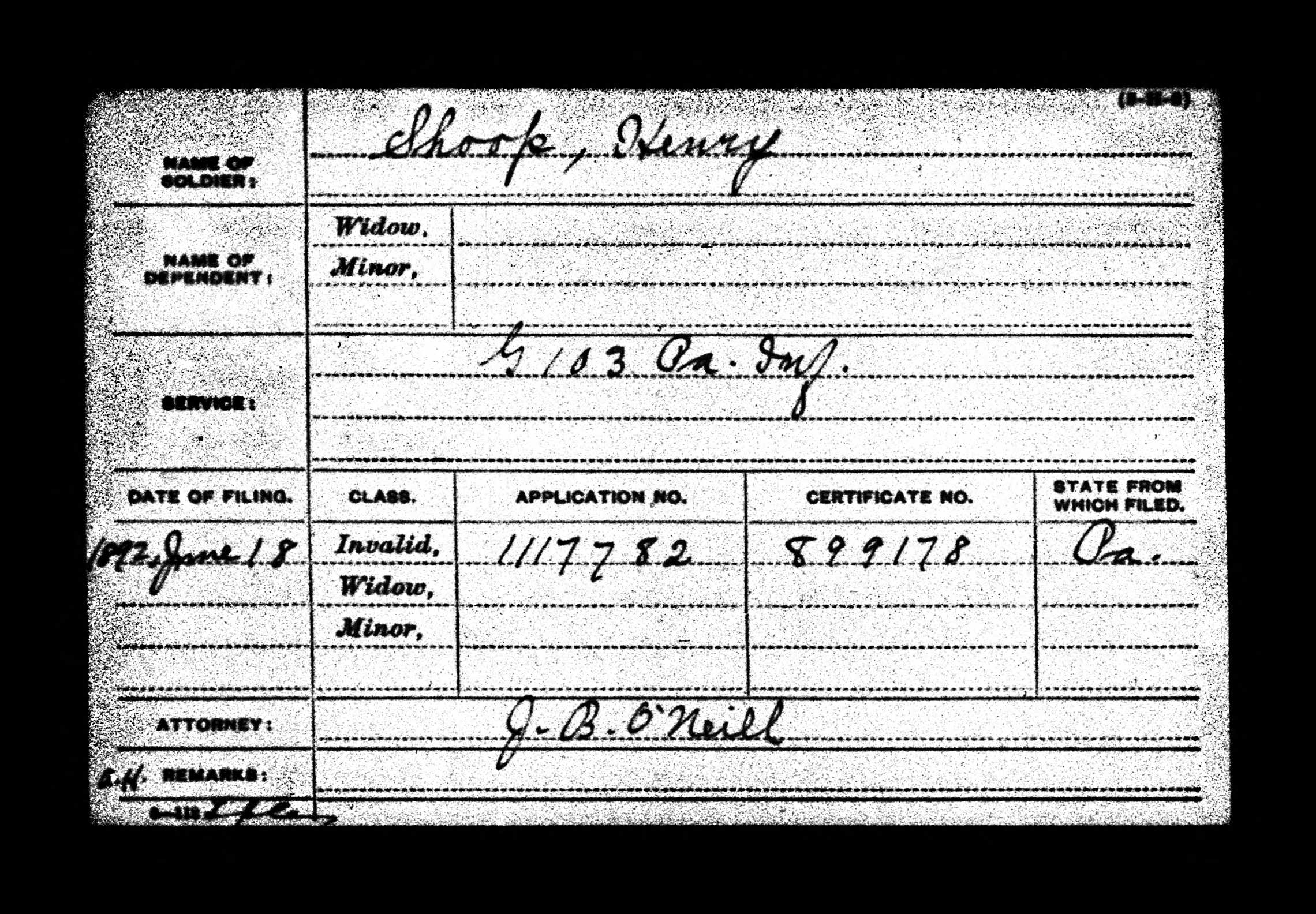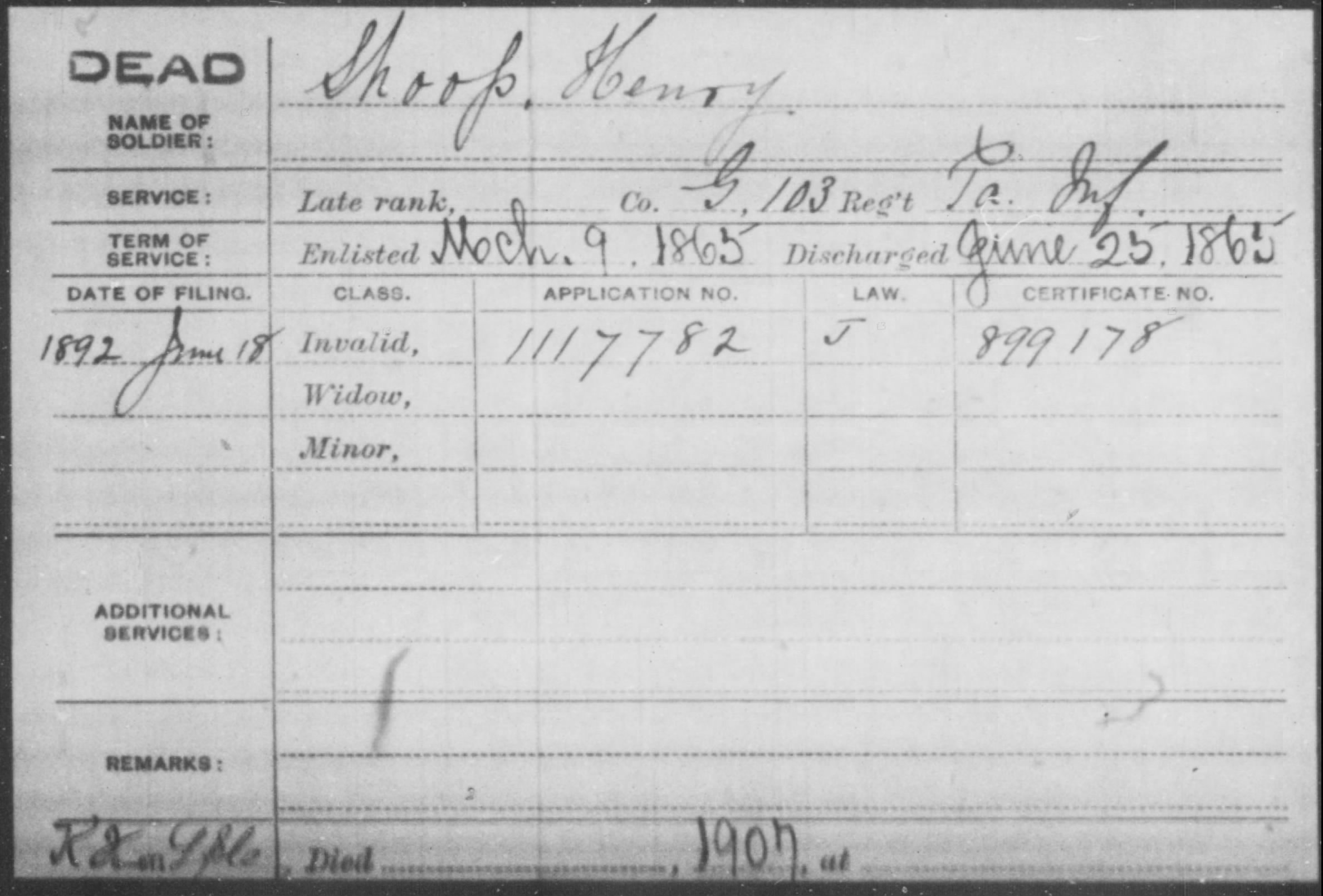 The two Pension Index Cards, shown above from Ancestry.com (top) and Fold3 (bottom) give some interesting information about the Henry Shoop who served in the 103rd Pennsylvania Infantry.  First, he did not apply for pension benefits until 18 June 1892, and when he applied, he did so from Pennsylvania, seeming to indicate that he was living in Pennsylvania in 1892.  Second, according to the pension records, he died in 1907.
While research is still on-going, no matching Henry Shoop has been found in an 1890 Census for Pennsylvania, and efforts to locate a a Henry Shoop in Pennsylvania censuses for 1870, 1880 and 1900 have not been successful.
However, an 1870 census for Fond Du Lac, Ashford County, Wisconsin, gives the following:

Henry Shoop, age 28, a farm laborer, born in Pennsylvania, is head of household, with wife Matilda Shoop, age 24, born in Vermont, and children, Warren Shoop, age 4, and Elmer Shoop, age 2, born born in Wisconsin.
Subsequent federal censuses for this Henry Shoop family in Wisconsin add the following information (click on image to enlarge):

In 1880 (above), Henry Shoop, age 41 (born about 1839) was working as a farmer, living in Ashford, Fond Du Lac County, Wisconsin.  Wife Matilda Shoop, was 37 years old, , Warren Shoop and Elmer Shoop still in household, Edmund Shoop, age 8, Cora Shoop, age 6, and Lelia Shoop, age 4, added to household.
No 1890 Veterans' Census was located for a Henry Shoop in Wisconsin who served in the 103rd Pennsylvania Infantry.

In 1900, Henry Shoop is a farmer, born June 1839, living in Beaver, Clark County, Wisconsin, who is a widower, head of household, with his daughter Lillie Shoop, a teacher.
A Wisconsin state census for Beaver, Clark County, 1895 shows a Henry Shupe (note spelling change of surname), as head of household, with himself and two females in household.  This indicates that Henry moved to Clark County some time between 1880 and 1895.
An Ancestry.com member publicly posted the following obituary of Henry Shupe, from the Loyal Tribune, Loyal, Clark County, Wisconsin, 9 March 1905:
Shupe, Henry (1838? – 2 MAR 1905)

Henry Shupe died at the home of his daughter, Mrs. Fred Nelson, on 2 March 1905.

Mr. Shupe was born in Pennsylvania 66 years ago and with his parents came to Wisconsin and settled in Milwaukee County in the forties, where he grew to manhood. He then married and engaged in farming in Fond Du Lac County, from there he came to Clark County, Wisconsin about twenty-four years ago, buying land in the Romaine settlement in the town of Beaver, where he and his family commenced clearing away the forest and commenced building a home. With the other first settlers he underwent the hardships and privations incident to developing a new country, which are unknown to the present generation.

Mr. Shupe was a man of sterling qualities and respected and trusted by his neighbors and townsmen. Four times he was elected to the office of town treasurer, filling it with credit to himself and the town by hard work, industry and economy. He acquired enough of this world's goods to enable him to retire from farm life and two years ago this spring he moved to the village of Loyal, and built a neat and comfortable residence.

During the fore part of December of last year he suffered an attack of stomach trouble, a disease he had suffered with a great deal in his younger days, which resulted in his death as stated above. He is survived by four children, two sons, Ed Shupe and Elmer Shupe, residents and farmers of the town of Beaver, and two daughters, Mrs. Nelson Walterman and Mrs. Fred Nelson, residing in the village of Loyal.

The funeral was held at the M. E. Church Friday afternoon, J. A. Hill officiating. The remains were interred at Dodgeville by the side of his wife, who preceded him six years ago.
Finally, in regard to this Wisconsin Henry Shupe (or Shoop), a Findagrave Memorial was located with the following information and picture: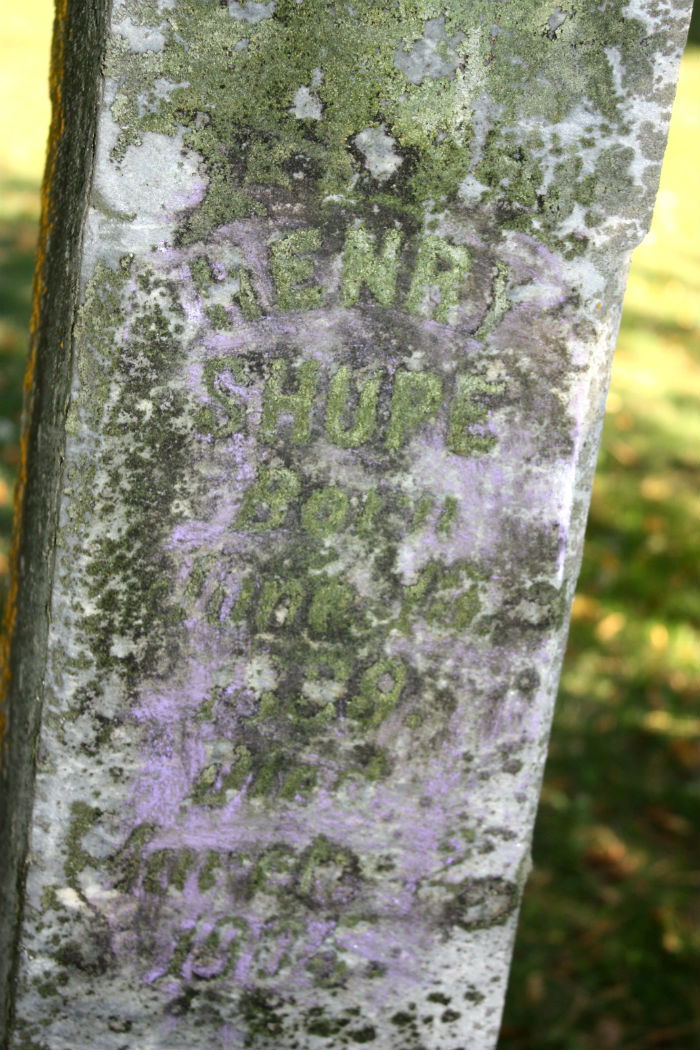 Henry Shupe, born 13 June 1838, died 2 March 1905, buried Pine Grove Cemetery, Loyal, Clark County, Wisconsin. 
Henry's wife, Matilda Shupe, was also located in the same cemetery and her Findagrave Memorial gives the information that she was born 27 June 1843, died 22 January 1899, and her maiden name was Matilda Harris.
There is no mention in Henry's obituary or in his Findagrave Memorial that he was a Civil War veteran – and the actual year of death, 1905, is two years off the year of death of the Henry Shoop who served in the 103rd Pennsylvania Infantry (per the Pension Index Card, above).
While the two Henry Shoops do not entirely match, there are many circumstantial connections.  The actual pension application file might shed some light on whether the two are the same person, but that file was not available for this blog post research.  Perhaps a reader can shed some light on this?
A final interesting antidote must be presented here and comes from a news article found in the Eau Claire Leader, Eau Claire, Wisconsin, 4 May 1902: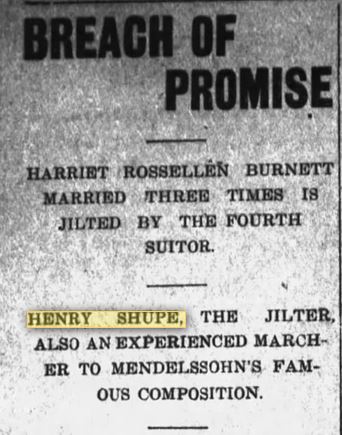 BREACH OF PROMISE

HARRIET ROSSELLEN BURNETT MARRIED THREE TIMES IS JILTED BY THE FOURTH SUITOR

HENRY SHUPE, THE JILTER, ALSO AN EXPERIENCED MARCHER TO MENDELSSOHN'S FAMOUS COMPOSITION

The bride that was-to-be is nigh 50 – perhaps a year or so on the sunny side – she has carried bride's roses on three distinct occasions – has shad many other opportunities, but held out until Henry Shupe came forth and went down on his knees in the orthodox fashion and then for the fourth time in her life Mrs. Harriet Rossellen Burnett sighed the blissful word: "yes!"

The groom-that-was-to-be had been twice before.  In his fifty years of life he has enriched two parsons with liberal fees, he knows what it is to walk down the church aisle and meet the blushing lady at the altar, he knows well the joys of a hack ride around town after the ceremonies, twice in his life had he combed rice from his locks.  Well he knew the feeling of old shoes liberally thrown at his head and back.

What became of Mr. Shupe's former wives is not stated.  Mrs. Burnett ran two of her men through the divorce-court mill – the third's fate is not stated.

When Mrs. Burnett said "yes!" to Mr. Shupe's impassioned query: "Will you be my own?" both were happy.  All this occurred in Nellsville. They are Nellsville people.  Then Shupe went to Marshfield and didn't make good when the wedding day came around.

Mrs. Burnett brought suit before Judge James O'Neill, the case has been on for the past few days at Nellsville.  Clerk of the Court Charles Fiske of this city, took the testimony.  Eau Claire folks who attended the trial say that the testimony taken in prosaic shorthand would make Laura Jane Libby quit the business of romance writing.

Mrs.Burnett testified that she sold her cook stove and bed-room carpet to raise money enough to reach Marshfield and the altar, but when she got there Shupe had altered his plans regarding the altar and shuped-the-shupes into the uncertain matrimonial sea.  The jilted wants damages enough to soothe a lacerated heart.  An odd feature of the trial is the fat that two of Mrs. Burnett's former husbands were witnesses in her behalf.

J. R. Sturdevant and C. R. Sturdevant of Nellsville, appeared for the plaintiff, and L. M. Sturdevant for the defendant.  The latter was one of the Board of Appraisers in the Eau Claire Water Works matter.
What is interesting about the above story is the location of the communities mentioned in relation to the community in which Henry Shupe died in 1905: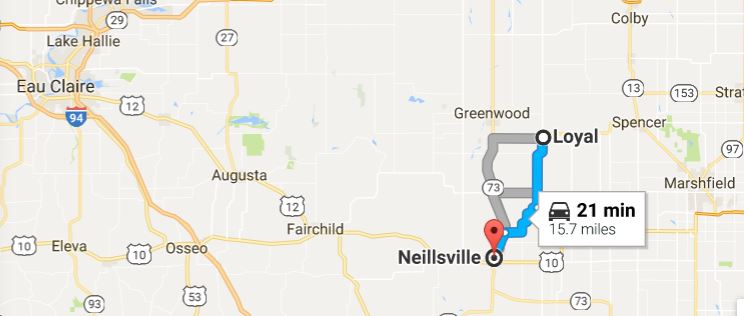 The cut above from GoogleMaps, shows that Loyal is 15.7 miles from Nellsville, where the court case took place, and Mansfield, which can be seen at the right edge of the map, is about the same distance from Loyal as is Nellsville.  The indication that Henry Shupe had been twice married may refer to the marriage that was reported to the 1863 Civil War draft – and the marriage to Matilda Harris, which probably occurred in Wisconsin. Most likely, the Henry Shupe, the defendant in the Nellsville case in 1902, was the same man who died in 1905 and is buried in Loyal.  Note, Eau Claire, where the newspaper was located, is at the left edge of the map cut and is about 40 miles from Loyal.
None of this speculation helps to explains why Henry Shoop would have moved from Pennsylvania to Wisconsin, and why if this is the same man who served in the 103rd Pennsylvania Infantry, Company G, no record has been found that he mentions his Civil War service.
___________________________
News clippings are from Newspapers.com.