Posted By Norman Gasbarro on June 2, 2017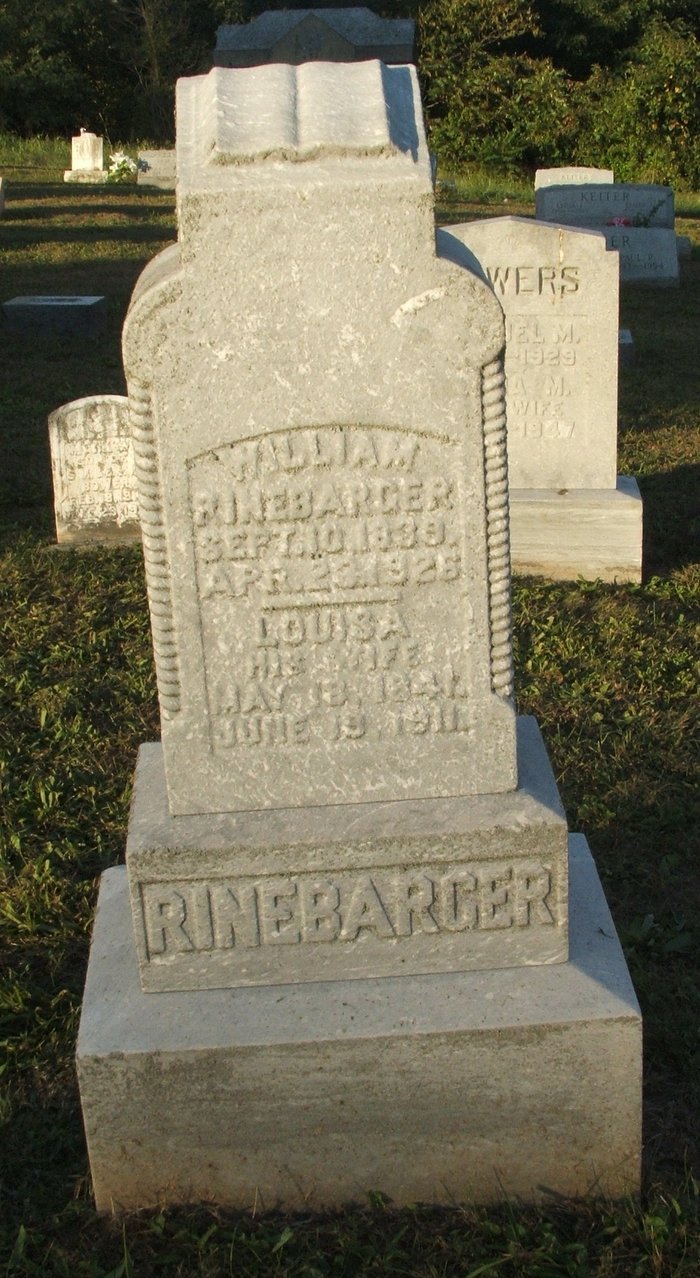 William Reinbarger died on 23 April 1926, and is buried at the Fetterhoff's Cemetery, Halifax Township, Dauphin County, Pennsylvania. His Findagrave Memorial does not note that he was a veteran of the Civil War.
The spelling variations of the surname make it difficult to research this individual.  His name is found as Rineberger, Rinebarger, Rynberger, Rhineberger, Reinberger, and several other ways.  The spelling he probably preferred was Reinberger, as that is how his name appeared in the Elizabethville Echo nearly two dozen times, including for his obituary.  However, as can be seen from the gravemarker photo above, the family had Rinebarger placed on the grave marker.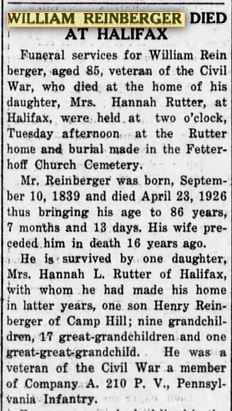 A portion of the obituary and funeral information for William Reinberger from the Elizabethville Echo of 29 April 1926 appears above and entire text appears below:
WILLIAM REINBERGER DIED AT HALIFAX

Funeral services for William Reinberger, aged 85 [sic], veteran of the Civil War, who died at the home of his daughter, Mrs. Hannah Rutter, at Halifax, were held at two o'clock, Tuesday afternoon at the Rutter home and burial made in the Fetterhoff Church Cemetery.

Mr. Reinberger was born 19 September 1839 and died 23 April 1926, thus bringing his age to 86 years, 7 months and 12 days.  His wife preceded him in death 16 years ago.

He is survived by one daughter, Mrs. Hannah L. Ritter of Halifax, with whom he had made his home in latter years, one son Henry Reinberger of Camp Hill; nine grandchildren; 17 great-grandchildren; and one great-great grandchild.  He was a veteran of the Civil War, a member of Company A, 210th P. V., Pennsylvania Infantry [210th Pennsylvania Infantry].

For many years he had lived in the vicinity of Fisherville and later moved to Halifax.  Rev. J. F. Stabley of Fisherville and Rev. C. E. Heffleger of Halifax officiated at the funeral services.
William Reinberger's Civil war service is documented by the following records:
Pennsylvania Veterans' Index Card from Pennsylvania Archives & Steve Maczuga's Pennsylvania Civil War Soldier Database:  Service noted in the 210th Pennsylvania Infantry, Company A, as a Private.  Mustered into service 10 September 1864 and honorably discharged on 23 May 1865.
Pension Index Card (Ancestry.com):  Service in 210th Pennsylvania Infantry, Company A.  Pension application submitted 21 July 1865.  Pension received.  There was no widow's pension because she preceded him in death.
1890 Veterans' Census:   Residence at Fisherville.  Service in 210th Pennsylvania Infantry, Company A, as a Private.  Service from 6 September 1864 through 5 June 1865.  Disability:  "Blind of left eye; his blindness comes from disease in service."
For most of his life, William was a farmer in the Armstrong Valley.  His census locations were Halifax Township, Jackson Township, and Fisherville.
About 1862, William Reinberger married Louisa Fawber, who was born in May 1841.  She died of heart disease after about five years of suffering on 19 June 1911.
Any reader with additional information about this veteran is invited to submit it.