Posted By Norman Gasbarro on June 10, 2017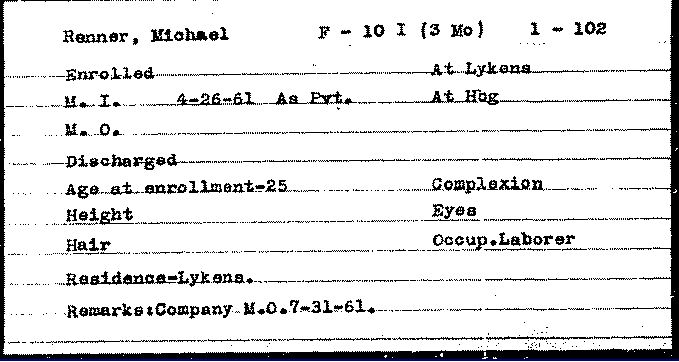 Michael Renner enrolled at Lykens, Dauphin County, Pennsylvania, in the 10th Pennsylvania Infantry, Company F, as a Private, for a term of service of 3 months.  No date of enrollment is given on the Pennsylvania Veterans' File Card, shown above from the Pennsylvania Archives.  However, he was mustered into service on 26 April 1861 at Harrisburg, and served until he was mustered out on 31 July 1861.
At the time of his enrollment, he claimed he was 25 years old (born about 1836), was a resident of Lykens, and was working as a laborer.  No other personal information about him was noted on the file card.
To date, efforts to locate him in other records have been unsuccessful.  For example, he was not found in the 1860 census, nor was he found in any Pension Index Cards (Fold3 or Ancestry.com versions).  As a resident of Lykens at the time of the war, he should have been recognized on the Lykens G.A.R. Monument, but no one of that name is on the monument plaque.
What happened to Michael Renner?  If any reader knows, please add a comment to this post or send the information by e-mail.