Posted By Norman Gasbarro on June 26, 2017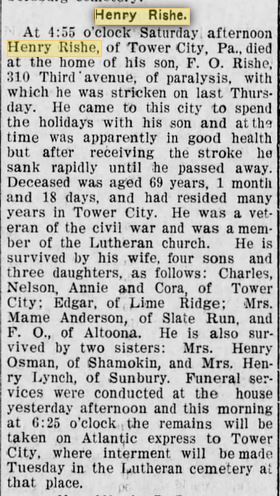 The obituary of Henry Rishe appeared in the Altoona Tribune [Blair County, Pennsylvania], 2 January 1905:
Henry Rishe

At 4:55 o'clock Saturday afternoon Henry Rishe of Tower City, Pennsylvania, died at the home of his son, F. O. Rishe, 310 Third Avenue, of paralysis, with which he was stricken on last Thursday.  He came to this city to spend the holidays with his son and at the time was apparently in good health but after receiving the stroke he sank rapidly until he passed away.  Deceased was aged 69 years, 1 month, and 18 days, and had resided many years in Tower City.  He was a veteran of the Civil War and was a member of the Lutheran Church.  He is survived by his wife, four sons and three daughters as follows:  Charles Rishe; Nelson Rishe; Annie Rishe; and Cora Rishe; [all] of Tower City.  Edgar Rishe, of Lime Ridge; Mrs. Mame Anderson, of Slate Run; and F. O. Rishe of Altoona.  He is also survived by two sisters:  Mrs. Henry Osman, of Shamokin, and Mrs. Henry Lynch, of Sunbury.  Funeral services were conducted at the house yesterday afternoon and this morning at 6:25 o'clock the remains will be taken on the Atlantic Express to Tower City, where interment will be made in the Lutheran Cemetery at that place.
__________________________
News clipping from Newspapers.com.