Posted By Norman Gasbarro on June 8, 2017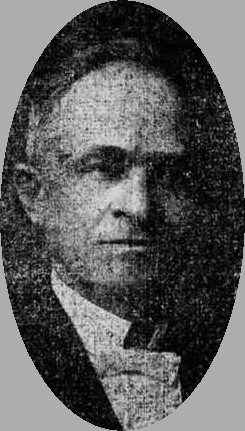 A Lykens Valley pastor was a known leader of the Ku Klux Klan.  He served several churches in the valley, and not only promoted the K. K. K. outside his role of ministering to his congregations, but included K. K. K. activities within the worship services he conducted.
This post is a continuation of the reporting on hate groups that were active in the Lykens Valley area in the years following the Civil War.  It was a widely known fact that the third iteration of the Ku Klux Klan had a significant presence in the Lykens Valley and adjacent valleys during the early years of the 20th Century. This third iteration of the Klan was strongly white supremacist and was opposed to equal rights for African Americans, Catholics, Jews, and immigrants.
Rev. Clinton S. Miller was a United Brethren pastor who during his lifetime served churches in Killinger, Rife, Tower City, Pine Grove, Berrysburg, Palmyra, Reading, Schuylkill Haven, Mt. Carmel, Lititz, and Williamsport, among others.
An example that Rev. Miller used Ku Klux Klan dogma as part of the religious indoctrination of the church members was found in a brief article that appeared in the Elizabethville Echo of 5 November 1925:
KLAN PRESENTS FLAGS

On Sunday afternoon and evening the Ku Klux Klan presented two eight foot flags to the trustees and pastor Clint S. Miller of the United Brethren churches at Killinger and Forney's Church at Rife.

Mr. A. S. Hartman of Lykens made fine addresses on "The Flag."  The Evangelical Church of Dauphin County, Mr. James Shuttleworth, delivered mind and heart moving discourses, touching the high points in REAL Christianity [emphasis in original], taking his thoughts from the words of the Spokesman of the Twelve – John 6:8 – "Lord, to whom shall we go?  Thou hast the words of eternal life.

The attendance at both churches were large, and the services were impressive and noble.
The churches at Rife and Killinger were probably the last Rev. Clinton S. Miller served before he retired.  After retirement, he moved to Royalton, Dauphin County, where he died on 11 November 1927.  His obituary spoke to the reasons for his retirement and included his K. K. K. membership.  As per the Elizabethville Echo, 17 November 1927, the following was reported:
FORMER VALLEY PASTOR DEAD

REV. C. S. MILLER DIED LAST FRIDAY

FORMER U. B. PASTOR; RETIRED TWO YEARS AGO

Rev. Clint S. Miller, aged 72 years, retired minister of the United Brethren Church, died at his home on Dock Street, Royalton, last Friday night.  His death followed an illness of about three years, which caused his retirement from the ministry about a year ago.

He is survived by is wife and two sons:  Ray Miller of Asbury Park, New Jersey and William Miller of Florida; and by one daughter Miss Sara Miller at home; one brother, Edwin Miller of Fogelsville, and two sisters, Miss Marguerite Miller of New York and Mrs. Amanda Kramlich of Allentown.

The funeral service were held at two o'clock on Tuesday afternoon and in the Royalton U. B. Church at 2:30 o'clock.  Interment was made in the Middletown Cemetery.

Rev. Miller was ordained as a preacher in the United Brethren Church about forty years ago, and since that time has been stationed in charges at Palmyra, Avon, Tower City, Reading, Schuylkill Haven, Mt. Carmel, Lititz, Williamsport, Pine Grove, Tamaqua, Berrysburg and Royalton.  He was a member of the Columbian COmmandery, No. 132, Knights of Malta, of Middletown; the Masonic Order of Mt. Carmel; and the Knights of the Ku Klux Klan of Lykens….

Rev. Miller until two years ago, was pastor of the Lykens Valley U. B. Charge which included the churches of Berrysburg, Reigle's [Curtin] and Forney's Church at Rife.  He had moved to Royalton less than two weeks ago.
While it was customary for noted Klan members to have rites conducted at their funerals, no mention was made as to whether they were conducted for Rev. Miller.  It is possible that the 2 o'clock service was a Klan service, but was not mentioned as such in the obituary.