Posted By Norman Gasbarro on June 21, 2017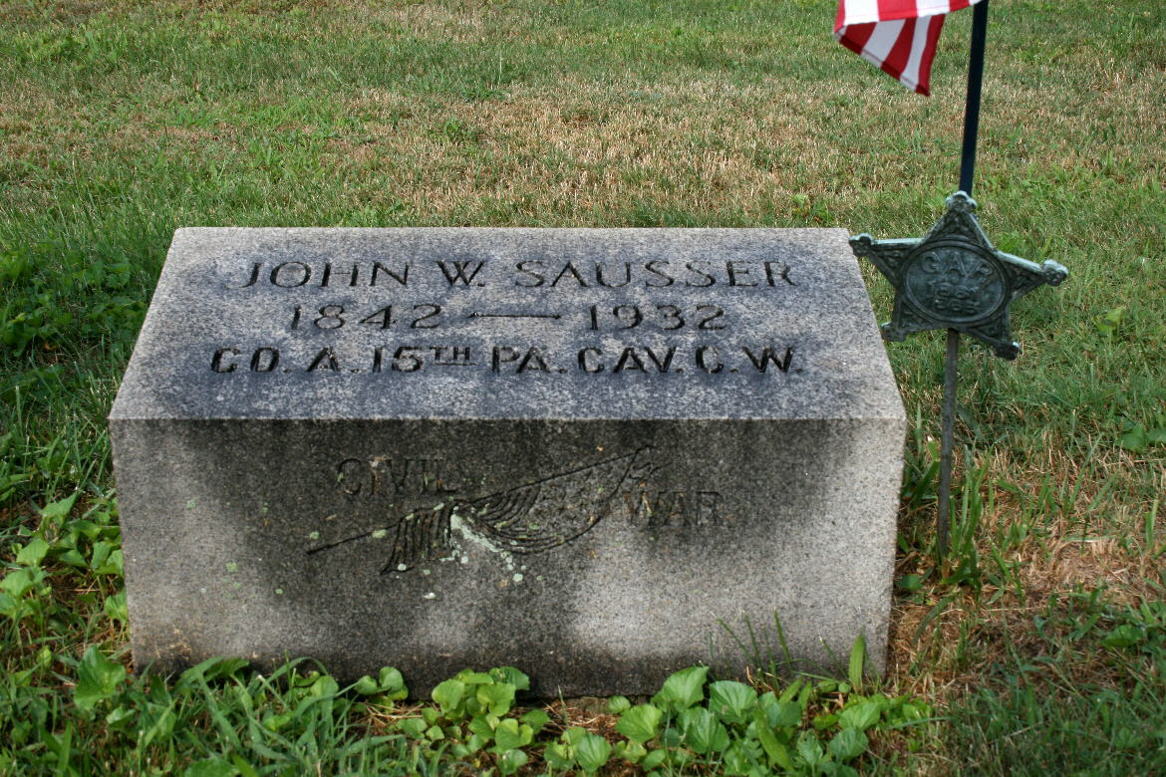 John W. Sausser is buried at the Oak Hill Cemetery, Millersburg, Dauphin County, Pennsylvania.  His grave marker indicates that he was born in 1842, died in 1932, and served in Company A of the 15th Pennsylvania Cavalry during the C. W.[Civil War].  Alongside his marker is a G.A.R. star-flag holder. Not far away from the cemetery is the main square of Millersburg where a prominent feature is the Civil War Soldier Monument, with its tablet of names of those from Millersburg and area who served in the war.  The name "John W. Sausser" does not appear on the monument tablet.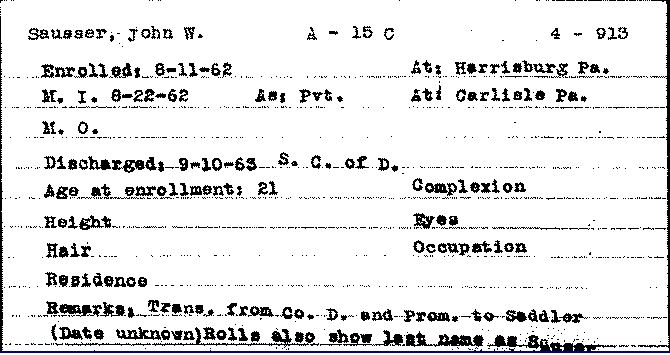 A summary of John W. Sausser's Civil War service is found on the Pennsylvania Veterans' File Card available at the Pennsylvania Archives (shown above).  On 11 August 1862 he enlisted at Harrisburg in the 15th Pennsylvania Cavalry, Company D, and was mustered into service on 22 August 1862 as a Private at Carlisle, Cumberland County, Pennsylvania.  On an unknown date he transferred to Company A with a promotion to Saddler.  On 10 September 1863, John W. Sausser was discharged on a Surgeon's Certificate of Disability.  Also noted on the card is that the muster rolls show his surname as Sauser.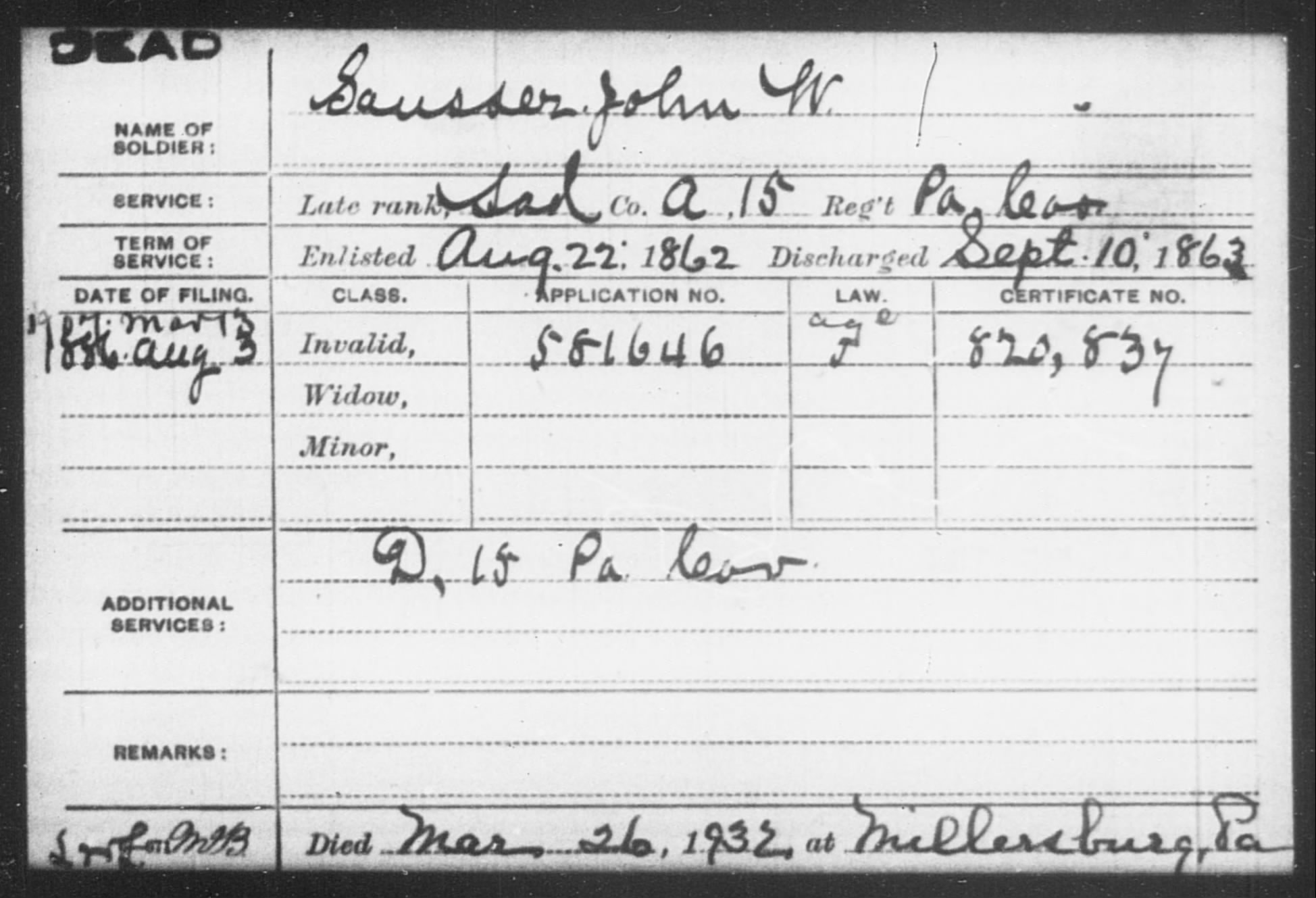 On 3 August 1886, John W. Sausser applied for an invalid pension, which he received, based on his war service.  The card above, also notes that he died on 26 March 1932 at Millersburg, Dauphin County, Pennsylvania.  There is no record that a widow applied.
On 31 March 1932, the Elizabethville Echo published the following obituary:
MILLERSBURG WAR VETERAN BURIED TUESDAY

John W. Sausser, age 90 years, did at the home of Mr. and Mrs. George Sites in Millersburg Saturday, of heart trouble.

He was a son of the late Mr. and Mrs. William Sausser and a native of Millersburg. Early in youth, he learned the harnessmaking trade from his father and was engaged in that trade when he enlisted with the 15th Pennsylvania Cavalry at the outbreak of the Civil War.  He sustained a broken knee during his service and given an honorable discharge after spending some time in an army hospital.  After this, he re-enlisted with a New York Engineer Corps until the close of the war.

Leaving the army, Mr. Sausser returned to his trade and worked in more than twenty states traveling extensively.  During that time he had become a resident of thirteen states.  He returned to Millersburg several years ago and had made his home with the Sites family.  He was a member of the Carrolltown, Illinois G.A.R. Post.  All members of the family preceded him in death.

Funeral services were held from the Minier Funeral Parlors in Millersburg Tuesday afternoon.  Rev. C. F. Salkeld of the Millersburg Methodist Church officiated and interment was made in Oak Hill Cemetery.
Not much time after John W. Sauser was laid to rest, Letters of Administration for his estate were issued, as reported by the Elizbethville Echo, 14 April 1932:

Letters in the estate of John W. Sausser, late of Millersburg were applied for last week by the Millersburg Trust Company. The estate is represented in personal property to the amount of $10,000.
When the will was probated, the distribution was reported in the 8 April 1932, Harrisburg Evening News: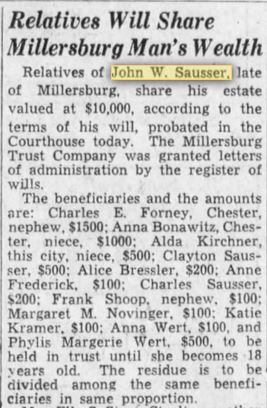 Relatives Will Share Millersburg Man's Wealth

Relatives of John W. Sausser, late of Millersburg, share his estate valued at $10,000, according to the terms of his will, probated in the Courthouse today.  The Millersburg Trust Company was granted letters of administration by the register of wills.

The beneficiaries and the amounts are:  Charles E. Forney, Chester, nephew, $1500; Anna Bonawitz, Chester, niece, $1000; Alda Kircher, this city [Harrisburg], niece, $500; Clayton Sausser, $500; Alice Bressler, $200; Anne Frederick, $100; Charles Sausser, $200; Frank Shoop, nephew, $100; Margaret M. Novinger, $100; Katie Kramer, $100; Anna Wert, $100; and Phyllis Margerie Wert, $500, to be held in trust until she becomes 18 years old.  The residue is to be divided among the same beneficiaries in same proportion.
At the time of this writing, the relatives who were inheritors of the estate of John W. Sausser, have not all been genealogically connected to him.  It also remains to be seen as to why his name was not included on the Millersburg Soldier Monument.  It is possible that he was not included because he was not living in the Millersburg area when the monument was erected – or because he was a member of an Illinois G.A.R. post as stated in the obituary.  However, if any of the beneficiaries of his estate were living in Millersburg or area at the time the monument was erected, did they suggest that his name should be included?  We may never know.
Nevertheless, as a native of Millersburg and a veteran who died there and is buried there, he certainly should be included in any lists of men who served from that community.
____________________________
News clippings are from Newspapers.com.