Posted By Norman Gasbarro on May 12, 2017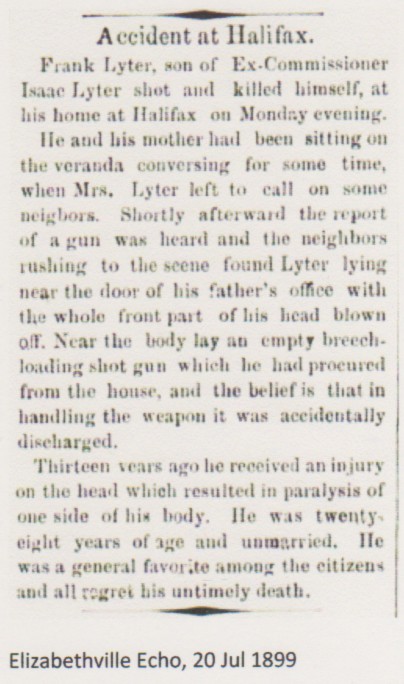 Frank Lyter, the son of Civil War veteran Isaac Lyter, met a tragic death at Halifax in July 1899, as reported in the Elizabethville Echo of 20 July 1899:
Accident at Halifax

Frank Lyter, son of Ex-Commissioner Isaac Lyter shot and killed himself, at his home in Halifax on Monday evening.

He and his mother had been sitting on the veranda conversing for some time, when Mrs. Lyter left to call on some neighbors.  Shortly afterward the report of a gun was heard and the neighbors rushing to the scene found Lyter lying near the door of his father's office with the whole front part of his head blown off.  Near the body lay an empty breech-loading shot gun which he had procured from the house, and the belief is that in handling the weapon it was accidentally discharged.

Thirteen years ago he received an injury on the head which resulted in paralysis of one side of his body,  He was twenty-eight years of age and unmarried.  He was a general favorite among the citizens and all regret his untimely death.
Isaac Lyter has been previously featured here on this blog, including in a series of post on the Halifax Bank Robbery.